Indiana making a push for class of 2014 forward Marvin Clark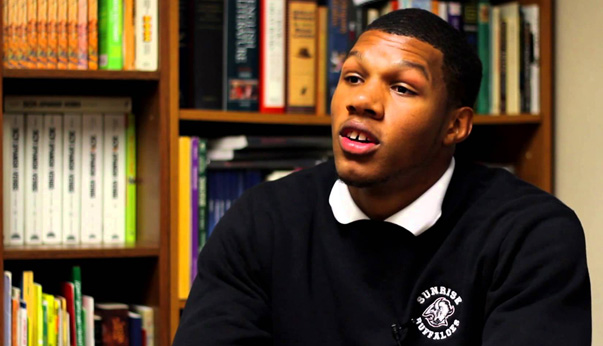 Indiana's recruiting efforts for the class of 2014 have continued into the late winter as the Hoosiers look to add to a three-man class that features James Blackmon Jr., Robert Johnson and Max Hoetzel.
One of the targets who will be on campus for one of IU's remaining home games is Sunrise Christian Academy (Kan.) forward Marvin Clark, a 6-foot-7, 225 pound forward.
According to Sunrise Christian Academy coach Kyle Lindsted, Clark has already visited Kansas State, Iowa State and Seton Hall and also has interest from Michigan State. He'll visit Bloomington for the Ohio State game on the weekend of March 1-2.
"(Indiana's interest) probably started about a month or a month and a half ago," Lindsted told Inside the Hall. "They just recently came in and we nailed down the date for the visit on the first weekend in March."
Clark, who was originally a member of the 2013 class, moved to the 2014 class upon arriving at Sunrise Christian. Since that time, Clark has undergone plenty of growth both on and off the court, according to Lindsted.
Many of the obstacles he's overcome off the court are documented in a short film released in May of last year on YouTube.
"I think the growth of him as a player and as a person go hand in hand," Lindsted said. "Since the first time we laid our eyes on Marv, he's been exceptionally talented and very athletic. When he came to Sunrise, obviously the work ethic had to change. It was the first time he had to just do more than just be more talented than everybody else."
Lindsted admitted there were times he believed that Clark would not last with the structure and hard work that is required at Sunrise Christian.
"I think he almost quit several times just because he had never experienced anything like that," Lindsted. "And now, nothing could be further from the truth. He's gotten tougher, he's working harder and he's got confidence in himself. A kid going through the things that Marv's been through with his past, he's just starting to gain confidence in himself as a man."
Playing on Sunrise Christian's postgraduate team, Clark is averaging around 22 points and seven rebounds per game and Lindsted describes him as one of the program's leaders.
He'll likely arrive on a college campus next fall with the ability to play either forward spot, but his best attribute right now besides the athleticism and strength is his shooting.
"He's a shooter," Lindsted said. "He's such a big kid, a strong kid and it's going to take somebody that has some understanding to say 'hey listen, we know you can play the three or the four, but your strength is a shooter.' Physically, he's just a freak athlete. He's 6-7, he's got crazy bounce and he can put it on the floor and go to the rim pretty well because he's added strength."
Clark is rated just No. 243 overall in the 247Composite, but missed the summer with a fracture to his fifth metatarsal sustained in a workout.
That setback led to less exposure, but Clark is squarely back on the radar now as one of the better players still available in the country.
"He was top 15 in the EYBL in scoring when he cracked his foot and had to have surgery," Lindsted said. "And then you have to remember, this kid was basically a homeless kid playing pickup ball at a YMCA when somebody found him. He's only played organized basketball for a very short time, that's why we thought it was good for him to get two years at Sunrise.
"I'd say if he's healthy and he's on the radar, he's a top 50 guy in this class. But he's under the radar, which is fine. He's still going to get big results."
Filed to: Marvin Clark