What to Expect: Purdue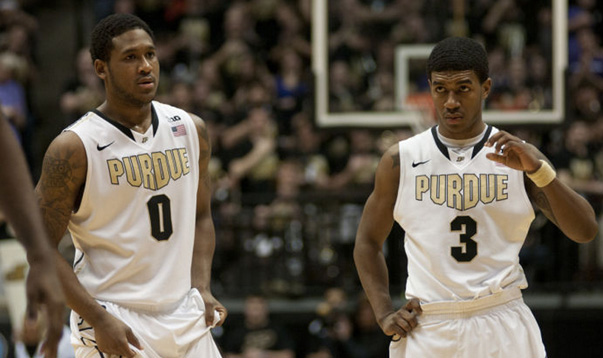 Indiana will look to avoid its first three game losing streak of the season when it travels to West Lafayette on Saturday to meet Purdue at Mackey Arena. The Boilermakers and Hoosiers have the same records: 14-10 overall and 4-7 in the Big Ten.
The game will be broadcast on ESPN at 4 p.m. ET and on the IU radio network:
At this point, the title of our game previews might need a tweak. If we've learned anything over the first 11 conference games, it's that we really have no idea what to expect from this Indiana team. There have been ups and even more downs when you look at the record, but inconsistency has been a constant.
The Hoosiers are clearly at a crossroads in the season. The NCAA tournament is not a discussion point following the losses to Minnesota and Penn State, but getting some positive momentum going into the final stretch of the season is of major importance.
What Indiana needs to avoid is a complete free fall scenario where its young players lose confidence as the losses pile up. Saturday's game at Purdue is a perfect opportunity not only to beat a bitter rival, but to also reverse the recent trend of road collapses. Indiana has been in all but one of its seven Big Ten losses. It's time to get over the hump.
PERSONNEL
This isn't the same Purdue program that Matt Painter built in West Lafayette when Indiana was going through its rebuilding phrase. The Boilermakers are coming off a CBI appearance last season and look to be headed to the NIT at best this season. Players like Lewis Jackson, Robbie Hummel, E'Twaun Moore and JuJuan Johnson are gone and their replacements just haven't exhibited the same toughness, grit or effectiveness as the group that won 129 games over a five-year span.
The 2013-2014 version of the Boilermakers, much like Indiana, is young and inconsistent. Painter is playing 10 guys in conference games with just one player, senior Terone Johnson, averaging more than 30 minutes per game. Johnson is Purdue's third leading scorer in league play while his younger brother, sophomore Ronnie Johnson, is the team's second leading scorer. Terone (38.5 eFG%) has been far less efficient than Ronnie (49.4 eFG%) in Big Ten games and Ronnie is also the Big Ten's second best distributor with an assist rate of 29.5 percent.
The focal point of the Purdue offense is sophomore big man A.J. Hammons, who is using 29.9 percent of Purdue's possessions in conference and is scoring a team-high 14 points per game. Hammons is also second in the Big Ten in rebounding at eight per game and his block percentage (10.4) is third in the league. When you look at the season as a whole, his block percentage of 14 is fifth in the country. Hammons has the ability to dominate on the block, which makes the times when he disappears in games even more frustrating for Purdue fans.
Freshman wing Kendall Stephens comes off the bench, but has made a team-high 25 3-pointers in Big Ten play and is shooting 36.9 percent from distance. Another freshman, Basil Smotherman, has started 10 of 11 conference games and has made the most of his limited offensive opportunities by scoring 4.4 points per game on 48.6 percent shooting. He's also third on the team in rebounding in Big Ten play with 4.3 per game. Also in the rotation are graduate senior Sterling Carter, sophomore Raphael Davis and freshman Bryson Scott. Davis has an effective field goal percentage of 62.1 in Big Ten play, while Carter (40 eFG%) and Scott (26.5 eFG%) have been dreadful from the field.
The frontcourt rotation is rounded out by graduate senior Errek Peck, the team's second leading rebounder and redshirt freshman Jay Simpson.
TEMPO FREE PREVIEW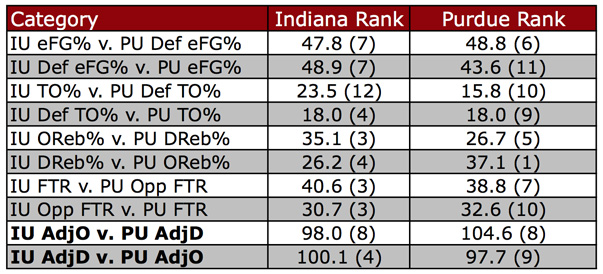 Plenty of similarities exist between Indiana and Purdue beyond the lack of experience. Both teams are very good on the offensive boards and solid on the defensive glass. Neither team shoots it well. And both teams, Indiana moreso than Purdue, have turnover issues.
As much as Indiana has struggled offensively, Purdue has been even worse. The Hoosiers are hitting just 44.2 percent of their 2s in league play, while the Boilermakers are shooting just 43 percent on 2s. Purdue also ranks just tenth in free throw rate (FTA/FGA), ninth in 3-point field goal percentage, last in free throw shooting percentage (64.8) and gets more of its shots blocked (13.7%) than any other Big Ten team.
In other words, if you're looking for a display of offensive efficiency on Saturday on Mackey Arena, you've come to the wrong place.
WHAT IT COMES DOWN TO
Here's what we know about the Hoosiers away from Assembly Hall in the Big Ten: They're more than capable of building a big lead and then letting it slip away. IU has led in the second half of all four of its conference road losses.
The computers have this game as nearly a pick 'em with Pomeroy favoring Purdue by one and Sagarin predicting the same margin.
Indiana is going into the most hostile environment that it'll see this season in Mackey Arena, which is loud and full of a strong dislike for anything Hoosiers. The program is also hungry for a win over Indiana after being dominated over the last four games in the series.
Given that the four best players in the game statistically are Ronnie Johnson, A.J. Hammons, Yogi Ferrell and Noah Vonleh, those matchups and how Indiana handles the atmosphere are likely to determine the outcome of this contest. The Hoosiers have had a tumultuous week with the loss at Minnesota, the collapse against Penn State and the distraction of Hanner Mosquera-Perea's arrest.
But it's hard to imagine this team not being prepared to play against its chief rival. Sometimes adversity can breed togetherness and that's what Indiana fans have to hope for come Saturday afternoon.
(Photo credit: Purdue Exponent)
Filed to: Purdue Boilermakers