There's no sugar-coating this loss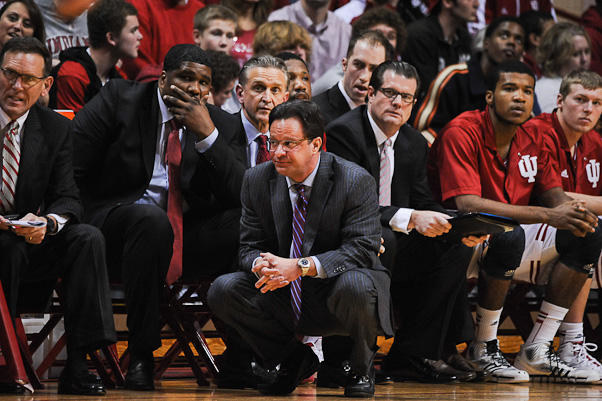 As the final buzzer sounded at Assembly Hall on Wednesday night, boos resonated from fans as Indiana's players slowly walked off Branch McCracken Court, heads hung and hands at their sides.
The Hoosiers (14-10, 4-7) had just lost to Penn State (13-12, 4-8), 66-65, in one of the worst collapses of the Tom Crean era. Indiana led, 64-53, with only 2:26 left on the game clock. This was against a Penn State squad that lost two straight and had lost six Big Ten games in a row at one point, as well.
There's no sugar-coating it: This loss was bad.
"It's not very fun to lose a game like that," said sophomore Yogi Ferrell, who finished with 16 points.
You can start at Penn State's 4-of-4 shooting from the field in that final 2:26. You can point to Indiana's four turnovers in the last 2:06 — three of which came from dead-ball, in-bounds plays. There's plenty of familiar wrong-doings to choose from.
But the nature in which Indiana lost this game is what is most significant. The Hoosiers had pretty much dominated the Nittany Lions throughout, scoring at ease and forcing turnovers in what was a must-win game if they had any remaining hopes of an NCAA tournament bid. Games like these were the ones the Hoosiers had to win.
Even after the final media timeout, the Nittany Lions started fouling in hopes of somehow, miraculously coming back in a building they had only ever won twice in. Indiana led by double digits. And in their past two home games in which the Hoosiers had a double-digit lead late, they cemented it. Only on the road had they lost after having double-digit leads.
And yet — suddenly, inexplicably — all of those struggles came back at once.
Noah Vonleh couldn't handle a defensive rebound. Turnover, and Penn State hit a 3-pointer. Jeremy Hollowell couldn't in-bound a pass in five seconds and forgot to call a timeout (Indiana had four). Turnover, and Penn State hit a 3-pointer. An ill-advised shot from Evan Gordon. A Penn State jumper, this time.
The list goes on.
An ill-advised in-bounds pass from Will Sheehey with 16 seconds left. Turnover, and Ross Travis makes one of two free throws to draw the Nittany Lions within one. The next play, another ill-advised in-bounds pass from Noah Vonleh, this time intercepted by D.J. Newbill. Turnover, and the dagger.
Graduate student Tim Frazier would drive and make a layup with just 6.1 seconds remaining, giving the Nittany Lions their first lead of the game. A desperation, contested 2-point heave from Yogi Ferrell as the game clock expired would bounce off the rim.
And here we are, now.
From the start of this season, Indiana has struggled with turnovers and overall "awareness" on the court, as Crean puts it. It was apparent in its 73-72 escape over LIU Brooklyn (now 7-16) in its second game of the season. It was apparent more than a month later when IU turned it over 20 times against Nicholls State and 20 more against Kennesaw State, the final two games of the non-conference season. And it was obvious in its 24th game on Wednesday evening.
Crean and company can say this team is showing improvement, and surely it has had its moments, but the truth is, it's inconsistency hasn't changed. And it's doomed the Hoosiers all season long.
This is a team that has lost to Nebraska and both Penn State and Northwestern at home — which has only happened once before in IU history (the 2010-2011 season) — yet has two McDonald's All-Americans and six players that came out of high school rated as four-star-or-better talent, according to the 247 Composite. Those three teams don't nearly have as much talent as Indiana does.
One loss to those three? Maybe a fluke. Two? A bit concerning. But three? It's hard to look past.
Wednesday's loss is another that be added to the "that was winnable" category of games this season — joining the previous defeats to Connecticut, Notre Dame, Illinois, Northwestern, Nebraska and Minnesota.
But when it comes to Selection Sunday, when the results of a season are truly quantified, a loss is a loss and a win is a win.
And Indiana has had plenty of chances to get on the right side of the bubble, including Wednesday night's game against Penn State.
But after the fact, it's clear the Hoosiers still haven't found a way to solve the same problems they have faced all season.
Filed to: Tom Crean