Five takeaways from Indiana's loss to Penn State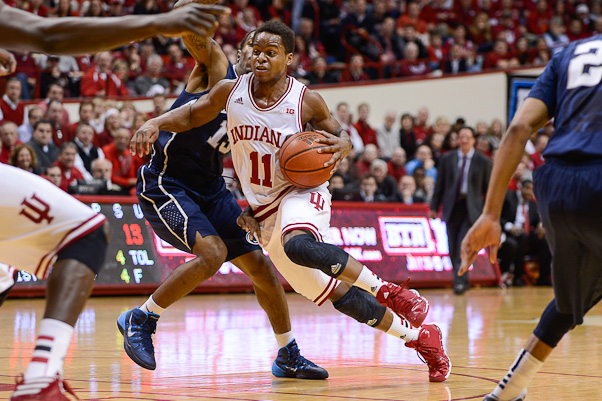 In one of the most perplexing losses that fans in Assembly Hall have witnessed, Indiana fell 66-65 to Penn State on Wednesday night after holding an 11-point lead with 2:53 to play.
The loss dropped the Hoosiers to 14-10 overall and 4-7 in the Big Ten with a game at Purdue looming on Saturday. Here's a look at five takeaways from the loss to the Nittany Lions:
· Indiana played not to lose late, rather than to win: The Hoosiers had plenty of chances to close the game out down the stretch and simply couldn't do it. Turnovers and poor execution were obviously a big part in that, but IU tightened up late and rather than just making the plays that helped them build a 13-point lead, the Hoosiers looked like they were just trying to hold on.
The blame for that, of course, has to go around. It doesn't all fall on the coaching staff, nor does it fall completely on the players, either. It was, collectively, a poor effort down the stretch. What we've learned from watching the Big Ten this season is that every possession matters. And when you're on a wrong side of the turnover battle consistently in close games, in this instance IU had five more than Penn State, the outcomes are not going to be favorable.
· Indiana has now led in six of its seven Big Ten losses in the second half: Besides the loss at home to Michigan State, the Hoosiers have led in the second half of six of their seven conference losses. Some of the leads were large, some were small. But this team simply isn't getting it done when it matters most in games.
This collapse was a collection of a lot of the issues that we've seen throughout the course of the season and when the dust settled, what should have been IU's fifth conference win dissipated into a second straight loss. This is a classic sign of a young team in that it is good enough to build a lead, but not polished enough to protect it.
"It's not very fun to lose a game like that," Yogi Ferrell said. "It all comes down to execution at the end of the game. It just has to get a lot better. We just can't panic on the court. We've just got to stay true to ourselves and execute."
· Turnovers again rear their ugly head: We've written about, dissected and discussed IU's turnover woes all season, but as you look back at the season as a whole, there's been no consistent improvement in that area. IU ranks 336th nationally in turnover percentage. The Hoosiers have shown progress a few times, only to see the problem pop back up again and become a major factor in this team's struggles.
For that, it's got to start at the top with IU's leader on the bench, Tom Crean, and IU's leaders on the floor, Yogi Ferrell and Will Sheehey, for not getting a handle on the problem before it spun out of control. In particular, if you look back at IU's final two games of the non-conference season against Nicholls State and Kennesaw State, two teams ranked 301st or worse in the KenPom ratings, IU turned the ball over a combined 40 times. At the time, it was perhaps glanced over as an issue that would improve as the season moved along. That hasn't happened and it's the major reason why Indiana is now 4-7 in conference play.
· This loss crippled any remaining NCAA tournament hopes: Barring a long winning streak to close out conference play or a run through the Big Ten tournament, this loss took Indiana off of the NCAA tournament bubble. The Hoosiers are now a combined 1-3 against Nebraska, Northwestern and Penn State, a trio that I once believed IU would need a 5-1 mark against to get to nine or ten league wins.
Going into to the season, it's fair to say that not many knew what to expect from this team. Youth is obviously prevalent on the roster, but there's also substantial talent. The main thing that many wanted to see was improvement and a team that was playing its best basketball in February and March. There's no denying that IU has played great at times and the wins over Michigan and Wisconsin are definitely notable. But this is the time to be hitting stride rather than taking a major step back, which is exactly what this loss was.
· The only thing left to do is bounce back: A meeting with Purdue, IU's biggest rival and losers of four straight to the Hoosiers, looms on Saturday. This loss could either carry over into Mackey Arena and give the Hoosiers their first three-game losing streak or IU could bounce back with an improved effort. Is there a better time to focus on the task at hand other than playing your rival? I would argue no.
Crean was asked about getting his team to develop the awareness it needs to have late in games in the postgame press conference:
"We've got to go back to work tomorrow. I can't psychoanalyze it," he said. "We've got to go back to work tomorrow. It is what it is. This team beat Michigan a week ago. We've got to come back. That's the way it is. I'll be there. You know what I mean? That's the bottom line. We've got to get ourselves ready to go beat Purdue. That is the bottom line."
Filed to: Tom Crean, Will Sheehey, Yogi Ferrell