Indiana showing heavy interest in 2015 big man Raymond Spalding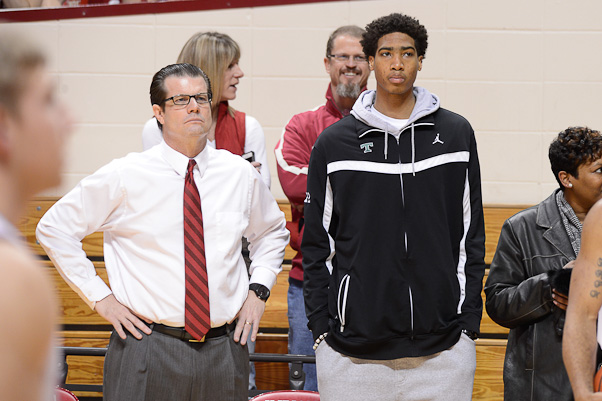 Indiana's need to land a big man in the class of 2015 is no secret and the Hoosiers are involved with several elite prospects who have high interest in the program.
But one prospect who has flown a bit under the radar until recently is Louisville Trinity (Ky.) forward Raymond Spalding. The 6-foot-9, 205 pound big man was scouted by Tom Crean on Jan. 28 and visited Bloomington on Feb. 2 for IU's win over Michigan.
Inside the Hall watched Spalding on Feb. 7 and he finished with six points, six rebounds and four blocks in a 62-39 win over Western. It was just his second game back following a toe injury.
Rated the No. 111 prospect nationally in the 247Composite, Spalding, who has a 7-foot-2 wingspan, already has eight scholarship offers and interest from several high major programs.
"I talked to Indiana all through the summer. It's a great program," Spalding told Inside the Hall. "Coach (Tom) Crean is a great guy and coach Tim Buckley is a great guy, too. Their interest level is very high. I talked to them after the (Michigan) game a lot and they seem really, really interested in me."
Trinity coach Mike Szabo described IU's involvement with Spalding as "consistent" and "constant."
According to Szabo, Spalding is still very early in the recruiting process.
"He's not anywhere with any of it," Szabo said. "Over the last two months, every time somebody comes to watch him play, they walk away going 'wow.' Everybody sees the great potential in the kid. He's long, he can run and he's pretty athletic as well. He's still developing his game. He's a young kid and he's got so much potential and I think everybody sees that."
Spalding's physical attributes are impressive and the upside in his game is clear. But in order to take the next step in his development, he must, according to Szabo, become more consistent.
"He's had nights where he almost looks like, 'Ok, he's legit, he's arrived,' but he's got to be able to be consistent with it and have back-to-back efforts and just stay tough," Szabo said. "If you could have seen him a year ago from today, the amount of progress that he's made in that stretch of time, if he can do that same amount again and be here next year, oh man. He's going to be really, really good."
The eight schools who have offered Spalding are Boston College, Butler, Clemson, Cleveland State, Vanderbilt, Western Kentucky and Xavier.
That list is likely to grow this summer as more schools become aware of his progress. Besides Indiana, schools like Georgia Tech, Louisville, Kentucky, Northwestern and Virginia Tech have expressed interest.
So how would an offer from Indiana impact his recruitment?
"It would change a lot of things," Spalding said. "They're definitely in my top five, top three schools."
Filed to: Raymond Spalding