Recruiting notebook: Blackmon Jr. continues to climb state scoring list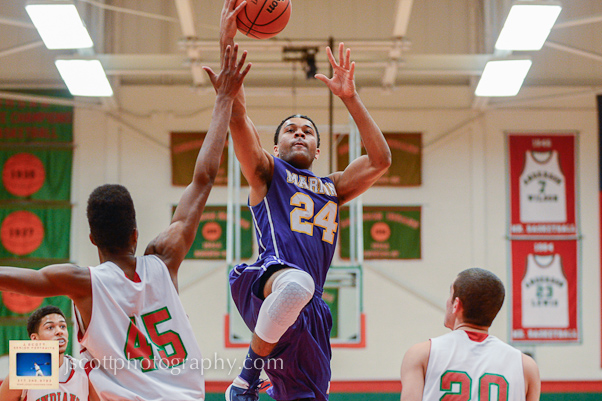 Class of 2014 IU signee James Blackmon Jr. continues to rise in the Indiana all-time high school career scoring list.
Despite scoring a season-low 18 points in a 67-48 win against Madison-Grant this past Saturday, the 6-foot-3 senior Marion guard jumped former Notre Dame guard Chris Thomas (Pike '01) for 17th all-time in the state's career list.
Blackmon now has 2,163 career points and is only 16 points shy of topping former Indiana guard and current New Orleans Pelican Eric Gordon (North Central '07) for the 16th spot.
In his senior season at Marion, Blackmon is averaging 33.6 points per game with another six remaining until postseason play. Next up for the Giants is a matchup at home with Huntington North at 8 p.m. on Thursday.
Hoetzel heating up of late
Another class of 2014 Indiana signee, 6-foot-7 Wilbraham and Monson (Mass.) forward Max Hoetzel, has been on a tear of late.
In WMA's 84-76 victory over Worcester (Mass.) Academy this past Saturday, Hoetzel went off for 26 points, 12 rebounds, four assists and three blocks.
His effort on Saturday is only reflective of his prior six games, Titans coach Chris Sparks told Inside the Hall, as Hoetzel has averaged 21 points, nine rebounds and four assists per game in that span. And Wilbraham and Monson is 6-1 during that stretch, as well.
"(He's) really playing well on both ends of the floor," Sparks said.
Another big weekend for Johnson
In two games this past weekend, Indiana's third 2014 signee, Benedictine (Va.) guard Robert Johnson was once again the star.
Johnson scored a combined 59 points on a 22-of-44 shooting mark and a 10-for-19 clip from beyond the arc in the Cadets' two victories at the Primetime Shootout. Benedictine is now 21-4 this season.
In Benedictine's win over St. Benedict's Prep (N.J.) on Saturday, Johnson also recorded 11 rebounds in a double-double effort.
With his performance over the past two games, Johnson is now up to a 24.7 points per game clip this season and is averaging 2.88 made 3-pointers, as well.
He and the Cadets next play on Thursday at 6:30 p.m. against Virginia Episcopal School (16-2), a team Benedictine beat 67-65 back on Jan. 13.
Other notes
· According to Adam Zagoria of SNY.tv, Tom Crean and Kenny Johnson are expected in New Jersey this week to watch five-star 2016 Gill St. Bernard's guard Tyus Battle. Battle had canceled his previously planned visit to Indiana in January and has yet to reschedule a trip to Bloomington.
· Johnson was in the Chicago-area on Friday night watching class of 2015 point guard Jalen Brunson, the No. 30 player nationally in his class according to the 247Composite. Bruson, who attends Lincolnshire Stevenson high school, scored 20 points on Friday in an 81-63 win over Zion-Benton and then had 39 on Saturday night in a 77-64 win over Batavia.
According to the Chicago Sun-Times, Illinois had its entire staff in attendance to watch Brunson and Michigan State's Tom Izzo was there as well. Michigan and Kansas are two other schools who are recruiting Brunson hard, among others. Brunson is the son of former Temple star and NBA guard Rick Brunson.
· One class of 2014 big man who has been linked with Indiana is Sunrise Christian (Kan.) center Ruben Guerrero, a native of Marbella, Spain. Inside the Hall spoke with Sunrise Christian coach Kyle Lindsted last week for a brief scouting report on Guerrero:
"He is 6-10 1/2, probably closer to 6-11. When he first got here (prior to this season), really underweight, skinny," Lindsted said. "So he's gained 22 pounds of muscle since he's been here which has really changed his game and will continue to change it as he gets bigger and stronger. He's a very active defender and rebounder. He's got a decent shot from 15 (feet) and in. He's very good at putting the ball on the floor and going by somebody. Great ball screen defender. That's kind of what he is right now."
· Inside the Hall watched class of 2015 Louisville Trinity (Ky.) forward Raymond Spalding, who visited IU for the Michigan game, on Friday night. Spalding, who has eight scholarship offers, had a tough night, finishing with six points, six rebounds and four blocks before fouling out. Trinity beat Western, 62-39.
Spalding, ranked No. 111 in the 247Composite, said the five schools he likes most currently, in no particular order, are Indiana, Louisville, Xavier, Connecticut and Clemson. Only Xavier and Clemson have offered from that group.
· Class of 2014 Morgan Park (Ill.) forward Josh Cunningham scored 20 points and grabbed 14 rebounds on Saturday night in an 82-66 win over Lincoln Park in the second round of Chicago's Public League playoffs.
· Class of 2015 La Lumiere School guard Jalen Coleman had 24 points on Friday night in a 65-57 win over Merrillville.
Filed to: James Blackmon Jr., Max Hoetzel, Robert Johnson