Five takeaways from Indiana's loss at Minnesota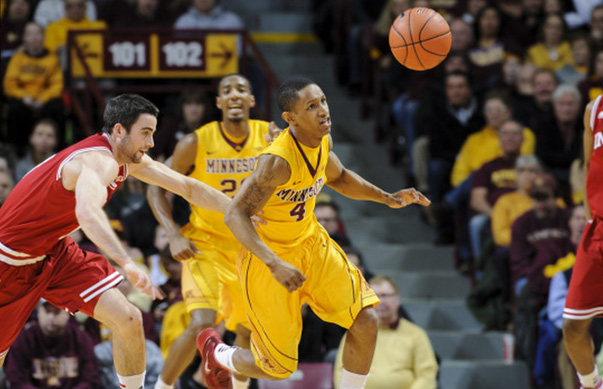 Indiana's up and down season continued on Saturday night as the Hoosiers followed up an 11-point win at home over Michigan with a six-point loss to Minnesota at Williams Arena.
Here's a look at five takeaways from Indiana's third straight road loss:
· Indiana had too many lapses at key points in the game: This has become a theme this season in games away from Assembly Hall and it was a major theme in the loss to Minnesota. Momentum is a difficult thing to keep on the road, but the teams who win with any regularity in hostile environments are able to sustain it. Through five Big Ten road games, Indiana has four losses by a combined 19 points and led in the second half of all four defeats.
On Saturday, it was a game of runs for both teams, but two key lapses were costly. The first was late in the first half when the Hoosiers had possession up eight and a chance to take the final shot. Instead, Troy Williams turned the ball over with 15 seconds to go and Minnesota scored on an easy dunk by Maurice Walker to cut its deficit to six at the break.
The second key sequence was at the onset of the second half as IU turned the ball over four times in the first 3:02 and Minnesota quickly tied the game at 38 on a free throw by DeAndre Mathieu. Neither sequence in particular is completely to blame for the loss, but both are examples of what's holding the Hoosiers back from pulling out road games.
· Turnovers were a major second half issue: Indiana did a solid job taking care of the ball through the game's first 20 minutes. The Hoosiers had just five first-half miscues for a turnover percentage of 15. The second half was a different story as Indiana had 11 turnovers and finished the game with a turnover percentage of 25.2.
The Hoosiers remain last in Big Ten games in turnover percentage at 22.8, and mistakes have been a common theme in IU's losses away from Assembly Hall:

· Indiana was balanced offensively: The Hoosiers didn't get huge offensive outputs from Noah Vonleh, Yogi Ferrell or Will Sheehey, but were still in control for most of the game because some secondary options stepped forward.
The first was freshman Troy Williams, who scored IU's first nine points and finished with 11 points and three rebounds in 26 minutes. The long term potential Williams possesses is enormous, but he's still figuring out how to score against defenses who are playing him almost exclusively to drive, and turnovers are a major issue he needs to correct. Still, this was the best he's played in the Big Ten offensively and his early barrage established IU offensively.
The second surprise offensive performance of the night came from sophomore Jeremy Hollowell, who came off the bench to score nine points in 13 minutes. Hollowell's struggles this season have been well-documented as his effective field goal percentage of 39.4 is easily the worst among IU's regulars. But on a team that's still looking for consistent production, the engaged and energetic Hollowell we saw on Saturday could pay dividends the rest of the way.
· The bench was shortened: In total, Indiana played just nine guys and just two bench players logged double-figure minutes (Evan Gordon with 24 and Hollowell with 13). Gordon's minutes were elevated a bit by the struggles of Stanford Robinson, who was scoreless and had three turnovers in 24 minutes. Beyond that, Indiana went with a shortened rotation as Jeff Howard, Jonny Marlin and Devin Davis, who all played against Michigan, didn't get off the bench.
One performance from the bench beyond Hollowell that deserves a brief mention came from Hanner Mosquera-Perea, who chipped in three points, three rebounds and no turnovers in seven minutes. Turnovers have been a major issue for Mosquera-Perea, but the boost he provided at The Barn was certainly a positive.
· As Yogi goes, Indiana goes: Indiana's two best Big Ten wins (Wisconsin and Michigan) have come — not by coincidence — on nights when Yogi Ferrell was outstanding. On Saturday night, Ferrell didn't have his shooting touch from the perimeter and finished with just 14 points on 5-of-16 shooting from the field. It's obviously not realistic to count on one guy to carry such a heavy load offensively in every game and expect to win consistently, but that's where Indiana is right now with Ferrell.
Overall, he's been terrific and one of the top three players in the conference. But on Saturday, he had a tough night, and his 2-of-9 shooting performance after halftime was a big reason the Hoosiers were only able to muster 24 points over the game's second twenty minutes.
(Photo credit: GopherSports.com)
Filed to: Minnesota Golden Gophers