A tale of two halves costs the Hoosiers once again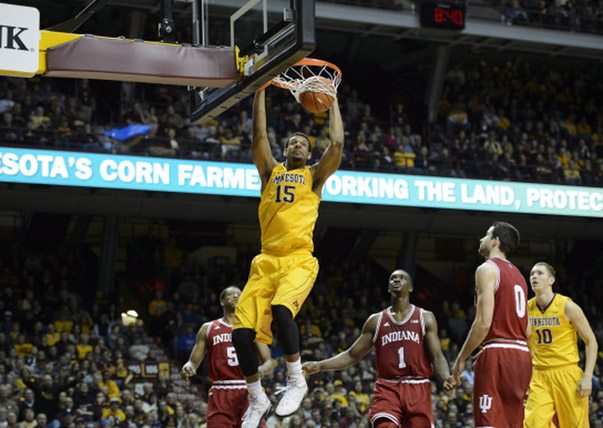 Like many of Indiana's road games this season, Saturday's performance against Minnesota was a tale of two halves.
There was the first, in which Indiana built a double-digit lead for its second straight road game and appeared on its way to just its third win away from Assembly Hall this season.
And then there was the second, in which a collapse once again doomed the Hoosiers (14-9, 4-6), this time in a 66-60 loss at the hands of the Golden Gophers (16-8, 5-6) in Williams Arena.
"We had some turnovers in the second half, and we had some awareness issues at the end of possessions," Indiana coach Tom Crean said. "And that's what it was more than anything else. And in this league, it's not possession-by-possession, it's a pass-to-pass league."
Indeed, such slim margins for error have been the difference makers for the Hoosiers in their first 23 games this season. At Penn State on Jan. 8, the Hoosiers trailed by as many as 15 points but limited mistakes in a second-half comeback victory, their only true road win of the season.
At Nebraska only two Thursdays ago, the Hoosiers led by 16 points but allowed the Cornhuskers to shoot a 66.7 percent effective field goal percentage in the second half in a 60-55 loss.
And following almost a week of rest after Indiana's upset over No. 10 Michigan last Sunday, the Hoosiers had found themselves in the midst of the NCAA tournament bubble conversation. A win in Minneapolis would have potentially put Indiana on the right side of the bubble.
For the first half of Saturday's game, it appeared Indiana was well on their way to that win. The Hoosiers came out firing, taking a 13-point lead just 11:30 into the matchup against the Gophers. At halftime, Indiana led, 36-30, turning the ball over just five times and holding Minnesota to a 45.2 eFG%.
However, as Crean said, "it's the best league in the country. You've got to be locked into every pass."
And in the second half, the Hoosiers simply weren't. Players tried to do too much creating on offense. Too much driving into the crowded paint. Too many quick, unadvised shots. Minnesota tried trapping Indiana players on offense. The Hoosiers knew it was coming. They couldn't overcome it.
Just 3:02 into the final 20 minutes, Indiana already had turned the ball over another four times. Minnesota had tied the game, as well, its first tie since the score was 4-4.
"I think we just need to get guys in the right spots to get open and just push the ball up the floor," freshman Noah Vonleh (12 points, 12 rebounds) said. "I think we just rushed it too much."
All the while, the Gophers began executing a bit more on offense. They scored 10 points off 11 second-half Indiana turnovers. The Hoosiers started collapsing on defense. In multiple late shot clock situations, Indiana players lost coverages in pick-and-roll plays, resulting in easy Minnesota points.
By the 10:54 mark of the second half, Minnesota had its first lead of the game. And though Indiana would retake the lead at 56-53 with 5:54 to go, the Gophers would go ahead once again just 84 seconds later. This time, Indiana had no answer: a turnover from Stanford Robinson (0 points, 3 turnovers) and a rushed, missed jumper from Yogi Ferrell (14 points) resulted in the Gophers taking a 60-56 lead with 3:14 left.
And in the deciding play of the game, with less than a minute to go, Minnesota's DeAndre Mathieu (16 points) drove on Indiana senior Evan Gordon and made a layup with 11.6 seconds remaining, putting the Gophers up 64-60 and just moments away from snapping their three-game losing streak.
"In a situation like this, if you don't have everybody locked in all the way through the very end of it, things like that can happen because they're good," Crean said. "They know how to find their spots."
Now, the Hoosiers find themselves in a tie with Nebraska for eighth place in the Big Ten. A victory on Saturday would have put them in a tie for fifth with eight games remaining and two very winnable ones (vs. Penn State, at Purdue) in the next week.
But once again, second-half issues plagued the Hoosiers. And the possibly of an NCAA tournament bid is as unclear as ever.
"It really sucks," Vonleh said. "We've got to keep getting better, find ways to not turn over the ball."
Williams gives Indiana a hot start
While his teammates started Saturday's game 0-for-2 from the field, freshman Troy Williams provided a spark Indiana needed for its first half performance in Minneapolis.
Williams scored the Hoosiers' first nine points, providing a jumper, free throws, a falling 3-pointer and an emphatic, one-handed slam to put his team up, 9-4, by the 16:08 mark of the first half.
"I was just coming out with energy, just making big plays and making plays for my teammates and all," Williams said. "I just had a lot of energy."
Williams finished Saturday's game with 11 points, his most since he scored that many against Notre Dame on Dec. 14. His 3-pointer was also his first since Indiana's 54-47 loss against Northwestern on Jan. 18.
(Photo credit: GopherSports.com)
Filed to: Minnesota Golden Gophers, Troy Williams