What to Expect: Minnesota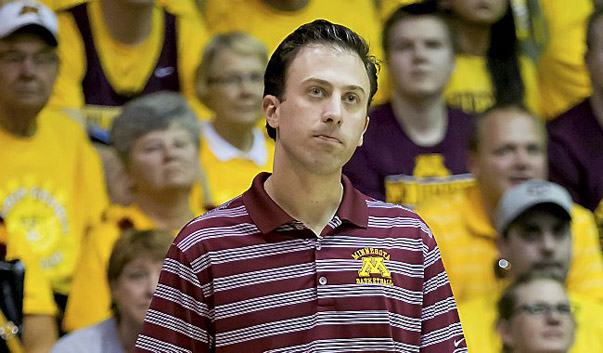 After a five-day break, Indiana returns to action on Saturday night when it travels to Williams Arena to face Minnesota. The Golden Gophers are 15-8 overall and 4-6 in the Big Ten.
The game will be broadcast at 8:15 p.m. ET on BTN and on the IU radio network:
Make no mistake about it, this is a huge three-game stretch on the horizon for Indiana and the game that tips it off on Saturday may be the biggest of the three.
Sunday's win over No. 10 Michigan ramped back up NCAA tournament talk for the Hoosiers. Every game is pivotal when you're on the tournament bubble, but we're going to know a lot more about where IU stands after it faces Minnesota, Penn State and Purdue over the next eight days.
The first test is a Minnesota team that has dropped three straight and is attempting to regain its footing after a 13-3 start. The Golden Gophers have been tough at home with just two losses by a combined four points. From the Minnesota angle, this is probably a must win if they hope to finish .500 or better in league play with road trips to Wisconsin, Ohio State and Michigan and a home date with Iowa still looming.
For Indiana, getting to nine league wins is probably a good baseline for strong consideration, which is going to require adding a road win. And that assumes Indiana can hold serve at home. Here's a look at the win probability (per KenPom) of Indiana's remaining road games underscoring the importance of getting the win(s) sooner rather than later: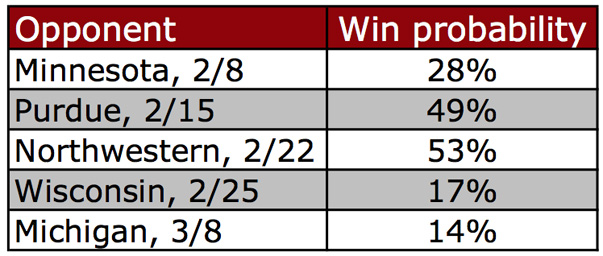 PERSONNEL
Tubby Smith didn't leave the cupboard bare when he was fired and the Golden Gophers brought on Richard Pitino from Florida International. Pitino did some spring recruiting to shore things up, but Smith left behind a solid backcourt duo of Andre and Austin Hollins.
Junior Andre Hollins is back for the Gophers after missing nearly all of Minnesota's win over Wisconsin and subsequent games against Nebraska and Northwestern with a foot injury. The senior guard is averaging a team-high 13.8 points in conference games, but isn't shooting it great with an effective field goal percentage of just 47.9.
Senior Austin Hollins is just fourth on the team in scoring in league play at 9.8 points per game and is even less efficient with an effective field goal percentage of just 44.2. Two Pitino adds last spring, JUCO guard DeAndre Mathieu and senior Malik Smith, a transfer from Florida International, have fared much better in league play.
Mathieu, who is listed at 5-foot-11, is averaging 11.8 points in Big Ten games with an effective field goal percentage of 52.2. He's also Minnesota's best distributor with an assist rate of 30.7, but can be turnover prone at times (25.6 TO%). Smith, a reserve, is the team's third leading scorer in league play at 10.5 points per game and leads the team overall with 46 3-pointers made. All four guards are solid from the foul line with free throw percentages of 77 or better.
Minnesota's frontcourt isn't a big part of its offense, but the Gophers do have four contributors who are capable of making an impact. Junior Elliott Eliason is great at cleaning up the defensive glass (24.8 DR%) and averages 6.8 points on 56 percent shooting in league games. Oto Osenieks, another junior, starts alongside of Eliason and likes to step out and shoot from the perimeter where he's hit 6-of-15 attempts in Big Ten play.
Maurice Walker, a 6-foot-10 junior who lost over 50 pounds after Pitino's arrival, is solid off the bench with averages of 8.3 points and 3.6 rebounds in just 15.4 minutes per game in league play. And Joey King, a transfer from Drake, is similar to Osenieks in that he prefers to shoot from the perimeter, where he's hit 6-of-14 of his attempts in Big Ten play.
TEMPO-FREE PREVIEW
As we've done for the past couple of games and will continue for the rest of league play, here's a tempo-free look at both teams in conference games only: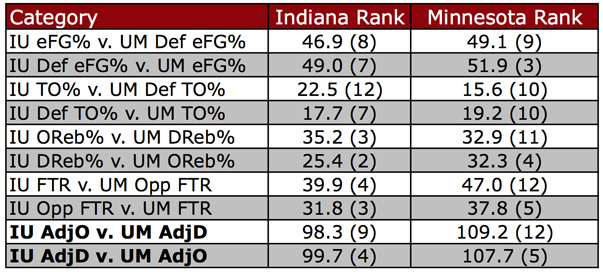 There are some similarities in the profiles of both teams, but also some notable differences. Both teams struggle with turnovers, excel on the offensive glass and get to the free throw line well.
Indiana is actually shooting it better on 3s than Minnesota (38.1% vs. 33.9%), but the Gophers are second in conference play on 2s at 52.3 percent. The Hoosiers, meanwhile, are making just 42.8 percent of their 2s.
While Minnesota does do a solid job on the offensive glass, the Gophers have been dreadful at keeping opponents off the offensive glass and their opponent free throw rate is that of a team that is simply undisciplined on defense. Those are two major factors in why Minnesota is the Big Ten's worst defense at 1.09 points per possession allowed in conference games.
WHAT IT COMES DOWN TO
Both KenPom and Sagarin are bullish on Minnesota's changes with both models predicting the Gophers by five. Neither, of course, takes recent play much into consideration like the Vegas line, which will be out later today, likely will.
Still, playing at home is a major factor for Minnesota and the raised floor and hostile environment present a significant challenge for a young Indiana team that has struggled away from Assembly Hall.
Indiana's success rests largely on strong performances from both Yogi Ferrell and Noah Vonleh, hitting the offensive glass hard against a team that has a major vulnerability there and getting to the foul line, another major weakness for Minnesota. With the Golden Gophers struggling to defend, Indiana should also look to involve Will Sheehey as much as possible off the ball while keeping Stan Robinson in position to attack off the dribble and get to the rim.
As much as the computer models favor Minnesota heading in, the numbers suggest this is certainly a game where Indiana has matchups it can exploit and a win in Minneapolis would put the Hoosiers at .500 in league play for the first time this season.
(Photo credit: Associated Press, Eugene Tanner)
Filed to: Minnesota Golden Gophers