A player-by-player breakdown halfway through the Big Ten season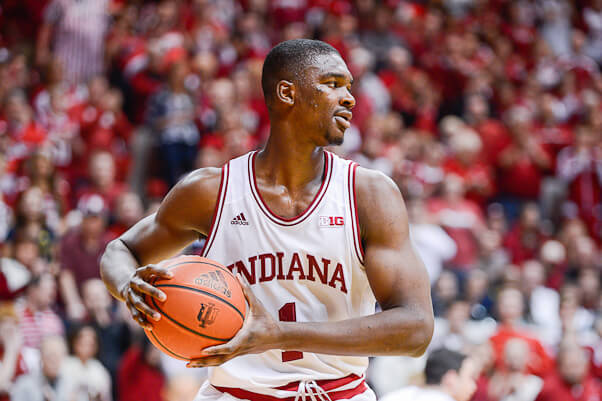 The first half of IU's Big Ten schedule is complete and the Hoosiers are 4-5 heading into Saturday's game at Williams Arena in Minneapolis.
Here's a player-by-player look at how each Hoosier performed in the first half of the Big Ten schedule:
Yogi Ferrell – 19.2 ppg, 53.8 eFG%, 46.3 3PFG%, 85.2 FT%, 3.7 apg, 2.2 rpg in 35.6 mpg
Through nine league games, Ferrell is clearly Indiana's best player and is one of the top three players in the conference along with Michigan's Nik Stauskas and Michigan State's Gary Harris. He's second in scoring in Big Ten games and has been incredibly efficient as he's among the league leaders in both effective field goal percentage and 3-point shooting percentage.
Defensively, he's routinely taking on the challenge of guarding some of the league's best players. On Sunday, Ferrell proved he can be elite in that area by shutting down Stauskas in IU's win over No. 10 Michigan.
Will Sheehey – 8.6 ppg, 41.9 eFG%, 4.4 rpg in 32.1 mpg 
Despite playing 10 more minutes per game, Sheehey's scoring average in Big Ten games is up by just 0.9 points and his effective field goal percentage is down by nearly eight percent. Over the past two seasons, Sheehey was a beneficiary of a supporting cast that included four 1,000-point scorers, a luxury he doesn't have as a senior.
The intangibles he brings, like captaining IU's defensive plan against Michigan, don't show up on the statsheet, but there's no doubt that Sheehey is less efficient than he was the past two seasons.
Noah Vonleh – 11.2 ppg, 57.2 eFG%, 75.0 3PFG%, 47.8 FTR, 9.2 rpg in 29.9 mpg
IU's star freshman has avoided hitting the wall in league play as he's had six games with nine or more rebounds and six games scoring in double figures. Vonleh has found success stepping out onto the perimeter, where he's knocked down 9-of-12 shots from behind the 3-point line. Those numbers have given a significant boost to his effective field goal percentage as Vonleh is only hitting 45.4 percent of his 2s.
Vonleh's usage of just 20.6 percent in Big Ten games is modest given his efficiency, but he's already one of the league's best bigs and is on pace to lead the conference in rebounding.
Stanford Robinson – 8.2 ppg, 45.8 eFG%, 3.2 rpg in 22.7 mpg
Robinson has emerged as Indiana's third best scoring option in conference play and he's doing nearly all of his damage off the dribble. The freshman southpaw is sticking to what he's best at, which is driving the ball and not settling from the perimeter. After earning limited minutes in the non-conference portion of IU's schedule, Robinson was inserted into the starting lineup for the sixth conference game and should remain there for the foreseeable future.
Evan Gordon – 5.0 ppg, 40.2 eFG% in 22.1 mpg
Gordon has had games where he's played fantastic (at Penn State, Wisconsin and Michigan) and then he's had games where he hasn't been much of a factor (both Michigan State games and Illinois at home). His 3-point shooting has been poor at just 27.8 percent, but on Sunday, we saw Gordon at his best as he simply went to the rim against a Michigan defense that didn't body him up.
The emergence of Robinson probably means a bench role for Gordon moving forward. That, however, is not necessarily a bad thing as having an experienced contributor capable of getting six to eight points as a reserve is a plus.
Troy Williams – 4.7 ppg, 43.2 eFG%, 4.4 rpg in 18.6 mpg
Williams has been limited offensively in Big Ten play as the freedom he had to drive to the basket in non-conference games is no longer there against better defense. Conference foes have dared Williams to shoot from the perimeter and he's 0-of-7 from distance compared to 16-of-30 on 2s.
One part of his game that figures to loom large as his career moves along is his work on the offensive boards. He's currently 17th in conference play in offensive rebounding percentage at 8.9 and further improvement in that area could easily net a bucket or two more per game.
Austin Etherington – 3.3 ppg, 53.3 eFG%, 2.3 rpg in 14.8 mpg
Etherington has emerged from an afterthought in the non-conference schedule to a legitimate bench contributor. He's not much of an offensive threat — he's only taken 15 shots in nine games — but he hit a timely 3 in State College and also had a big first half in IU's win over Illinois at Assembly Hall. Every team needs players who embrace a role and stick to it and that's exactly what Etherington has been for the Hoosiers in league play so far.
Jeremy Hollowell – 2.8 ppg, 28.9 eFG%, 2.8 rpg in 13.5 mpg
Once thought of as a breakout candidate as a sophomore, Hollowell played poorly in IU's first two league games, was out for three due to a "lack of focus" and hasn't contributed significantly since. His effective field goal percentage is easily the lowest among IU's regulars and there isn't much of a case for increasing his role during the second half of the Big Ten slate.
Jeff Howard – 1.0 ppg, 25.0 eFG% in 7.8 mpg
Howard earning more minutes in Big Ten play than Hanner Mosquera-Perea and Devin Davis has been surprising, but when you consider that he's been less mistake prone and that Tom Crean trusts him defensively, it could be a trend that continues in the second half of the conference schedule.
Hanner Mosquera-Perea – 1.8 ppg, 41.7 eFG% in 7.6 mpg
Mosquera-Perea has registered double figure minutes in just two Big Ten games and as the season moves along, it's become clear that he still has a long way to go in order to become a regular contributor. In a total of 68 minutes in Big Ten play, he's got nearly as many turnovers (10) as shot attempts (12).
Devin Davis – .4 ppg, 25.0 eFG% in 5.9 mpg
Davis has fallen behind Howard on the depth chart and the freshman from Indianapolis has just a total of three points in eight Big Ten games.
Editor's note: Only players with 20 or more minutes logged were included.
Filed to: Noah Vonleh, Stanford Robinson, Will Sheehey, Yogi Ferrell