Notes and quotes from Crean on Big Ten teleconference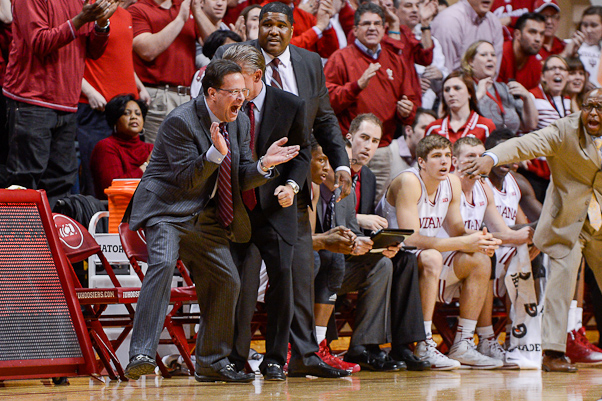 The Big Ten held its weekly coaches teleconference on Monday morning to review the fifth week of conference play. Here are some notes and quotes from Tom Crean's appearance:
· Prior to the call, the conference announced that Noah Vonleh was named the league's freshman of the week for the seventh time this season. The seven weekly honors tie Vonleh for second most since the award began in 2010. Northwestern's Drew Crawford and Penn State's D.J. Newbill shared Big Ten player of the week honors.
· Opening Statement: "We had a great victory yesterday over Michigan and now we are right on into Minnesota. We have a week to get better. We have a week to prepare for them and we're looking forward to it."
· On IU having six days off before its next game: "We just have to focus on areas of improvement and getting better at areas of strengths. At the same time, work it into the game plan as we get deeper into the week, just making sure that we make it as competitive as possible. At the same time, get them the rest that they need."
· On Evan Gordon being ill leading up to Sunday's game: "He just was under the weather. He was being treated for the flu and, even though that came back negative, he was definitely under the weather for a couple of days. You're certainly sick when you are missing practice, which he did. But, he kept his spirit alive and he tried to prepare even when he was away from the team on Saturday. Then, Sunday morning he was back and cleared and I knew we were going to have him in a limited role from basically talking to the doctors and Tim Garl. We wanted to really keep an eye on his minutes yesterday but, at the same time, he came out and played with great energy and he played fantastic."
· On whether this is a "good time" for a week off: "We don't spend any time even thinking about that. I think you just put stock in every day and how you get better that day. You look at the week, when you have this kind of time frame, and it could vary. There are a couple of different plans for the week going in. But as far as good time or bad time, there is no way to even spend any time or energy on that because, like you just said, it is what it is. It is the way the schedule is laid out."
· On his team's plan in guarding Nik Stauskas: "We just wanted to give our guys the best opportunity to win the game and any game plan is only as good as the players' ability to carry it out. I thought our players were really locked in to what we needed to do yesterday. We didn't have great matchups to play a conventional way yesterday. We needed to play a little bit differently. But again, every game is different and you want to give your team every opportunity you can possibly give them to have success and our guys really carried it out."
· On the continued development of Troy Williams and Stanford Robinson: "I think they are developing at a high rate because they are getting a lot of game experience. They work very hard in practice. We ask them to do a lot. What we are trying to do is put them in situations where they can be successful in the games right now but, at the same time, knowing that there is so much more in front of them as they develop their skills and as they continue to develop the understanding that it will take for them to be successful at this level. Troy just continues to expand his game and his energy and his understanding of the game. Stan we are asking to do an awful lot on the defensive end. I think yesterday is a great example. Those guys were guarding people that maybe they wouldn't in a typical game setting. But we are doing a lot of switching so they have gotten better at that. They are learning more and more about what it takes to win."
Filed to: Tom Crean