Five takeaways from Indiana's win over Michigan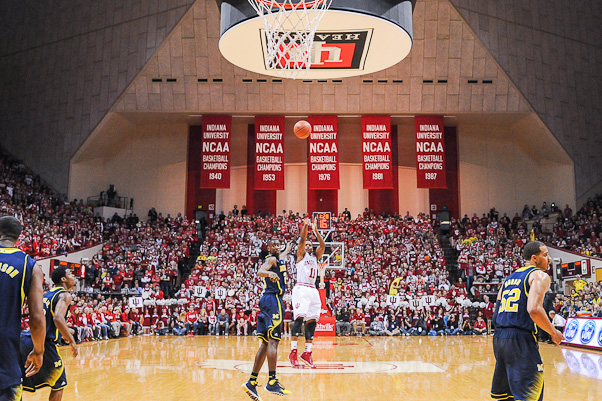 Indiana moved to 14-8 with a 63-52 win over No. 10 Michigan on Sunday afternoon. The victory moved the Hoosiers to 4-5 in Big Ten play and into a four-way tie for fifth in the conference standings.
Here's a look at five takeaways from IU's third straight win over Michigan:
· Indiana's defensive plan made Nik Stauskas a non-factor: At the midway point of conference play, Michigan sophomore Nik Stauskas is the Big Ten's top offensive player, but Indiana took him out of Sunday's game by having Yogi Ferrell deny him the ball and forcing his teammates to do the heavy lifting offensively.
Stauskas finished with six points on just 1-of-6 shooting from the field and denying him the ball not only prevented him from scoring, it also stopped his ability to facilitate, an underrated part of his game. The Michigan offense typically gets a lot from Stauskas finding teammates off of ball screens, but that wasn't the case against Indiana.
"(I was) basically just trying to limit his touches really," Ferrell said. "Overplaying the screens, not getting screened. I didn't want him to get the ball and get one-on-one drives."
· Ferrell continues to prove his value as a two-way player: Offense wasn't a big part of Yogi Ferrell's game as a freshman, but he was one of Indiana's better defenders. As a sophomore, Ferrell is routinely guarding some of the league's best perimeter players while also carrying a huge load offensively for Indiana.
On Sunday, his work on Stauskas defensively was pivotal and his incredible offensive display was the best so far this season in Assembly Hall. Ferrell hit seven 3-pointers, a layup in the second half and 4-of-6 free throws on his way to a game-high 27 points.
"He's terrific. He only took 10 shots, had 27 points, and ran his team, even in shot clock time he made big shots, huge shots," Michigan coach John Beilein said.
· Indiana embraced the pace: The Hoosiers pushed the tempo in the non-conference portion of the schedule and have even done so at times in the Big Ten. On Sunday, Indiana had just 55 possessions, its lowest total of the season and delivered one of its top offensive games in Big Ten play with 1.14 points per possession.
Given its well-documented turnover woes and its inefficiency in transition, Indiana is best served playing stellar defense and getting its offense in the halfcourt rather than trying to force tempo unnecessarily. That was exactly what happened on Sunday as the Hoosiers scored 1.34 points per possession on the Wolverines in the second half with just six turnovers.
· Free throws and offensive rebounding shined through after halftime: Through 20 minutes, Indiana failed to take a free throw and didn't have one second chance point despite four offensive rebounds. That changed in the second half as Indiana took 15 free throws and carved up the Wolverines for nine second chance points off of five offensive rebounds.
In total, Indiana was able to post a free throw rate of 34 percent, which was six percent higher than Big Ten opponents had been achieving against Michigan coming in, and an offensive rebounding percentage of 39.1, nearly nine percent higher than Wolverine opponents had been averaging in league play.
· Vonleh's rebounding was once again huge: IU's star freshman wasn't great offensively with his back to the basket, but he was again a major force with his rebounding. Vonleh finished with 12 rebounds, three of the offensive variety, on his way to another double-double of 10 points and 12 rebounds.
The most impressive, and perhaps most important, rebound of Vonleh's afternoon came in the game's final minute when he dunked in a missed free throw by Ferrell to put the game out of reach at 61-52.
—
Game highlights, with Don Fischer on the call:
Filed to: Noah Vonleh, Yogi Ferrell