Defensive effort sparks IU in 63-52 upset of No. 10 Michigan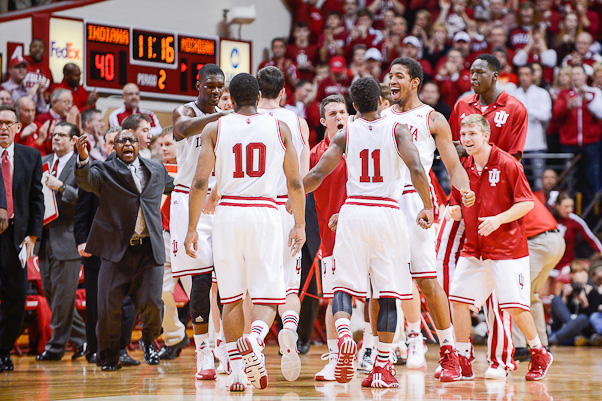 Michigan coach John Beilein admitted he didn't have an answer to it. Anything he drew up in the huddle during timeouts simply wouldn't work.
Playing at Indiana on Sunday afternoon in front of an announced 17,472 at Assembly Hall, his Wolverines' offense was stifled.
After being held to a season-low 52 points, No. 10 Michigan (16-5, 8-1) suffered its first Big Ten loss of the season to Indiana (14-8, 4-5), a team that was coming off a five-point loss at Nebraska only three days earlier. And it was a 63-52 defeat.
"Tom (Crean) and his staff did a really good job," Beilein said. "The defensive game plan was outstanding. We hadn't seen anything like it since I've been here and we ended up trying to adjust on the fly."
What, specifically, caused the Wolverines — a team that was averaging 75.1 points per game during its 10-game win streak — so much trouble? It all had to do with how the Hoosiers handled the Wolverines' screens on offense.
"We haven't seen when they put our primary screener with a switch guy, with [Will] Sheehey, and that's what changed a lot of things," Beilein said. "Drawing that up in the huddle and practicing it are two different things."
Throughout the game, the Hoosiers matched Michigan's screens and didn't allow many open looks. They didn't lose positioning, often, and forced favorable matchups. Simply put, the Wolverines had trouble executing its inside-outside game. They were rattled.
One example epitomizing Michigan's offensive frustration was one desperation 3-point attempt from sophomore Nik Stauskas with 5:39 remaining, his only 3-point shot attempt in the second half. It missed badly.
Though Stauskas had been averaging 18.4 points per game and a 46 percent 3-point clip, Indiana shut down the 6-foot-6 Canadian on Sunday. Sophomore Yogi Ferrell, who is six inches shorter, was assigned the task of stopping Stauskas, and though Michigan had seen its opponent's fastest player defend its best offensive weapon, Indiana's screen defense complicated things.
"I just think you've got to be conscious of where Stauskas is at all times and understand that he can score from a lot of different areas," Crean said. "And you've got to try to make his catches hard, but you've got to make his ability to get free looks and open passes to the basket a little bit harder."
Stauskas's touches were limited as Indiana forced him into less-than-desirable positions on the court. He finished with six points off 1-of-6 shooting, adding two turnovers and only one assist.
"(I was) basically just trying to limit his touches really, playing the screens, not getting screened," Ferrell said. "I didn't want him to get the ball and get one-on-one drives."
Overall, Michigan's offense simply didn't have an answer to Indiana's defense. The Wolverines shot 18-for-45 from the floor and only 3-for-13 from beyond the arc, well below its Big Ten averages of a 60.0 effective field goal percentage and 41.2 3-point field goal percentage.
And Indiana, a team that had struggled mightily in the second half on Thursday (it allowed a 66.7 eFG% to Nebraska in the second half), came away from Sunday's game with a sense of defensive toughness — one that they finally maintained against a red-hot offense for a full 40 minutes.
"We didn't get many good shots today and credit their defense," Beilein said. "They played really good defense. Like I said, part plan, part long, athletic kids that were very quick on us. As a result, there was a couple of shots we certainly would like to have back, at the same time we made some tough shots, but I didn't see many easy ones today. They did a great job defensively."
Ferrell scores 27, adds seven 3-pointers
Time and time again on Sunday afternoon, Michigan simply didn't have an answer to Ferrell when the sophomore was on offense.
Whether it be a late-in-the-shot-clock 3-point heave or a drive to the basket that resulted in two made free throws, Ferrell starred on offense as much as he did on defense. He hit 8-of-10 shots, including seven of his eight 3-point attempts, on his way to a game-high 27 points.
"I don't think anybody is going to beat them if Yogi goes 7-for-8," Beilein said. "I don't care who comes in here if you go 7-for-8 from deep."
Crean said the key for Ferrell coming into Sunday's game was for the sophomore to stay moving on offense. Whereas in the second half at Nebraska, the Hoosiers got stagnant on offense, against Michigan, Ferrell continued to find open looks. Michigan senior Jordan Morgan noticed how much more confident he appeared on the floor. And as Ferrell's teammate, freshman Noah Vonleh said, "when Yogi gets into a rhythm, you're not going to change it."
As much as Ferrell's 12-point first half was impressive, three second-half 3-pointers came with the score either tied or Michigan streaking and trying to establish momentum. And he was equally successful in driving to the basket, as well, making 1-of-2 layups and attempting six free throws in the second half. Michigan sophomore Caris LeVert said it was especially difficult to defend him on a day in which he shot so well.
Now averaging 17.8 points per game this season and 44.1 percent from beyond the arc, Ferrell has emerged as one of the Big Ten's top scoring threats. And on an offense that is ninth in the Big Ten in efficiency, Ferrell is providing the spark the Hoosiers have desperately needed.
"Yogi Ferrell is playing at an extremely high level," Crean said. "The approach that he takes to it, the leadership that he's displaying over the last couple weeks, the improvement has been some of the best I've been around. If he continues to keep that up, sky's the limit for him."
Filed to: Michigan Wolverines, Yogi Ferrell