What to Expect: Michigan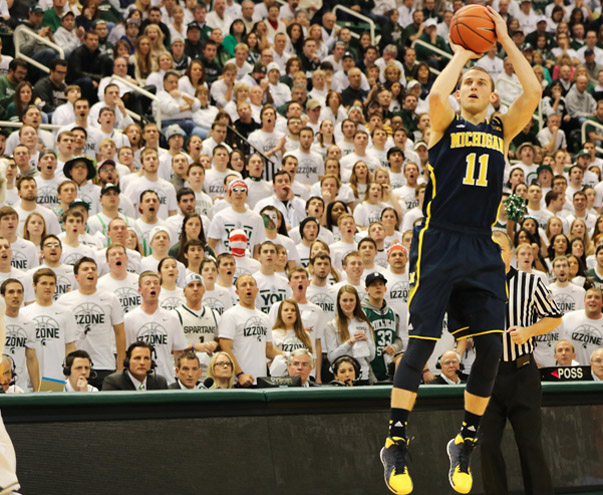 (Photo credit: Dustin Johnson, UMHoops.com)
Indiana will be back in Assembly Hall on Sunday afternoon for a meeting with No. 10 and still unbeaten in the Big Ten Michigan in front of a national television audience.
The Wolverines are 16-4 overall and already have road wins at Wisconsin, Michigan State, Nebraska and Minnesota. The game will be broadcast on CBS at 1 p.m. ET and on the IU radio network (Sirius 85, XM 85):
The 2013-2014 season for Michigan has already been quite the roller coaster ride.
It started with high hopes as the Wolverines returned three starters and four key bench players from a team that went to the national championship game last April. The optimism took a hit early as Michigan started 6-4, fell from the national rankings and lost Mitch McGary for the season.
But since losing McGary, who was never fully healthy when he did see the floor this season, the Wolverines have gone unbeaten and are the favorites to win the Big Ten. This surge in Ann Arbor has drawn the ire of some IU fans who have argued that Michigan is actually less experienced than the Hoosiers when you look at KenPom's experience rankings. This experience rank uses eligibility class weighted by minutes played.
Statistics can always be manipulated to advance a certain argument and in this case, that's exactly what has taken place. Here's the returning production for both teams, with McGary excluded:

This is presented not as an explanation of Indiana's struggles or as an explanation for Michigan's success, but a true illustration of what each team returned rather than an experience stat that fails to take actual production into consideration.
As for the game, which we'll get into more below, it's one that the Wolverines are favored to win, but Michigan hasn't won in Assembly Hall since Tom Crean's first season, when it needed overtime to do so. Michigan isn't going undefeated in the Big Ten, but this is certainly a win the Wolverines are hoping to grab in order to keep pace ahead of Michigan State, the main competition on the road to a Big Ten title.
PERSONNEL
Michigan State's Gary Harris was the preseason Big Ten player of the year, but Michigan sophomore Nik Stauskas is the league's top player statistically as we near the halfway point of league play. Stauskas has an effective field goal percentage of 62.1, is hitting 80.2 percent of his free throws and is Michigan's best player in terms of getting to the line with a free throw rate of 56.2. That latter stat is proof that Stauskas has grown from a guy who mostly spotted up as a freshman into someone who can also beat you off the dribble. He's also Michigan's leading assist man and is the primary reason the Wolverine big men are able to score efficiently off of ball screens.
Michigan's perimeter oriented attack continues with sophomores Caris LeVert and Glenn Robinson III along with freshman point guard Derrick Walton. With his increased role following the departure of Tim Hardaway Jr., LeVert is one of the Big Ten's most improved players. Michigan opponents have to honor Stauskas and Robinson III defensively and LeVert has been the primary beneficiary as he's hitting 46.7 percent of his 2s and 38 percent of his 3s. He's also a solid defender as he leads the Wolverines with a steal rate of 2.4 percent.
Robinson III has been a bit of a disappointment as his efficiency numbers have tumbled from where they were as a freshman as his usage has gone up. His overall numbers are still good as he's hitting over 60 percent of his 2s, but his 3-point shooting percentage has dropped by six. Walton struggled early, but has turned it on as of late and is growing into a critical piece of Michigan's offense. Walton is hitting 40 percent of his 3s and has an effective field goal percentage of 56.4, but his turnover rate (22.9) is an outlier on a team that rarely coughs it up.
In McGary's absence, both senior Jordan Morgan and junior Jon Horford have stepped in and proved more than capable of filling a role. Morgan makes the most of his limited offensive opportunities (69.8 FG%) and is an underrated post defender despite standing just 6-foot-8. Horford also finishes his opportunities (61.1 percent on 2s) and cleans up the defensive glass very well (26.3 DR%).
Michigan really only plays eight guys and the other two are freshman Zak Irvin, who's hitting 40.7 percent of his 3s and sophomore Spike Albrecht, who is hitting 43.7 percent from distance. For a team already stacked with potent offensive pieces, that's quite a luxury to have coming off the bench.
TEMPO-FREE PREVIEW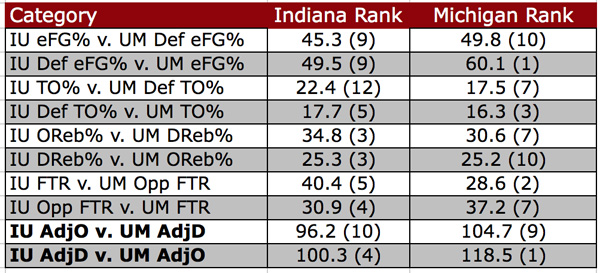 One reason that Michigan may not be included as of right now on the list of teams capable of winning the national title is its defense. The Wolverines actually have a worse defense than IU in Big Ten play, but there's no denying this is the league's most explosive offensive team.
Michigan is scoring 1.185 points per possession in Big Ten games with an effective field goal percentage of 60.1, almost 15 percentage points higher than the Hoosiers. As we've written in almost every game preview, IU's chances to keep this one close are going to depend a lot on offensive rebounding, getting to the foul line and turnovers. Michigan isn't great on the defensive glass, but they keep teams off the foul line nearly as well as anyone in the conference and don't turn it over.
The Wolverines also play one of the Big Ten's slowest paces, but their efficiency in the halfcourt will be a major challenge for IU. Michigan is patient, spreads opponents out and uses ball screens to find high percentage looks. Taking perimeter quick shots and turning it over plays exactly into what Michigan wants Indiana to do, so the Hoosiers are best served working the ball around in the halfcourt and trying to get to the basket and the line.
WHAT IT COMES DOWN TO
Assembly Hall hasn't been kind to Michigan, but the Wolverines enter Sunday's game as a five-point favorite according to KenPom and a 5.5-point favorite according to Sagarin.
The Big Ten is a two-team race at the top with Michigan and Michigan State and the remaining schedule favors the Spartans slightly as Michigan still has a brutal four-game stretch that goes like this: at Iowa, at Ohio State, Wisconsin and Michigan State.
For Indiana, NCAA tournament discussion isn't on the table right now, but a red out, an electric crowd and the need for a win with a game at Minnesota looming next could propel the Hoosiers into an inspired effort in a building where they own a 46-5 record over the past three seasons.
Filed to: Michigan Wolverines