Indiana tasked with stopping surging Michigan offense on Sunday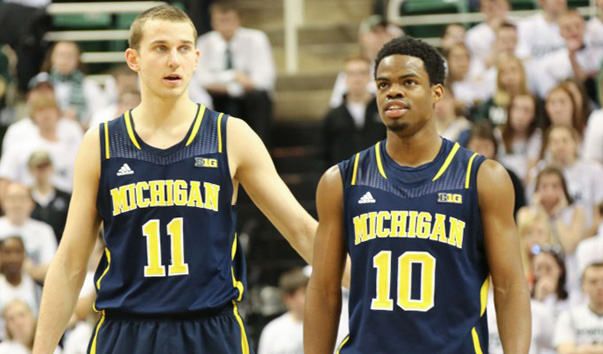 (Photo credit: Dustin Johnson, UMHoops.com)
Coming into Sunday's game against No. 10 Michigan, Indiana is aware there might not be a hotter team in the country than the Wolverines.
After losing by two points at home to Arizona on Dec. 14 to drop its record to 6-4 mark, Michigan has not lost. Coming into Bloomington on a 10-game winning streak, the Wolverines went undefeated in January and will look to win their ninth Big Ten game in a building where they have not won in since January 2009.
"No question they are a high-powered offensive machine," Indiana coach Tom Crean said. "They are a tremendous help defensive team. They've got very good one-on-one defenders, but their help defense is very good.
"You can see their experience of their front line, really almost like captaining the defense, so to speak, with what they do, and everybody kind of fills in accordingly and the help defense is outstanding. You can't stand around, you have to be in movement, and they are an incredible challenge."
Even after the Wolverines lost starters Trey Burke and Tim Hardaway Jr. to the NBA last season and lost sophomore big man Mitch McGary to injury, they have found new life this season. Sure, the beginning wasn't necessarily smooth — a loss to Charlotte stained the Wolverines' early-season résumé — and come Big Ten season, the Wolverines were unranked.
But in Michigan's first Big Ten game, at Minnesota, the Wolverines shot a 53.4 effective field goal percentage and squeaked out a 63-60 victory against the Golden Gophers. Since then, there hasn't been a game in which the Wolverines have scored less than 71 points. In Big Ten play, they are shooting a whopping 60.0 eFG% and have the highest offensive efficiency in the conference.
They have beaten Michigan State at Michigan State. They have beaten Wisconsin at Wisconsin. A win at Indiana would be Michigan's fifth straight on the road.
"They've just been shooting the ball extremely well all year," Crean said. "They've been in a lot of close games, and they've been very successful in those close games."
And leading the charge for Michigan this season has been sophomore Nik Stauskas, who is shooting 3-pointers at almost a 46 percent clip and is scoring 18.4 points per game.
Beilein has also surrounded Stauskas with veterans in sophomore Glenn Robinson III, junior Jon Horford and senior Jordan Morgan, and with the emergence of sophomore Caris LeVert and freshmen Derrick Walton and Zak Irvin, the Wolverines have clicked, offensively.
Crean, specifically, noted how Michigan's spacing is "outstanding" and that "these guys do a great job of getting each other open." And his team will have the assignment of stopping that, a force that no team has been able to solve in more than a month and a half.
"They're very good at transition, I think we know that as a team," sophomore Austin Etherington said. "They hit shots in transition, and we've just got to be there and find guys and find the open shooters.
"Obviously, we know that right now, they're the best team in the Big Ten. We've just got to come out and compete and get the 'W."
Hoosiers moving on from Nebraska loss
Following Thursday's 60-55 loss at Nebraska, Crean and his assistants sat his team down to review film of the loss.
He and his staff chose around 20 clips, offensively and defensively, from the first half, in which the Hoosiers outscored the Cornhuskers, 32-19, and then showed his team the entire second half, in which Nebraska outscored the Hoosiers, 41-23.
"The activity, defensively, and the movement, offensively, were probably the biggest differences in the second half," Crean said. "But we did some really, really good things in the first half. So we tried to make sure that they saw that, as well."
Over the past two days leading up to Sunday's battle with Michigan, Crean and his staff have honed in that performance specifically — repeating the positives of the first half and avoiding the negatives of the second, in which the Cornhuskers shot a 66.7 eFG% — especially against a team as hot from the floor as the Wolverines.
"This was one of the first times that we had a lead like that, so some guys didn't know how to handle it as well," Etherington said. "We've just got to come out playing the game we played in the first half."
"You learn from winning, you learn from losing," Crean added. "You learn from success, you learn from when you're not successful. We've got great spirit right now. We're going to be ready to play."
Filed to: Michigan Wolverines