'Lack of awareness' dooms Hoosiers in second half collapse at Nebraska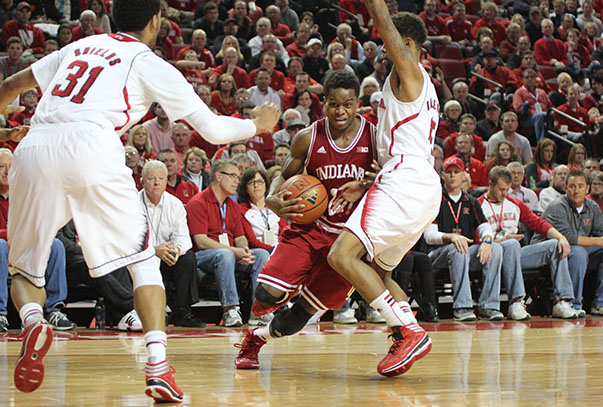 At halftime of Thursday night's game at Nebraska, Indiana had a 13-point lead coming off a dominant 20 minutes of basketball. The Hoosiers were getting what they wanted, offensively, and on defense, they forced Nebraska into shooting just 33.3 percent from the field and allowed just 0.56 points per possession.
Their game plan was to force the Cornhuskers into contested shots; to not allow them to pass the ball into the middle effectively. In the first 20 minutes, the Hoosiers executed perfectly.
And then, things went awry.
In a second half in which the Hoosiers (13-8, 3-5) simply collapsed, Nebraska (11-9, 3-5) came back to win at home, 60-55, in front of an announced 15,107 at Pinnacle Bank Arena.
"We came out with great defensive energy, pretty good ball movement and very good awareness, and the bottom line is the second half, our awareness wasn't where it needed to be, defensively," Indiana coach Tom Crean said. "There's a certain way that they want to play, and in the first half we did a pretty good job of defending that, taking that away. And in the second half, we allowed them to get too comfortable on the perimeter with their 3-point shooting. We took the bait a little bit."
Coming out of halftime, Nebraska coach Tim Miles tweeted his team's first five minutes would be critical. And in that first 5:30, Nebraska would not be stopped once, offensively. The Cornhuskers were getting offensive rebounds, getting to the free throw line. The middle of the court had opened up. Shooters were knocking down open shots — for whatever reason Indiana stopped closing out.
By the time Nebraska was stopped for the first time in the second half, Indiana's lead had evaporated from a 13-point lead to a 40-36 edge.
"(Our zone) kind of takes away what they were trying to get," sophomore Yogi Ferrell said. "And you know, I felt like we went away from that in the second half, worrying about different things we shouldn't have been worrying about. And once they hit a couple shots, they got on a run and we got down."
Despite how much Crean emphasized it — he talked about it days before the game and even reiterated it at halftime — his team wasn't executing, defensively. And throughout the second half, Indiana was faced with that same issue. It didn't get much better.
By the 8:55 mark, Nebraska had tied the game. Indiana's 16 point lead it had built in the first half was gone. At the 6:57 mark, Nebraska would take the lead, its first since the 16:22 mark of the first half. The Cornhuskers wouldn't lose it.
In that second half, Nebraska shot a whopping 66.7 effective field goal percentage behind six 3-pointers and scored 1.46 points per possession. It recorded 14 points off Indiana turnovers. It rebounded 50 percent of its misses.
And in the process of their 18-point second half swing, the Cornhuskers sent Indiana back to square one with its defense.
"It was more about our lack of awareness, defensively," Crean said. "We were in control of the game in the first half, and obviously it's a 40-minute game, we knew that, but we had a pretty good idea of what they were going to go to, and we kind of took the bait. That's what we've got to outgrow.
"We lost this game on the defensive end more so than anything."
Crean unhappy with Vonleh's performance
After freshman Noah Vonleh posted a 7-point, 3-rebound performance against Nebraska following a 14-rebound effort against Illinois, Crean said he wasn't necessarily pleased with his star freshman's effort on Thursday.
"He had a tough night," Crean said. "He was out there, he worked hard. He wasn't as emphatic and decisive with the ball as he needed to be. He got the ball, but it was one of those nights. He's 18."
Vonleh only took five shots on the night and got to the free throw line only once, fouling three times in 27 minutes of play. He also recorded five turnovers, three of which came in the second half.
Put simply, Crean said on Indiana's postgame radio show, "Noah wasn't active enough, today."
Filed to: Nebraska Cornhuskers, Noah Vonleh