Five takeaways from Indiana's loss to Nebraska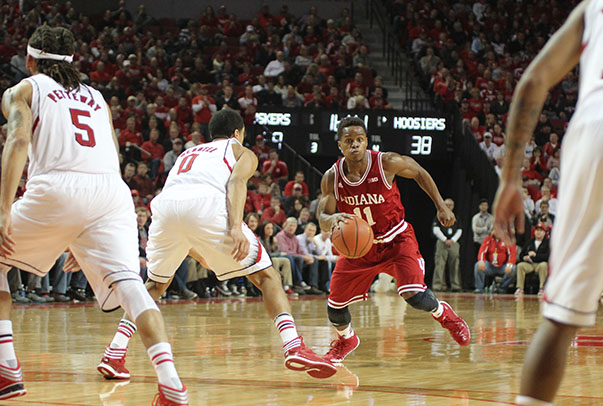 Indiana dropped to 13-8 overall and 3-5 in the Big Ten on Thursday night with a 60-55 loss to Nebraska at Pinnacle Bank Arena in Lincoln.
Here's a look at five takeaways from the loss, which dropped the Hoosiers to 1-3 away from Assembly Hall in conference play:
· Turnovers may define Indiana's season: After struggling with turnovers throughout most of the non-conference and then shoring them up briefly earlier in Big Ten play, the Hoosiers have been unable to shake the epidemic and it's proving costly. Indiana's turnover percentage against Nebraska — a season-high of 31.5 — was a major factor in the loss. The Hoosiers were actually worse turning it over in the first half, which is hard to believe when you consider they once led by 16, but the reality is that all of those mistakes prevented an even bigger halftime cushion.
The overall numbers for IU turnover wise this season are comparable to Tom Crean's first two IU teams and are the third highest totals dating back to 2002-2003, the earliest season that has KenPom.com data available:

· Turnovers aside, this was a game Indiana needed to win and should have won: Indiana was a slight underdog going into Thursday night, but those expectations shifted substantially when the Hoosiers went into halftime with a 13-point cushion. At that point, Indiana had a win probability of 87.5 percent.
Instead, this loss gets filed alongside the Illinois game on Dec. 31, the Northwestern game on Jan. 18 and the Michigan State game on Jan. 21 as close conference games where the Hoosiers came up short. With a 3-5 league record and Michigan at home and Minnesota at Williams Arena coming up next, the road gets no easier from here.
· 21 games in, IU doesn't have a set rotation: The Hoosiers played 13 different guys in the first half of Thursday night's loss and only Yogi Ferrell and Will Sheehey played more than 30 minutes. According to KenPom's bench rank statistic, only Purdue and Iowa are playing more guys. But for as deep as Crean went on the bench, the production it offered statistically wasn't very strong.
In a total of 59 minutes, IU's bench produced just seven points and committed seven of the team's 19 turnovers. There's no doubt that Indiana is playing hard and attempting to bring fatigue to its opponents, but in a 60-possession game (the slowest pace since the Syracuse game), it's fair to question the benefit of playing so many guys and not sticking primarily with the seven or eight who provide the best chance to win.
· Yogi Ferrell is Indiana's most consistent player and it's not close: It was another strong effort overall for Indiana's sophomore floor general, who finished with 14 points, five assists, three rebounds, a steal and just one turnover in 37 minutes.
Unfortunately, Nebraska bottled him up in the second half and save for a late 3-pointer, he nearly went scoreless over the game's final 20 minutes. With the focus on stopping Ferrell and denying him shots in the second half, no one else stepped up for the Hoosiers and IU's offense, which is now 10th in league games, went stagnant against the zone.
· Indiana's defense was poor after halftime: The Hoosiers closed out on shooters, didn't foul and owned the defensive glass through the first 20 minutes, which was a big reason for the comfortable lead despite all of the turnovers. Nebraska scored just .57 points per possession in the first half, rebounded just 6.6 percent of its misses and had a free throw rate of just 4.3 percent.
The second half was a much different story as Nebraska found its rhythm early on its way to a 1.46 points per possession performance with a free throw rate of 85.7. It was a total 180 from half to half and the game turned quickly as the Huskers needed less than four minutes to match their entire first half offensive output.
Filed to: Nebraska Cornhuskers