Recruiting notebook: Mutual interest between Indiana, Matt Cimino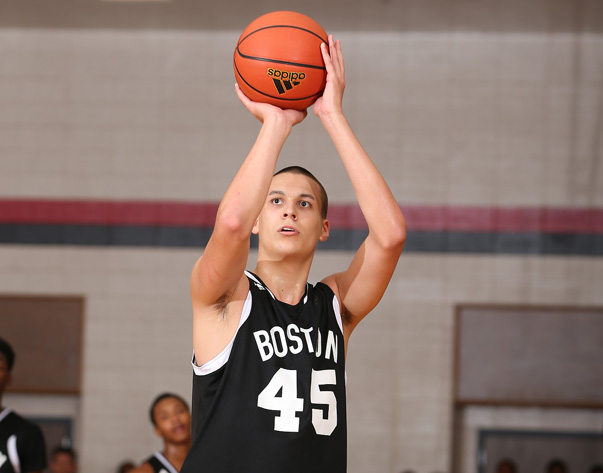 Only ten days ago at Jan. 19's Hoophall Classic, 6-foot-10 Worcester (Mass.) Academy senior Matt Cimino raised eyebrows with a 22-point, 8-rebound performance for his school in a loss to Cushing Academy.
One of those coaches that was made aware of his performance? Indiana's Kenny Johnson.
Cimino spoke to Inside the Hall on Saturday and told ITH he and Johnson have maintained contact since Hoophall, and that he has plenty of interest in the Hoosiers at the moment.
"I have some pretty serious interest in them," Cimino said. "They've been showing me some love the past couple weeks, telling me they need a big man. They don't know if Noah (Vonleh) stays and they just had a transfer so they're kind of running thin on big men. "
At 6-foot-10, Cimino could certainly help fill that void. A self-described versatile player, Cimino said he feels comfortable playing both inside and outside, as well as defending either the four or the five.
The 247Sports Composite ranks Cimino as the No. 143 prospect and No. 34 power forward in the 2014 class, and he has previous offers from Boston College, Virginia and Kansas State.
Since the Hoophall Classic, though, George Washington has offered, and Cimino said he has the best relationship with the Colonials' staff at the moment. He plans on taking one of his official visits there but doesn't know when. Vanderbilt, Rhode Island, Wake Forest and Virginia Tech are recruiting him hard, as well.
As far as his relationship with Indiana is concerned, though, it's still a budding one. Cimino said Johnson planned on visiting him last Friday, however Cimino injured his ankle in the loss to Cushing and was not participating in practice. He said Johnson might visit him either this week or next week.
And although he still has a ways to go in his recruitment, Cimino knows exactly what he wants in a school.
"I think the biggest thing I want to look at is just my relationship with the people, the coaches and the players," Cimino said. "And obviously, academics will be a part of it. A good fit and how a team plays will be a part of it. And I think those will be the factors in how I'm going to decide."
Another 2014 name to know
On Tuesday, it was revealed that Indiana is involved with Morgan Park (Ill.) forward Josh Cunningham.
Initially, Cunningham confirmed a report by D1Circuit that IU was one of his finalists along with Oklahoma, Creighton, South Carolina, DePaul and Bradley, but he later tweeted that he has not cut his list.
Cunningham, a 6-foot-7 forward, is rated the No. 122 prospect and No. 28 small forward in the 247 Composite.
Other notes
· Tom Crean was at Waggener high school in Louisville on Tuesday evening watching class of 2015 Louisville Trinity big man Raymond Spalding. The 6-foot-9, 200 pound forward is rated the 109th best prospect in the 2015 class by the 247Composite.
Spalding scored 14 points and grabbed 16 rebounds as Trinity beat Waggener, 71-51.
· Another big man Indiana is showing interest in is 2015 Northfield (Mass.) Mount Hermon power forward Josh Sharma.
Sharma, who is 6-foot-11, told Inside the Hall that the Hoosiers have not yet offered, however that he has indeed spoken with Johnson on multiple occasions over the past couple weeks.
Sharma is rated the No. 77 prospect in next year's class and has offers from Wisconsin, Maryland and Connecticut, among others.
· We mentioned it in yesterday's roundup, but rosters for the McDonald's All-American game will be announced tonight at 6 p.m. ET on ESPNU. If James Blackmon Jr. is selected, it will mark the fourth straight season the Hoosiers have landed a McDonald's All-American.
(Photo credit: Kelly Kline, adidas)
Filed to: James Blackmon Jr., Josh Cunningham, Josh Sharma, Matt Cimino, Raymond Spalding