Blackmon Jr. selected for 2014 McDonald's All-American game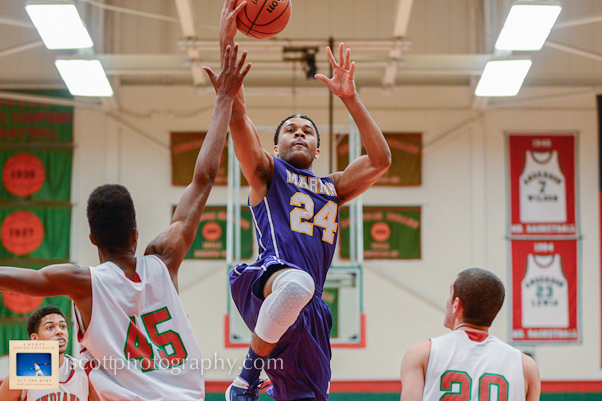 For the fourth consecutive year, Indiana has recruited a McDonald's All-American to Bloomington.
Cody Zeller was the first McDonald's All-American under Tom Crean back in 2011, Kevin "Yogi" Ferrell was selected in 2012 and current IU freshman Noah Vonleh made the team in 2013.
And earlier this evening, it was announced that class of 2014 Marion guard James Blackmon Jr. is the latest Hoosier signee to earn the prestigious honor. Blackmon Jr., who is averaging 36.2 points per game this season, will be on the East team. The 24-man roster was announced on Wednesday evening.
For the fourth straight year, the game will be played at the United Center in Chicago. It will tip-off on Wednesday, Apr. 2 at 9:30 ET on ESPN.
"I think he's just scratching the surface as a player," Crean said of Blackmon Jr. in November. "In my mind we got the absolute best player in the state of Indiana, and there was no debate for us for a long, long time that he was that guy. And not just because of what he's doing but because of what he can do in high school, and then what I think he can do here."
Blackmon Jr. will be the 28th McDonald's All-American to attend Indiana.
As a member USA Basketball's Junior National Select team that was announced last week, Blackmon Jr. will also participate in the Nike Hoop Summit at the Moda Center in Portland, Ore., on Apr. 12.
A complete list of McDonald's All-Americans to attend Indiana is available after the jump.
MCDONALD'S ALL-AMERICANS TO ATTEND INDIANA
Tom Baker – 1977
Ray Tolbert – 1977
Landon Turner – 1978
Isiah Thomas – 1979
John Flowers – 1981
Daryl Thomas – 1983
Delray Brooks – 1984
Ricky Calloway – 1985
Jay Edwards – 1987
Eric Anderson – 1988
Greg Graham – 1989
Pat Graham – 1989
Damon Bailey – 1990
Alan Henderson – 1991
Sherron Wilkerson – 1993
Andrae Patterson – 1994
Neil Reed – 1994
Jason Collier – 1996
Luke Recker – 1997
Dane Fife – 1998
Jared Jeffries – 2000
Bracey Wright – 2002
D.J. White – 2004
Eric Gordon – 2007
Cody Zeller – 2011
Kevin "Yogi" Ferrell – 2012
Noah Vonleh – 2013
Filed to: James Blackmon Jr., McDonald's All-American Game