Quotes from Crean on Big Ten teleconference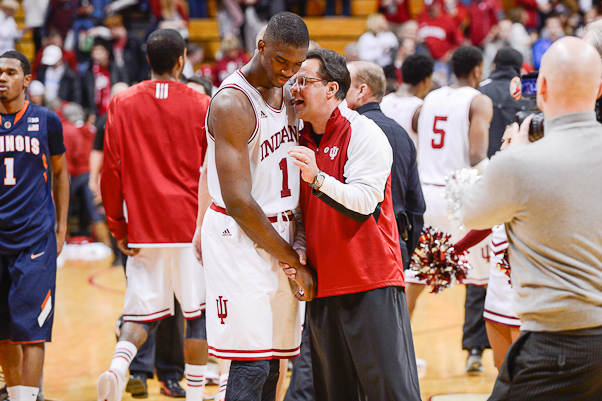 The Big Ten held its weekly coaches teleconference on Monday morning to review the fourth week of conference play. Here are quotes from Tom Crean's appearance:
· Opening remarks:
"We feel really good about earning a victory yesterday against Illinois. It was two teams that were absolutely going at it tooth and nail, like most every game in this league is. We defended at a really high level and it's the fewest points Indiana's given up (in Big Ten play) since the 2008 season.
"Our defense really grew yesterday. I was impressed with that in a big way. The bottom line is we rebounded the ball. Any time you're playing against Illinois, a team that has the ability to rebound the ball on both ends like they do, you have to be really good, and our guys were yesterday. We did a great job of not giving up second-chance points. We did a really good job in the second half of taking care of the ball. We executed and made our free throws late and closed it out. That's the kind of stuff that just helps a team like this, that has so many guys that are going through this for the first time, understand what it takes to win."
· On implementing new plays with a young team:
"I think, because there's so much youth in this team, that it's a little bit harder. But the bottom line is you try to work to the level of adding things to the level of your smartest and best players. The smartest are the cerebral ones that can really pick it up and then apply it. Then, you want to make sure that you're giving them reminders throughout the game.
"But the bottom line is it's the focus. It's coming in with a real, not only physical energy, but a mental energy that you have to have to really absorb it in a short period of time. I think, again, you don't get to do any of that if you're not spending a great deal of time on the fundamentals on both ends of the court, because obviously you can't do anything without that. Then, what you've got to try to do is to understand the details of it. `Okay, this is where we have to take our man to this place. We have to get our head under the rim here.' Those things are what take some time because there's a lot of slippage in that.
"And so, in comparison to where this team would be compared to others, I'm not sure. I'd have to really think about that. In the course of the game, you have to be very careful how, with the heat of the game, you put those guys in those situations.
"Defensively, what I like about what we're trying to do defensively, is that if you're not talking on the court, you can't be successful at it. So right now, if we're going to change defenses, you have to talk on the court. Maybe that's going to limit your bench, limit your minutes a little bit. But everyone starts to understand that there's a certain way we are going to do it and we're not going to back off just because it's a little bit harder to talk on this or you don't want to call out this screen or this bump, those types of things. I think, in turn, it gets everybody's attention. At least it should, because we're not tying to overcomplicate things. What we're trying to do is win the game. And if you're just communicating and have that mental and physical energy and you've got really good focus, you're going to get a lot of things done. This team is growing in that area, there's no doubt about that. In some areas it's faster than others."
· On going against Nebraska:
"They are extremely aggressive. They attack the basket at will. There is no question that they want to get to the rim. They want to get up and down the court. They are very, very much on the attack. I think that would be the initial thing and the biggest thing that we will try to get across to the team today before we get into all the schemes and what they are doing offensively and defensively and what their personnel is like. (Nebraska) really does want to be on the attack. At the same time, they are very willing 3-point shooters. They rarely put anybody on the court that can't make 3's. So we need to get that across and we also need to get across what has been successful for us when we've gone away from home and make sure that we're not getting away from that."
· On Noah Vonleh anchoring IU's zone defense:
"I think it's been certainly ongoing and growing by leaps and bounds since the conference season started. There's no doubt about that. He's getting more and more comfortable. He takes up a lot of space. He's got very good short-space quickness. He not only rebounds the balls that come to him but the balls he needs to go get from somebody else. He covers a lot of ground.
"I think the biggest thing with the rebounding, though, is everybody else blocking out because the zone is sometimes even more crucial to the guard block-out than even the man-to-man. Sometimes, Yogi may not have a guy that goes to the offensive board. Stan may not have a guy that goes to the offensive board. In the zone, you never know where people are going to be. So you have to do a great job of really finding somebody to hit in your area. That's an area that we needed to really shore up over the last couple of weeks. I think we've gotten better at that.
"But, Noah's getting more comfortable at everything, just like the other freshman are. This program has always been about improvement. I think that's one of the reasons in the last two and a half years, we've got a 75 percent winning percentage, because the guys get better. And they just keep getting better. I think it's not just the stuff that's very obvious. It's not just the scoring or the percentages or the numbers that they get better at. Those are a by-product of how much they are improving in the details; and how much they are improving in their awareness; and how much they are improving in their physicality; and how much they are improving with creating angles. We could go on and on.
"The details of the fundamentals are what really allow you to have success. I think when you get those details down, you gain confidence on both ends of the court. I think Noah and our other young players are starting to do more of that."
· On Nebraska's Terran Petteway:
"The coaches are ahead of me on this right now with the preparation. There will be a lot of time spent on this. I don't know him but when you look at him, he's fearless. He is absolutely fearless and plays both ends of the floor extremely well. He's very aggressive. He has a very good skill set, very good size. He plays extremely hard. More importantly than just playing hard, he looks to be extremely competitive. I think he's going to be very tough to deal with. But I don't think, by any stretch, with that team, are they a one-, two-, three-person team. I think Tim (Miles) is doing a great job of building a very strong program. There are a lot of guys on their team that are playing very well. I think Petteway does kind of epitomize the attack that that team is on right now, with the way that they attack both ends of the floor, especially with the way they get to the basket."
· On giving a report card to Noah Vonleh and expectations for the next six weeks:
"I'm not a report card guy, unfortunately, in that sense. We're evaluating so many things, I think we'd run out of paper with what we would try to grade. I would say he's improving rapidly. I would say his learning curve is high. I would say he's gaining more and more confidence because he understands things better. Many times yesterday, there were three or four players around him any time he was even in the vicinity of catching the basketball, so he's learning to play through that. I would think the steps for him are to continue to understand how much we want to go to him, continue to play out of double-teams, continue to pass the ball and re-post, continue to trust his jump shot because it's very good, continue to play through fatigue and run the court on both ends and just continue to develop the way that he is, because he's having fun and we're having fun coaching him and he's improving all the time."
· On Vonleh handling expectations:
"Well, for a young man that should be a senior in high school right now because he re-classified, I think he's handled it extremely well. He came in here in the summer time and Stanford Robinson did the same thing. Those two established that they were going to be in the gym all the time. It is common occurrence for practice to be over, for film to be over, very much the way the culture of this program really started to take shape with guys like Victor Oladipo, Will Sheehey and Jordan Hulls, in the sense that they could never get enough of the game. They could never be in the gym enough, and Noah is like that. He just loves the game. He loves getting better and he's very hungry to learn and humble as he goes through it. Really the best thing you can say about him is that he's just one of the guys. He's got a work ethic that some people are matching on this team, but I wouldn't say we have anyone that's going above and beyond it."
Filed to: Nebraska Cornhuskers, Noah Vonleh, Tom Crean