What to Expect: Illinois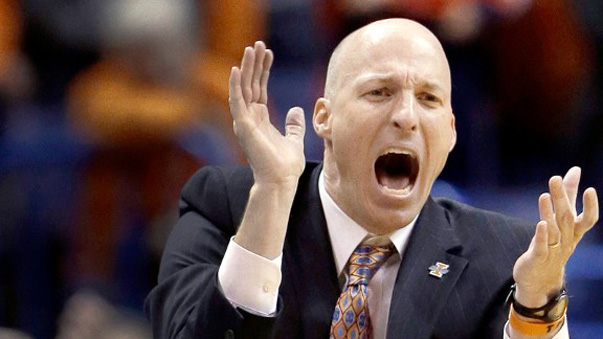 Indiana returns to Assembly Hall on Sunday afternoon for its second meeting of the season with Illinois. The Fighting Illini won the first contest between the two teams, 83-80 in overtime, on Dec. 31 at the State Farm Center in Champaign.
The game will be broadcast on BTN at 3 p.m. ET and on the IU radio network (Sirius 85, XM 85):
A third of the way into the Big Ten schedule, Indiana's prospects for emerging from the fray with a winning record are not looking promising. The Hoosiers failed to keep momentum after beating Penn State and Wisconsin and come into Sunday's game with Illinois as losers of two straight.
Illinois is in worse shape than the Hoosiers as the Fighting Illini carry a five-game losing streak into Assembly Hall after opening league play with two straight wins. And with home games against Iowa and Wisconsin to follow, this may be the best chance for Illinois to avoid an eight-game skid.
In a lot of ways, this is Indiana's most important game of the season so far. And as the calendar continues to creep toward March, that phrase is going to continue to come up. Simply put, the Hoosiers need wins. With six road games still on the slate, it's basically a must to protect home court, particularly after the Northwestern loss.
The NCAA tournament is a long shot at this point, but the overall strength of the Big Ten still gives Indiana a chance to play its way in. That, however, only becomes a discussion over the coming weeks if the Hoosiers are able to string together wins, get above .500 in league play and beat some of the league's top teams. Tomorrow's game isn't one that will hold much clout in terms of quality come March, but it's one that Indiana simply cannot afford to lose.
PERSONNEL
Junior guard Rayvonte Rice was a thorn in Indiana's side during the first matchup in Champaign, but his level of play has dropped off significantly in recent weeks. In seven league games, the transfer from Drake is averaging 13.4 points on 30.8 percent shooting from the field. Rice is coming off an 0-for-8 performance on Thursday in a loss at Ohio State.
Tracy Abrams, the Fighting Illini's second leading scorer in Big Ten games, has also struggled from the field in conference at just 36.1 percent from the field. Overall, the junior is best suited as a facilitator (24.1 assist rate), but he continues to take a high percentage of his team's shots (25.8), which, when combined with Rice's struggles, is a big reason Illinois has the 10th best offense in league games.
Seniors Joseph Bertrand has been the most reliable offensive piece for John Groce in league games and his 19 points on Thursday at Ohio State was the big reason the Illini were in the game late. Bertrand is easily the most efficient player on the roster with a 57.7 effective field goal percentage, which is bolstered by his reliable stroke from distance (45.2 percent on 3s). Graduate senior Jon Ekey is taking 74 percent of his shots from behind the 3-point line, where he's hitting at a 36.8 clip overall, but just 33.3 percent in Big Ten games.
In the front court, Nnanna Egwu is hitting less than 30 percent of his shot attempts in league play and while he's been solid on the offensive glass (9.7 OR%) and as a defender (8.1 block percentage), his five points per game in Big Ten games just isn't getting it done. He is, however, coming off 10 points on Thursday against Ohio State.
Groce has trimmed his bench significantly as freshman guards Kendrick Nunn and Jaylon Tate were the only reserves to log more than 10 minutes at Ohio State. Nunn is a powerful guard that brings energy off the bench while Tate is basically a black hole offensively (16.7 eFG% in Big Ten games).
A TEMPO-FREE GLANCE
We're switching things up here a bit as both teams have a healthy enough sample size to display conference-only stats and ranks: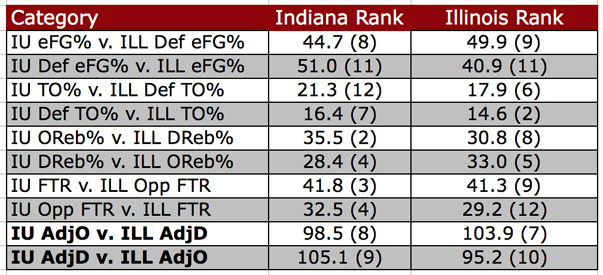 Much like the first matchup, turnovers have a chance to be a significant factor on Sunday. Illinois is coughing it up on just 14.6 of its possessions in Big Ten play compared to 21.3 percent for Indiana. In a one or two possession game, this could be paramount. Indiana had been taking care of the ball better, but regressed against Michigan State with a 26.1 turnover percentage.
Where Indiana needs to exploit Illinois is both on the offensive glass and getting to the foul line. Indiana is the Big Ten's third best team in terms of getting to the line while the Fighting Illini have the worst free throw rate in conference games thus far.
Offensive rebounding also has a chance to be a mismatch as IU is grabbing close to nine percent more of its misses than Illinois.
WHAT IT COMES DOWN TO
The Big Ten is scouted as well as any league in the country and given that these teams have already met once, you can expect a fair amount of adjustments in round two. The Vegas line opened with IU as a 5.5-point favorite, KenPom likes the Hoosiers by 5 and the Sagarin ratings like IU by 4.
The blueprint Northwestern used against Indiana is one that Illinois may attempt to replicate, which is essentially pack the lane, play physical and hope that the Hoosiers miss shots close to the rim. Given that Indiana is shooting a league-worst 40.3 percent on 2s in Big Ten play, it's arguably the best strategy until the Hoosiers prove otherwise.
Illinois has been nearly as bad on 2s in Big Ten play (41.4 percent) and a woeful 26.4 percent on 3s, so look for Indiana to look and try to keep Rice out of the offensive flow early and avoid a repeat of the 29 points he dropped in Champaign.
If  IU can take care of the ball and shoot a percentage anywhere near its season averages, this is a game it should win. But as we saw last weekend against Northwestern, nothing comes easy in the Big Ten.
(Photo credit: Associated Press/Jeff Roberson )
Filed to: Illinois Fighting Illini