What to Expect: Michigan State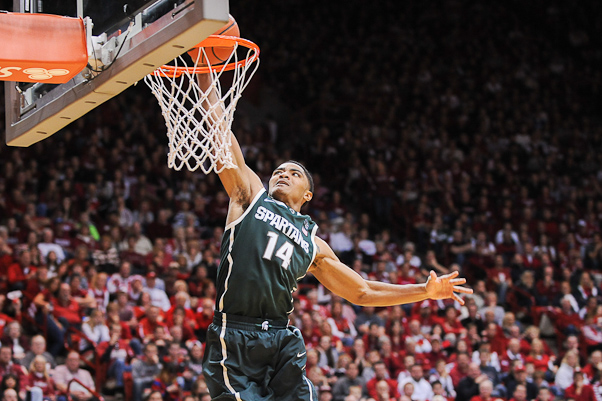 Indiana will play its third Big Ten game against a top five team tonight when the Hoosiers travel to No. 3 Michigan State. The Spartans are 17-1 overall and 6-0 in league play.
The game will be broadcast at 7:00 p.m. ET on ESPN and on the IU radio network:
It looked like Indiana might be turning a corner when it knocked off then-No. 3 Wisconsin on Tuesday night at Assembly Hall. The Hoosiers had their second straight Big Ten win with a great chance at a three-game streak with Northwestern coming to town.
But sometimes looks can be deceiving.
The same Indiana team that was good enough to put 75 points on Wisconsin and beat the Badgers for the first time in its last 13 tries couldn't beat one of the league's bottom three teams at home.
The road gets no easier from here as Indiana goes to Michigan State, which is playing its best basketball of the season without Adreian Payne. It's soul searching time for these young Hoosiers, who aren't expected to win tonight but need to play much better than Saturday's performance to keep things competitive and have a chance in East Lansing.
PERSONNEL
The Spartans are beginning to hit their stride and the scary part about it for the rest of the league (and the country, for that matter) is that Payne has missed the last three games and seems unlikely to play again tonight. A sprained right foot is what ails Michigan State's best post player and Tom Izzo has stated that he won't play him until he's 100 percent.
The game plan begins with Harris, who dropped a career-high 26 points on Indiana earlier this month in Bloomington and is beginning to play like the league's preseason player of the year. The sophomore from Hamilton Southeastern has his effective field goal percentage above 50 and is third in scoring in conference games (18.0 ppg).
Joining Harris in the backcourt is senior Keith Appling, who has often struggled against Indiana, and sophomore Denzel Valentine, who does a little bit of everything. Appling is hitting more than 45 percent of his 3-point tries and leads the Spartans with an assist rate of 25.5. Valentine is a solid distributor (23.1 assist rate) and defensive rebounder (17.8 DR%) that doesn't shoot a high percentage from the field.
Up front, Branden Dawson is putting together his best season to-date and finally looks the player who once earned McDonald's All-American honors. Dawson is hitting close to 60 percent of his field goal attempts and is very good on the glass on both ends with an offensive rebounding percentage of 12.1 and a defensive rebounding percentage of 20.9. Matt Costello has entered the starting lineup in Payne's absence and is coming off a stat line of eight points, six blocks and five rebounds in Michigan State's win over Illinois on Saturday.
Two key bench contributors to watch are junior guard Travis Trice, who is hitting 41.2 percent of his 3-point tries and forward Kenny Kaminski, who is hitting 58.6 percent of his attempts from distance. On Monday's Big Ten teleconference, Tom Crean called Kaminski an "x-factor" for the Spartans and having a 6-foot-8 forward who can stretch the floor is an added bonus to an already balanced offense.
TEMPO-FREE PREVIEW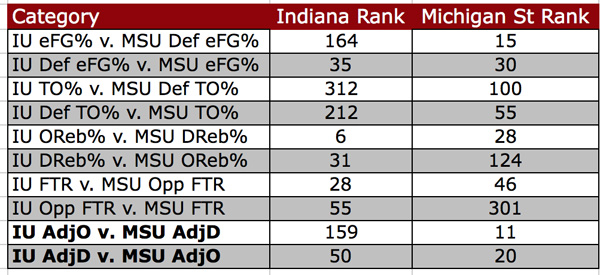 Michigan State has been locking teams down in conference play, which is a major concern for Indiana after it was only able to muster up 47 points to Northwestern on Saturday. Michigan State leads the conference in defensive efficiency through six games, allowing just .90 points per possession. The Spartans are also leading the Big Ten in defensive effective field goal percentage (44.1) and defensive turnover percentage (20.2).
If there's one area where IU may be able to find success offensively, it could be the perimeter, as Michigan State is just eighth in league play in defending the 3-point line. That, however, assumes IU can shoot better than the 4-of-18 mark it mustered up against the Wildcats at Assembly Hall.
When the Spartans have the ball, Indiana has to be concerned with finding guys like Harris, Appling, Trice and Kaminski on the perimeter while also keeping a body on Dawson, who really hits the offensive glass hard and Costello, who is capable of finishing plays if IU helps off of him.
WHAT IT COMES DOWN TO
The Pomeroy numbers give a bleak outlook in this game for Indiana, predicting an 80-64 win for Michigan State and just an eight percent chance of IU pulling the upset. Sagarin is a little less ambitious, favoring the Spartans by 14.5. Given where both teams are currently at, Indiana winning in East Lansing would probably be a bigger upset than Northwestern's win in Bloomington over the weekend. The numbers are that lopsided.
That said, this is an important game for Indiana to at least regain some of the confidence that may have been lost against Northwestern and avoid an embarrassing loss with a critical stretch of schedule following this game. Despite the earlier hiccup to North Carolina, Michigan State is playing like one of the top three teams in the country and is the clear favorite to win the Big Ten.
It's gut check time for Indiana.
Filed to: Michigan State Spartans