After Northwestern loss, IU looks for improvement at Michigan State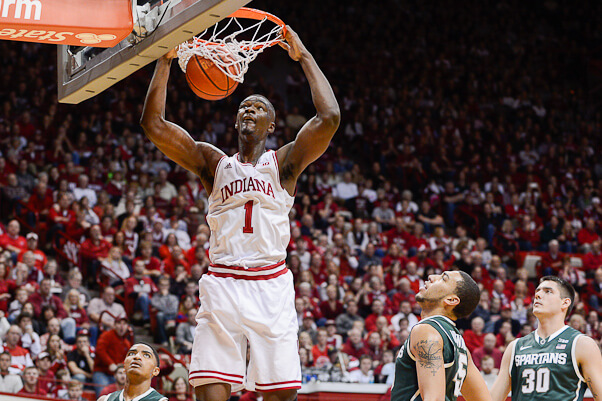 Following Indiana's worst loss of the season on Saturday to an 8-10 Northwestern squad, Tom Crean gave his team a partial practice the next day to give his players some rest during a long Big Ten season.
That long season continues tonight in East Lansing, Mich., when the Hoosiers (12-6, 2-3) face No. 3 Michigan State (17-1, 6-0) at 7 p.m., only 17 days after the Spartans beat the Hoosiers, 73-56, on Jan. 4 at Assembly Hall.
"(They're) really playing well on both sides of the ball, both ends and with very good consistency considering they've played without one of the better players in the country the last couple of games in Adreian Payne," Crean said on Monday during the weekly Big Ten conference call. "We're trying to continue to get better here at what we've got to improve upon and get ourselves prepared in a hurry to get up to Michigan State."
As if tonight's challenge won't be significant enough, doing it on less preparation might make it even more difficult. The Spartans are riding a 10-game winning streak and haven't lost since Dec. 4 against North Carolina. They have the nation's No. 20 offense and No. 10 defense.
And Michigan State has maintained success even without Payne, their 6-foot-10 senior forward who is struggling with a right foot sprain. He's doubtful for tonight's game, Tom Izzo said on Monday, but for Indiana, stopping Michigan State goes far beyond stopping Payne.
"Their other bigs, they're hard-working guys and they come in and do the little things," sophomore Austin Etherington said. "They play hard and they crash offensive rebounds, so that's something as a team that we know we'll need to block out."
But especially after a seven-point loss to Northwestern in which the Hoosiers only scored 47 points, their lowest output since the 2009-2010 season, Crean has simply been looking for any signs of improvement as his team heads into one of the nation's most hostile environments.
Yes, Indiana did beat then-No. 3 Wisconsin last Tuesday, but it followed that performance by shooting 15-for-60 from the field against the Wildcats. And against a confident Michigan State team tonight in East Lansing, the Hoosiers might just need to regain some confidence to be competitive.
"It's not like anything is going to miraculously change, nor does it need to," Crean said. "We just need to continue to improve and understand how we play best and what brings the best out of our team and what hurts our team. Film can show that sometimes, but also just continuing to absorb the fundamentals and having that understanding."
Etherington: "(Harris) is one of the best guards in the country"
Back when Etherington was in high school a few years ago, he and eventual Michigan State guard Gary Harris played on the same court plenty of times.
Now, with Etherington playing more minutes at Indiana and Harris becoming Michigan State's star, the Indiana redshirt sophomore was asked what he thinks of Harris's recent play. Harris has scored at least 13 points in all but one game this season and most recently scored 23 in Saturday's 78-62 win at Illinois off 7-of-9 shooting.
"He's one of the best guards in the country right now," Etherington said. "I've seen him in high school do the things that he's doing now, so he just took his game to another level.
"He hits shots. He does what his team needs."
In 15 games played this season, Harris is averaging 17.9 points, 4.7 rebounds and 2.9 assists per game.
Filed to: Austin Etherington, Gary Harris, Michigan State Spartans