Notes and quotes from Crean on Big Ten teleconference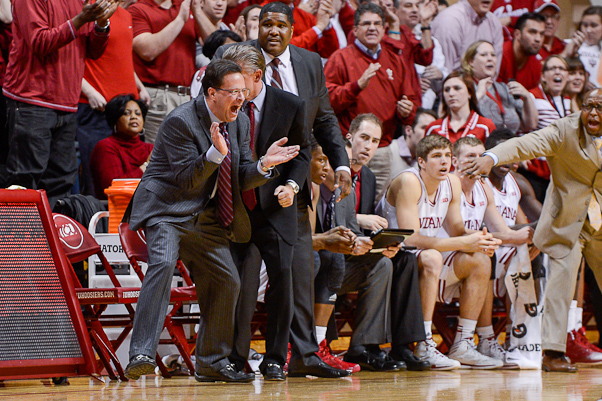 The Big Ten held its weekly coaches teleconference on Monday morning to review the third week of conference play. Here are some notes and quotes from Tom Crean's appearance:
· Opening statement: "We're just getting ready right now for Michigan State, who is playing extremely well and really playing well on both sides of the ball, both ends and with very good consistency considering they've played without one of the better players in the country the last couple of games in Adreian Payne. We're trying to continue to get better here at what we've got to improve upon and get ourselves prepared in a hurry to get up to Michigan State."
· Crean was asked about how his team responded to the Northwestern loss and whether they practiced on Sunday as he mentioned they would in the postgame press conference: "No, I actually changed it up. We didn't have a full practice. We'll do that here in a little bit, today."
· Crean was asked about what he'll look for in that practice: "I'm just looking for us to improve. I don't think it's anything different. I don't think it's anything that's going to change. I think you just keep getting better. You're pacing your team constantly and you have to make sure, with the long season, and it really is, that you continue to adjust that pace. But really, it doesn't change much in the sense of what you're trying to get done fundamentally. It's not like anything is going to miraculously change, nor does it need to. We just need to continue to improve and understand how we play best and what brings the best out of our team and what hurts our team. Film can show that sometimes, but also just continuing to absorb the fundamentals and having that understanding.
"Most of the mistakes we made the other day were self inflicted. Mistakes in going under screens, mistakes in shots, not reversing the ball maybe one more time. The big one was not taking one more dribble at the basket and letting the contact influence the play rather than taking one more dribble and getting it all the way to the basket and then putting a little more pressure on the rim so to speak and not just the defense where that one more dribble a lot of times creates one more angle. So those are fundamental things that can be fixed and adjusted and we'll just continue to work on it."
· Crean said that Michigan State has been able to continue its high level of play in the absence of Payne for several reasons, including Gary Harris, Denzel Valentine, Keith Appling and Kenny Kaminski.
"They're showing the product of the fact that they've got a pretty good understanding of how they play. The new guys that come in, much like some of the other better teams in this league, they're adjusting to the veterans and the veterans kind of help them along rather than the other way around."
· Crean was asked about teaching a young team coming off a week where it did a lot of good things against Wisconsin and then let the game get away from them against Northwestern.
"You can make comparisons and parallel, but there were still times in the Wisconsin game where we didn't defend the proper way. And it was a different game in the sense of how the lane opened up. The lane was going to open up (against Northwestern) for us if we would have attacked a little more out of the corners, which would have created more opportunities to pull people out of the lane and get that next drive."
· Crean pointed out that his team made 14 layups in the first half of the Wisconsin game and missed about that many in the Northwestern game.
"Some of that was we made it harder on ourselves by not going up through the contact, not taking one more dribble. A lot of it is fundamental. A lot of it is playing through contact and not necessarily waiting for the whistle to blow or hoping you're going to get a call or trying to manufacture a shot, which is something we tried to do too much the other day. We tried to manufacture plays rather than let them happen."
· Crean said that once things weren't as easy against Northwestern, Indiana started to settle. "That's a sign of a team that is not at a mature place yet in understanding what it takes to win and that every night is different."
· Crean was asked about the recent playing time of Devin Davis and whether it's a health issue. "I don't think it's that. I think it's a matter of creating enough opportunities in practice that will put him in over someone else." Crean specifically mentioned the recent play of Jeff Howard and Austin Etherington as two guys have been doing a good job recently.
· Crean was asked about what his team can learn from the first game against Michigan State. He said his team didn't follow the game plan, wasn't strong enough with the ball and allowed 13 points off of live ball turnovers. He also mentioned letting Harris get "far too comfortable and loose in the game" in the first meeting.
"There's no question we could have played a lot better, and we didn't, so hopefully we'll learn from some of that right now."
Filed to: Tom Crean