Five takeaways from Indiana's loss to Northwestern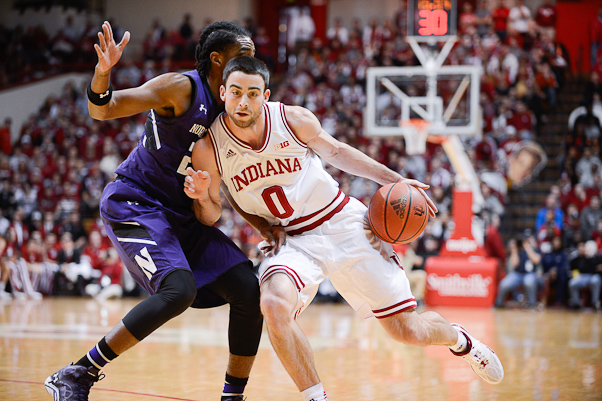 Indiana dropped to 12-6 overall and 2-3 in the Big Ten on Saturday with a 54-47 loss to Northwestern at Assembly Hall.
Here's a look at five takeaways from the stunning loss to the Wildcats:
· This was Indiana's worst offensive game in nearly three years: As pointed out by John Gasaway of ESPN.com on Twitter, Indiana's 0.74 points per possession against Northwestern was the worst effort for the Hoosiers since they scored 0.74 against Illinois on March 5, 2011. Indiana has had its share of offensive struggles this season, but Saturday's performance was easily the worst of the season.
Indiana shot 15-of-60 from the field and had an effective field goal percentage of 28.3, nearly 15 percent lower than its second worst effort earlier in the year against LIU Brooklyn.
· Indiana compounded its poor shooting by not getting to the line or the offensive glass: Despite the woeful shooting, Indiana still had a chance to win the game. But the Hoosiers took far too many 3-pointers (18) and came up short in two other areas that have been keys to their success offensively.
Indiana had its second worst free throw rate (FTA/FGA) of the Big Ten season so far at 28.3 and its worst effort of the season on the offensive glass (27.7 OR%). The Hoosiers may have been able to overcome all of the missed shots from the perimeter had they been able to get to the line with any regularity or get some second chance points, but neither happened.
· The Big Ten is slowing Indiana down: Indiana is still averaging close to 72 possessions per game on the season, which is the 29th fastest tempo in the country, but Big Ten opponents are figuring out ways to slow the Hoosiers down.
In five Big Ten games, Indiana has played one game with a possession total of 70 or more (Illinois), one of 68 (Penn State) and three of 64 (Michigan State, Wisconsin, Northwestern). As much as Indiana was able to run in the non-conference portion of its schedule, it's not happening so far in the Big Ten.
· Indiana's veterans on the perimeter all played poorly: Evan Gordon, Yogi Ferrell and Will Sheehey followed up good performances against Wisconson on Tuesday with poor play on Saturday. The trio combined to shoot 6-of-33 in 91 minutes on the floor.
Ferrell's day in particular was concerning as he's now 12-of-38 from the field over his last two games and he seemed to let his poor offensive play affect him defensively to the point that he was benched for walk-on Jonny Marlin. Ferrell's effective field goal percentage in Big Ten games is just 46.1. With IU's reliance on him for offense, any prolonged shooting slump could become catastrophic.
· This loss has the potential to be devastating: Rather than heading to East Lansing on Tuesday with positive momentum and a 3-2 league record, Indiana is now likely going to need a 7-5 record over its final 12 conference games just to get to a .500 record. And while the Hoosiers did pick up a big win earlier in the week against Wisconsin, the loss against Northwestern will be a black mark if IU is able to work its way back into NCAA tournament consideration.
In Saturday's postgame press conference, this reality already seemed to be on the radar of freshman Stanford Robinson.
"It's a very big disappointment because, I mean, just to get it moving, we actually took a step back now, and so we have to take a couple steps forward just to catch up to where we were," he said.
Filed to: Northwestern Wildcats, Yogi Ferrell