Poor preparation carries over as IU falls to Northwestern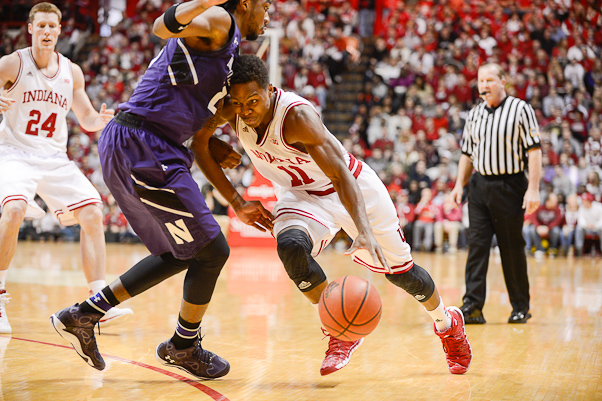 As Indiana prepared for Saturday's game with Northwestern, Tom Crean was not pleased with what he saw.
Coming off an impressive 75-72 win over No. 3 Wisconsin on Tuesday, the Hoosiers had a chance to move above the .500 mark in conference play against a rebuilding Northwestern team that had been clubbed in its first two Big Ten road games.
Instead, Indiana took a step back on Saturday afternoon, falling 54-47 to the Wildcats in a loss that was stunning to perhaps everybody but Crean.
In his postgame comments, IU's coach described his team's preparation leading up to the game as lacking in both focus and consistency.
"It's not the first time, it won't be the last time, but it was there, and it was addressed, and it was addressed frequently, and it was addressed last night," he explained. "We tried to shake it out of it this morning, and it just didn't fall that way."
The loss capped a whirlwind of a week for Indiana that started with an improbable win over the then-unbeaten Badgers and ended with a misstep that could be extremely costly as the Hoosiers attempt to claw back into NCAA tournament consideration.
Indiana didn't have what could be considered a bad loss before Saturday. It does now.
"It's a very big disappointment because, I mean, just to get it moving, we actually took a step back now, and so we have to take a couple steps forward just to catch up to where we were," freshman Stanford Robinson said.
The Hoosiers shot just 25 percent in the loss, which included a 4-of-18 performance from behind the 3-point line.
Northwestern, mindful of Indiana's success in getting to the rim and putting 52 points in the paint on Wisconsin, packed the lane and dared the Hoosiers to hit jump shots, which didn't happen.
Yogi Ferrell, Evan Gordon and Will Sheehey combined for just 18 points on 6-of-33 shooting. Freshman Noah Vonleh was the only IU player in double figures with 17 points and it took him 15 shots to get there.
"We try to take layups away from a team, whether it be in transition or in the halfcourt," Northwestern coach Chris Collins said. "We try to make them make contested jump shots. Some nights they are going to make them and if they do, we have to tip our cap. Tonight we were fortunate. Indiana didn't make their shots."
Despite the woeful shooting, Indiana had its chances to grind out a win.
After scoring just 19 first half points and trailing by eight early in the second half, the Hoosiers tied the game at 40 with 3:40 remaining on a pair of free throws from Ferrell.
But Northwestern quickly responded with seven straight points from Tre Demps, who finished with 15 off the bench.
One play in the sequence in particular that irked Crean was when Demps, guarded by Ferrell, took a ball screen from Alex Olah and drove all the way to the basket for an uncontested layup to push the Northwestern lead to 45-40 with 2:24 remaining.
"What happened at that point is when guys aren't making shots offensively it affects the defense," Crean said. "And it was not a good enough screen for us to be getting hung on that pick. We called a time out to switch and we still got scored on."
The Hoosiers would never get closer than three the rest of the way. A questionable 3-pointer taken by Gordon with 22 seconds left and IU down by four sealed the win for Northwestern, its first on the road since Nov. 20 at Illinois-Chicago.
"Terrible shot. There's no question about it," Crean said. "You can't take a jump shot there, and that did not make sense. Our whole thing was to attack the rim. Our whole thing was not to take a step back three in that situation with anybody, and we practiced this numerous times."
The road doesn't get easier from here as Indiana travels to East Lansing on Tuesday for a meeting with Michigan State, which is 5-0 in the league and likely to be ranked No. 3 when the new polls are released on Monday.
"I don't think it would have mattered who we played coming off the win the other day," Crean said. "We weren't mature enough to handle a great win and come in here and play the way that we needed to play, and it started yesterday.
"I'm disappointed in that. And if it was legal to practice at midnight, we would. It's not, so we'll start when it's legal, tomorrow morning. But we're not going to sit back and look at any part of this as being acceptable and the way that we played."
Filed to: Northwestern Wildcats, Tom Crean