What to Expect: Northwestern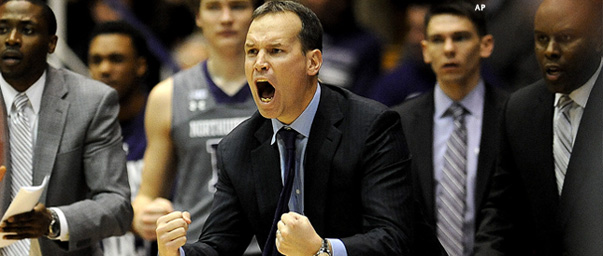 Indiana looks for its third straight win on Saturday afternoon when it hosts Northwestern at Assembly Hall. The Wildcats are 8-10 overall and 1-4 in the Big Ten under first year coach Chris Collins.
The game will be broadcast at 2:30 p.m. ET on BTN and on the IU radio network (Sirius 85, XM 85):
The Bill Carmody era is over. The powers that be in Evanston decided that 13 seasons was enough as the Wildcats amassed just four winning seasons and four NIT appearances.
In a move that looks solid on paper, Northwestern went out and hired Chris Collins, a long time Duke assistant who has strong ties to the area and ambition to take the program farther than its previous trajectory under Carmody.
But it's going to take time for Collins to recruit better players and put his stamp on the program. In the interim, Northwestern looks destined for the cellar in a tough Big Ten that leaves little margin for error for a team that is at a significant disadvantage from a talent perspective.
PERSONNEL
It's a year of transition for Northwestern, but its best player is one that IU and Big Ten fans are very familiar with. After missing last season with a shoulder injury, Drew Crawford opted to stick things out in Evanston and play his final year for the Wildcats rather than transferring elsewhere for his fifth year. Crawford was very productive and efficient in the 2011-2012 season, but his shooting numbers have taken a big dip in his final season. He's hitting just 43.7 percent on twos and 34.2 percent on threes, but is Northwestern's leading scorer at 15 points per game.
Also scoring in double figures are 6-foot-5 guard JerShon Cobb, who was suspended for the entire 2012-2013 season and 6-foot-2 guard Tre Demps, who comes off the bench. Cobb has struggled to be efficient throughout his career and his junior season has been no different. His effective field goal percentage is just 46.8. Demps is even less efficient (44.6 eFG%), but has the lowest turnover rate among Northwestern's regulars at 10.4 percent.
Dave Sobolewski, Northwestern's starting point guard, has missed the last two games after suffering a concussion in practice and appears questionable at best for tomorrow.
In the frontcourt, 7-foot, 265 pound big man Alex Olah only averages 8.8 points but had a 23-point effort against Wisconsin in the Big Ten opener, which Northwestern lost 76-49. Olah is making close to 59 percent of his 2s and is ninth in the conference in block percentage. Nikola Cerina, a 6-foot-9 senior, plays sparingly as a backup.
Northwestern plays small alongside Olah up front as 6-foot-6 freshman Sanjay Lumpkin, who averages 4.3 points and 5.3 rebounds starts at the four. Nathan Taphorn and Kale Abrahamson, who has entered the starting lineup with Sobolewski's absence, are both 6-foot-7 wing players who prefer hoisting perimeter shots above all else.
TEMPO-FREE PREVIEW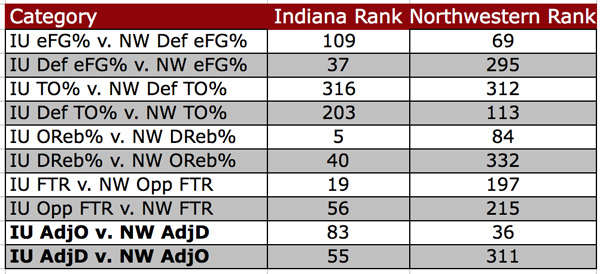 Offensively, Northwestern is easily the most challenged team in the Big Ten as the Wildcats have finished three of their five league games in the 40's and don't shoot the ball well from the perimeter (30.6 percent on 3s) or on 2s (46.6 percent).
The Wildcats do a decent job taking care of the ball, but are dreadful on the offensive glass (332nd nationally) and don't get to the foul line particularly well either with a free throw rate of 38.7 percent. Through five Big Ten games, Northwestern is scoring a league worst .84 points per possession, which is nearly a tenth of a point less than Nebraska (.93).
Defensively, Northwestern, much like Indiana, has some decent numbers nationally, but they haven't carried over to league play. Both teams are allowing 1.11 points per possession so far in conference play. Indiana should be able to have some success on the offensive glass as the Wildcats are allowing Big Ten opponents to rebound 33.1 percent of their misses, which ranks 10th in the league.
Overall, Northwestern has been adequate at defending the 3-point line (34th nationally) and is also holding opponents to 46.5 percent on 2s, which has equated to an effective field goal percentage defense of 46.1. That's the 69th best mark in the country, but the number has been on the rise since the onset of conference play. Northwestern still figures to be a below average defensive team in Big Ten play, which won't be enough to overcome an anemic offense in most cases.
WHAT IT COMES DOWN TO
In terms of win probability, Pomeroy ranks this as the best chance for an IU victory the rest of the regular season (88 percent chance) and likes the Hoosiers by 11 . The Sagarin ratings are even more optimistic, favoring the Hoosiers by 12.
Northwestern, one of the nation's most deliberate teams in terms of pace, will surely try to slow things down and make it a halfcourt game. If Indiana can get the game into the mid 60's from a possession standpoint, it'll mean the Hoosiers have forced the Wildcats out of their game as four of their five league games have been played at 61 possessions or less.
Indiana is coming off of an emotional win on Tuesday against Wisconsin, so there's always a concern of a letdown, but this is a game the Hoosiers obviously need to keep moving toward the 20-win mark that could end up being the number they'll need to dance in March.
Filed to: Northwestern Wildcats