Five takeaways from Indiana's win over Wisconsin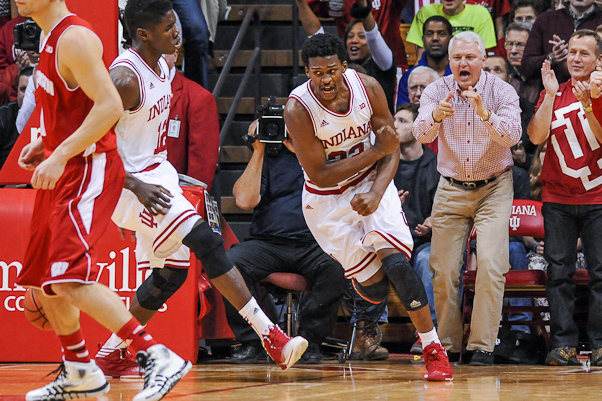 Indiana added a marquee win to its resume on Tuesday night with a 75-72 win over No. 3 Wisconsin at Assembly Hall. The win snapped a 12-game losing streak to the Badgers.
Here's a look at five takeaways from IU's second straight conference win:
· Indiana shredded Wisconsin's defense: This isn't your typical grind it out, 'first team to 50 wins' Wisconsin group. The Badgers have one of the nation's best offenses and a defense that had been limiting Big Ten opponents to .95 points per possession through three games. Wisconsin's offense played well enough to win. Its defense did not.
Credit Indiana's coaching staff for putting together a game plan built on attacking the basket and credit the players for executing that plan in a relentless fashion. The Hoosiers scored 52 points in the paint and shot an effective field goal percentage of 54.8, the second highest mark of the season thus far against the Badgers. Indiana scored 1.17 points per possession against Wisconsin, which is the highest number Bo Ryan's program has allowed this season.
"Defensively on the threes, I thought we were doing a pretty decent job," Ryan said postgame. "But the driving lines were what really hurt us."
· When Indiana takes care of the ball, the Hoosiers can play with the nation's elite: Two games is by no means an adequate enough sample size to conclude that Indiana has solved its turnover problems. But it's no coincidence that when IU takes care of the ball, its opportunity to be successful grows tremendously. Wisconsin didn't allow Indiana to get anywhere near its season average in offensive rebounding percentage or free throw rate, which made limiting the turnovers an even bigger deal. Indiana turned it over just nine times on Tuesday for a turnover percentage of 14.
In his postgame comments, Tom Crean was pretty blunt about his focus on cutting down on the mistakes after turnover percentages of 29 against Illinois and 23.5 against Michigan State.
"The elephant in the room was visible for everybody," Crean said. "We were doing pretty good in so many areas. Nationally, even. Look at how much our shooting had improved over the last few weeks. But the turnovers were hurting us. We can't play through those."
· Yogi Ferrell was dominant: His shooting percentage wasn't particularly great (43.8 eFG%), but Yogi Ferrell got where he wanted all night and made big plays when it counted. The sophomore from Indianapolis finished with 25 points, four assists and no turnovers in 33 minutes.
After he was benched for walk-on Jonny Marlin during a stretch midway through the second half for some questionable jump shots, Ferrell returned for the game's final 10:24. Here's what he did down the stretch:
– 10:00 mark – Missed 3-pointer
– 9:44 mark – Made 2-point jumper, fouled by Traevon Jackson, missed free throw
– 8:03 mark – Made 2-point jumper
– 7:06 mark – Assisted Will Sheehey 3-pointer
– 6:30 mark – Missed 3-pointer
– 6:13 mark – Assisted Austin Etherington layup
– 5:28 mark – Missed 3-pointer
– 4:34 mark – Missed layup
– 4:16 mark – Made layup
– 2:53 mark – Made 3-pointer
– 2:05 mark – Made 2-point jumper
– :18 second mark – Made two free throws
If you're keeping track at home, that's 13 points (5-9 FG, 2-3 FT) and two assists down the stretch.
"He reminds me of how Jordan Taylor played for us," Ryan said. "Yogi does the things that Taylor did and if you're playing a player who can do those things, you have to find a way to stop it. Today Yogi was able to get things done."
· The continued rise of Stanford Robinson: He hasn't reached full breakout status yet, but with 33 points and 13 rebounds over IU's last three games, freshman Stanford Robinson continues to make a case for more minutes. On Tuesday, Robinson, much like Ferrell, was unstoppable going to the rim. Wisconsin's guards just couldn't move well enough to keep their shoulders square to Robinson and he made them pay frequently.
Robinson's knack for maneuvering to the basket is something Crean said is a natural at, but the rising freshman pointed to Ferrell and Will Sheehey in his postgame comments as big reasons for his success.
"Yogi and Will told me in the beginning of the game that the lanes were open and they told me to just keep going because that's one of my strong points," he said. "So two of my leaders telling me to just keep going, I felt like I had the freedom to just be me."
· Senior leadership: One guy was demonstrative and the other lets his play do the talking generally, but Tuesday was a big night for Will Sheehey and Evan Gordon, Indiana's two seniors. Sheehey made some of the plays we've grown accustomed to seeing him make during his time in Bloomington: Slipping past defenders for easy buckets, finishing plays demonstratively in transition and the timely 3-pointer.
Gordon, on the other hand, wasn't talked about much in the postgame, but quietly put together eight points, six assists, four rebounds, three turnovers and two steals in 33 minutes. In two games as a starter, Gordon has 16 points, eight rebounds, seven assists and four turnovers in 68 minutes. The move to insert Gordon for Jeremy Hollowell in the lineup has paid major dividends thus far and it gives Indiana a heady veteran who may not make spectacular plays, but typically makes the correct play.
Filed to: Evan Gordon, Stanford Robinson, Will Sheehey, Yogi Ferrell