What to Expect: Wisconsin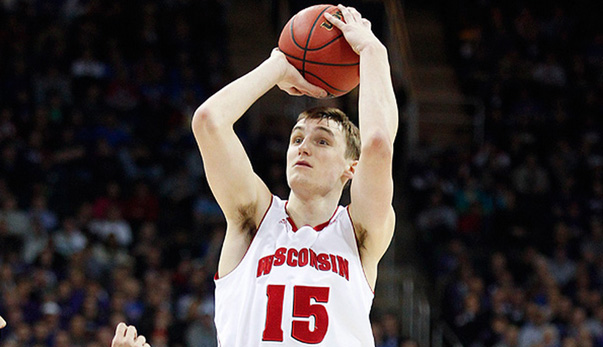 Indiana returns to Assembly Hall tonight for a shot at a marquee win as No. 3 Wisconsin comes to town. The Badgers are 16-0 and one of three remaining unbeaten teams in Big Ten play.
The game will be broadcast at 7 p.m. on ESPN and on the IU radio network (Sirius 91, XM 91):
Wisconsin, one of four teams in college hoops without a blemish on its resume, comes to Bloomington tonight riding a wave of confidence.
And why shouldn't the Badgers be confident? Not only are they squarely in the conversation as the nation's best team, Wisconsin has won 12 straight over Indiana, including five in a row at Assembly Hall. It's been a one-sided series in recent years.
There's been some talk nationally that tonight's game is a must-win for Indiana's NCAA tournament chances, but given that it's mid-January, I'm not buying it. Would it be huge? Absolutely. But with several winnable road games remaining and teams like Iowa, Michigan and Ohio State all still headed to Bloomington, calling a meeting with the nation's No. 3 team a must-win seems too strong.
That said, this is no doubt a litmus test for Indiana to show how much improvement has been made since being beat soundly by Michigan State ten days ago on Branch McCracken Court.
PERSONNEL
Bo Ryan isn't loading up on five-star recruits or McDonald's All-Americans in Madison, but Wisconsin's head man deserves major credit for recruiting the best players for his system. Call Wisconsin's style of play under Ryan whatever you want, but it's clearly built for success in Big Ten play. In Ryan's 12 seasons at the helm, Wisconsin's worst conference finish has been fourth.
Wisconsin's system is built to where Ryan can plug in different pieces each season and not experience much, if any, drop off at all. This year's team had significant frontcourt questions in the preseason with the graduation of Mike Bruesewitz, Jared Berggren and Ryan Evans, but those are squarely in the rearview with the continued ascent of Sam Dekker and the emergence of Frank Kaminsky.
Dekker, one of the most talented recruits that Ryan has ever reeled in, doesn't get enough pub nationally but is already one of the Big Ten's best players as a sophomore. He's averaging a team-high 14.3 points with an effective field goal percentage of 57 and is Wisconsin's best rebounder with 6.3 per game. He's struggled from the foul line (59.7 percent), but otherwise, Dekker is a tough cover and a key matchup for Indiana.
Kaminsky has moved from a role guy as a sophomore to the team's second leading scorer as a junior and the 7-footer can light it up from the perimeter. Kaminsky is averaging 13.6 points with an effective field goal percentage of 62.7. That's fueled largely by the fact that he's hitting 47.7 percent of his 3-point attempts.
Freshman Nigel Hayes, who has captured Big Ten freshman of the week honors twice, and junior Duje Dukan, are the frontcourt backups. Dukan can step out and hit the 3 while Hayes has been strong attacking the basket and has attempted more free throws (67) than field goals (66).
The backcourt features three faces familiar to Indiana fans with a newcomer who was an AAU teammate of former IU big man Luke Fischer mixed in. Ryan starts three guards in senior Ben Brust, junior Josh Gasser and junior Traevon Jackson. All three are playing 30 or more minutes per game.
Brust is the leading scorer of the trio (13.1 ppg) and the best 3-point shooter (44.2 percent) while Gasser, who missed last season with an ACL injury, can also fill it up from the perimeter if left open (39.5 percent on 3s). Jackson is the primary distributor with an assist rate of 27.1, but is a little more turnover prone (18.5 TO%) than Ryan would probably like.
Freshman guard Bronson Koenig comes off the bench for the Badgers and scores 3.9 points in 16.7 minutes per game.
TEMPO-FREE PREVIEW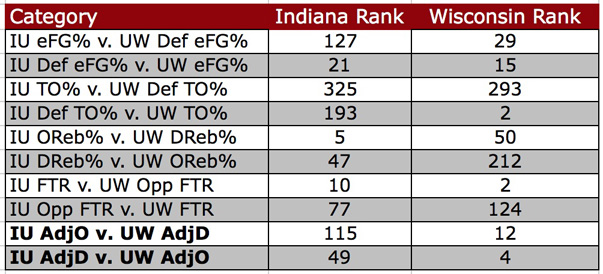 There may not be a bigger contrast in styles in the Big Ten this season than Indiana and Wisconsin. The Hoosiers hit the offensive glass relentlessly while the Badgers have never made it a priority. Indiana turns the ball over at a rate detrimental to success and Wisconsin's ability to take care of the ball is a reason the Badgers are elite. Indiana plays the 20th fastest pace in the country while Wisconsin plays the 303rd fastest. The Hoosiers get to the line almost as well as anyone while Wisconsin rarely fouls.
Indiana's chances tonight will come down to many of the aforementioned areas as Wisconsin is likely to take care of the ball, grind out long possessions and still get excellent looks, which can be demoralizing to a young team. The Wisconsin offense is built on finding the next man and they often have a lineup on the floor where any of the five guys can knock down the 3-pointer. When a team is this sharp with its execution, any small lapse typically leads to problems.
When the Hoosiers have the ball, limiting turnovers, hitting the offensive boards and getting to the foul line are key areas, but none of them will come easy. Wisconsin doesn't cause a lot of turnovers, but that often hasn't mattered as IU's mistakes are typically unforced. The offensive glass and second chance points could be pivotal if IU can find some success there as could the free throw line if the Hoosiers can get there with any regularity.
WHAT IT COMES DOWN TO
The lines for this game are a bit mixed as Vegas opened with Wisconsin favored by 2 and quickly moved to 4.5 and the KenPom prediction has the Badgers by 7 with a 75 percent win probability. The Sagarin ratings like Wisconsin by 6.
The Badgers are the clear favorite and Indiana is going to need its best effort of the season to keep this one close and have a chance to pull out a win. For that to happen, IU's defense has to be disciplined enough to not allow Wisconsin its choice of easy perimeter looks while taking care of the ball and finding a way to either get second chance points or get to the foul line. It's a tall task for one of the Big Ten's youngest teams, but it's reality in the Big Ten in 2014.
Filed to: Wisconsin Badgers