Resiliency helps IU end losing streak to Wisconsin in 75-72 upset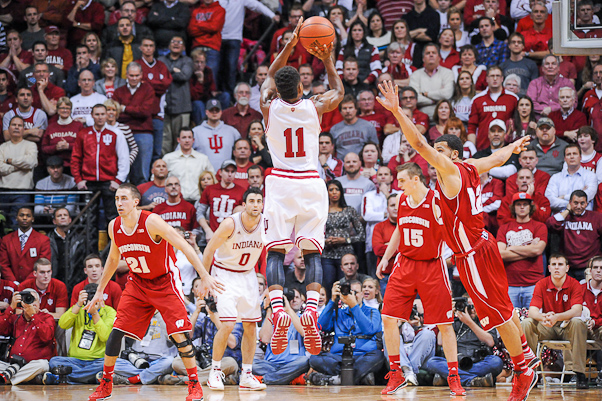 Without hesitation, sophomore Yogi Ferrell pump-faked, stepped back and launched the ball from the top of the key.
It didn't matter that he was shooting 0-for-7 from beyond the arc in the prior 37 minutes against No. 3 Wisconsin, a team the Hoosiers hadn't beaten since Jan. 31, 2007 — when Ferrell was in seventh grade. It didn't matter that he was 8-for-22 from the field at that point. When he jumped, he knew exactly what he was doing.
And for the only time of the night, his 3-pointer sailed into the basket. The shot was as pure as any.
"Most of my threes kind of felt good, (they) just weren't going in," said Ferrell, who finished with 25 points, four assists and zero turnovers. "If I had to make one three, I was glad it was that last one."
That 3-pointer gave Indiana (12-5, 2-2) a three point lead with 2:53 remaining. The Hoosiers wouldn't relinquish it en route to a 75-72 upset victory over the Badgers (16-1, 3-1), their second straight Big Ten win after being down by as many as 10 points.
Wait. Doesn't this seem familiar? It should.
Flip the script back a few days to Saturday, when the Hoosiers played at Penn State looking to avoid their first 0-3 start in the Big Ten since 2010-2011. A bit more than 10 minutes into the game, the Hoosiers trailed by 15 points and were on pace for 20 turnovers. Nothing came easy, as the Hoosiers battled their demons to the end. They stormed back, battled in a back-and-forth game and won, topping the Nittany Lions, 79-76.
Back to Tuesday night, though. It was a familiar tale.
Only 6:37 into the game, Wisconsin had an eight point lead. Indiana had missed its past five shots. Just 2:39 later, the Hoosiers had tied it. At halftime, Indiana trailed by one point, at 35-34, but they had allowed the Badgers to shoot a 62.5 effective field goal percentage and had allowed 11 points off turnovers.
And then the second half started, and Wisconsin junior Traevon Jackson took over the game. Jackson scored the Badgers' first nine points to put their lead up to six points. By the 13:28 mark, sophomore Sam Dekker had nailed a 3-pointer to put Wisconsin up, 52-42. Indiana coach Tom Crean called a timeout.
He thought his team was playing "solid," but that there were just a few more adjustments necessary. He knew Wisconsin's defense was sagging. He also knew that the Badgers couldn't stop Indiana when driving into the paint.
Evan Gordon got the ball out of that timeout. He ran to his right, pulled up as it appeared he would drive to the rim and shot a jumper. It went in — two of his eight points — and Indiana had cut Wisconsin's lead to eight. Assembly Hall had come alive.
"We got down, and our crowd got us back," Crean said. "I thought that was the absolute turning point in the game because our guys fed off of that."
After that Gordon jump shot, Wisconsin went into a panic on offense. First Jackson missed a 3-pointer. Then an offensive foul. Another missed jumper. Another missed 3-pointer. Another two missed 3-pointers.
By then, Indiana had cut Wisconsin's lead from 52-42 to 52-48. And then, with 9:44 left, Ferrell had the ball and hit a one-handed, leaning shot from the foul line. Off the backboard, it went in. Jackson had fouled him, too.
But Ferrell missed the ensuing free throw. Freshman Noah Vonleh, who had only 10 points and five rebounds on the night, grabbed the missed shot with his right hand and tipped it back in. Tie game.
"There were six or seven possessions in a row that we gave up," Wisconsin coach Bo Ryan said. "When you're on the road, you can't do that."
The two teams then exchanged blows, much like Indiana and Penn State did on Saturday. From Vonleh's tip in to the 2:54 mark, there were six lead changes and four ties in that 6:45 span. But the Hoosiers had been in this position before.
Ferrell took that shot from the top of the key as the clock hit 2:53 much like redshirt sophomore Austin Etherington launched the ball from the left baseline corner against the Nittany Lions with 1:22 left. Both 3-point attempts sinked through the net.
"Just the way those guys know that you can win games regardless of what the score is really helped us," senior Will Sheehey said. "The more games that they had that are close like that definitely helps those guys.
"Yogi and I played in a bunch of games like that, but for the younger guys, to know that the game is not over at a certain point really helps."
Down the stretch, as fans in Assembly Hall were screaming in excitement at times and holding onto each other in anxiety at others, the Hoosiers didn't flinch.
Ferrell hit a contested jumper over big man Frank Kaminsky. Freshman Stanford Robinson hit a free throw to make it a two-possession game. Robinson then drove to the basket and put up a layup that was eventually called for goaltending. Ferrell hit another two key free throws with 18.1 seconds remaining.
From the time the score had been 52-42, Wisconsin went 9-for-20 from the field and a dismal 1-for-9 from beyond the arc up until its final possession.
Up 75-72, Indiana had to stop Wisconsin once more off Ferrell's two free throws. Wisconsin brought it up the court and Jackson missed a quick 3-pointer. Josh Gasser got the offensive rebound and dished it to Ben Brust on the right baseline.
Except as Brust got off the shot, pressured as he took it, Ryan said Brust wasn't sure if he was behind the 3-point line and wasn't completely sure if he had enough time to take it.
"When the clock is ticking in your head like that, time speeds up," Ryan said. "He felt like there was just two seconds left instead of eight."
The shot was erratic, off the front of the rim. Robinson rebounded and passed it to Gordon, who dribbled off the final seconds.
The final buzzer sounded. Students ran onto the court in a frenzy, jumping and simply celebrating in the moments after. For the first time in 13 tries, Indiana had finally beaten Wisconsin. It ended the Badgers' perfect season in the process.
In that final 13:28, after trailing by 10 points, Indiana turned the ball over just twice — the last coming at the 10:25 mark. It had five assists in that same time and shot 60.8 percent from the field.
Plenty had been said about how the Hoosiers grew up at Penn State. Well, on Tuesday night they proved they did just that, coming away with their first signature win of the season.
"To me, the team needs this," Crean said. "I mean, we've had a long week from Michigan State to Penn State, but we got a lot better.
"We got a lot better in the last couple days."
Filed to: Wisconsin Badgers, Yogi Ferrell