Notes and quotes from Crean on Big Ten teleconference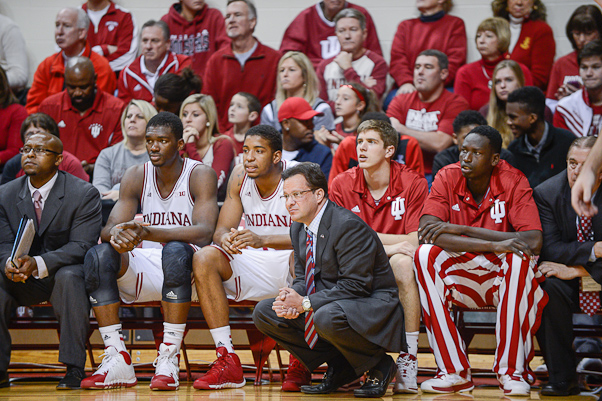 The Big Ten held its weekly coaches teleconference on Monday morning to review the second week of conference play. Here are some notes and quotes from Tom Crean's appearance:
· For the fifth time this season, Indiana's Noah Vonleh was named the Big Ten's freshman of the week. Vonleh scored 19 points and grabbed six rebounds in IU's 79-76 win over Penn State on Saturday. Vonleh's five freshman of the week awards is the third highest total since the award began in 2010.
· Crean's started off by talking about his team's play over the past week, including Saturday's win at Penn State: "It was one of those games where both teams played extremely hard, both wanted the game.  I'm proud of the resiliency our guys showed in that game."
· On the challenge of facing Wisconsin and Northwestern this week at home: "It's a big week in the sense of two home games. An outstanding team with Wisconsin obviously, an outstanding program. One that's just a very, very tough preparation. They're a very, very efficient and smart team. And Northwestern is going to be coming in after getting their first (Big Ten) win last night. Another team that's going to be extremely well coached with what Chris Collins and Brian James and that entire group are capable of."
· Crean was asked by Brian Hamilton of Sports Illustrated for his thoughts on the consistency of officiating in non-league games versus conference games: "If I had to give you one sentence, it's probably too early to tell that." Crean also noted that while he hasn't watched a ton of games this season, that for the most part the players are trying to "do the right thing and get used to the game."
· Crean said that Will Sheehey was a game-time decision in the Penn State game after suffering an injury on Thursday and talked about how crucial his play was in IU's win in State College: "100 percent for Will Sheehey versus 100 percent for somebody else, there's a big difference there. Will's just got an inner spirit that's really hard to characterize. It's hard to quantify it because it's so unique. He's got a great fire about him and I thought he brought it. I thought he was very, very passionate with his teammates and I thought it carried over. I thought our guys had a great week of building some real internal discipline as far as on the court that carried over into how we played. I think Will's a big part of that."
· Crean on what's allowing Wisconsin to score more this season than in previous seasons: "I don't know if the speed of their game is any different when you look at the time of possession for each possession. It's in that 21 second to 22 second range when you look at that over a period of time. I do think the one thing that separates them on offense … They've always had the experienced players that they can put other people around those guys because they totally understand how they win and how they want to play. They've always put excellent shooters on the court. I think what you have right now that's maybe a little bit different to me is they're not an above average passing team, they're a great passing team."
· Crean said that one area where Wisconsin has hurt Indiana and many teams is when they get into rotation. "They not only make the next pass, they make the pass after that and if need be, the pass after that."
· Crean was asked about his relationship with Bo Ryan and how it has changed since coming from Marquette to the Big Ten: "I have great respect for him. I always have. I think what I respect about him is that he's one of the great competitors around. I think he'd be the kind of person that would compete in anything and want to win. I think you have to respect that more than anything else. He's always been very gracious to me and I hope he would feel for the most part I have with him. I have tremendous respect for that entire program. And that's a team, when you watch him coach and when you watch them play, you absolutely see his competitiveness, you see his diligence. All of those attributes you would want to say, that's what a great team looks like, I think you can start with Bo and that's what a great coach looks like."
Filed to: Noah Vonleh, Tom Crean, Will Sheehey