What to Expect: Penn State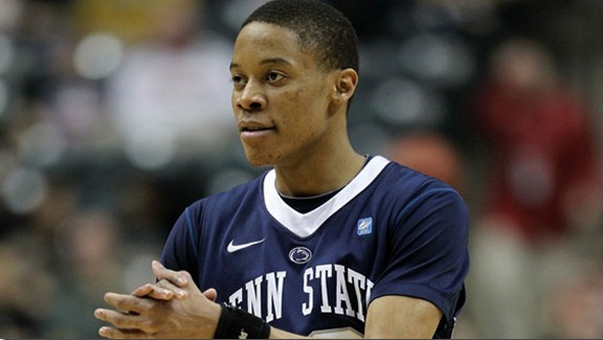 Indiana gets a third opportunity to pick up its first conference win on Saturday in State College as the Hoosiers will take on Penn State. The Nittany Lions are 9-7 overall and 0-3 in the Big Ten.
The game will be broadcast at 12 p.m. on BTN and on the IU radio network (Sirius 119, XM 198):
It's hard to categorize any game in January as a must-win, but for Indiana, Saturday's trip to Penn State is a game the Hoosiers really need to have. After an 0-2 start, Indiana is faced with a road trip to pick up a conference win before returning home to Assembly Hall to face one of the nation's best teams in Wisconsin.
The Nittany Lions have already dropped four home games: Bucknell, Princeton, Michigan State and most recently, Minnesota on Wednesday night. The Bryce Jordan Center offers little from an atmosphere perspective and Indiana has won three straight in the building dating back to Jan. 10, 2010.
The reality of life in the Big Ten for a young team is already beginning to set in for Indiana and Saturday is no exception as Penn State, despite its 0-3 start, led both Michigan State and Minnesota by double figures at home.
PERSONNEL
Penn State again boasts one of the better backcourts in the conference with senior Tim Frazier, who missed all of last season with an Achilles injury, and junior D.J. Newbill.
Frazier leads the Nittany Lions in both scoring (17.1 ppg) and assists (6.9 apg) and while he's never been a model of efficiency, he's a lot better as a senior in that regard than he's ever been before. Frazier's effective field goal percentage is 50.8 and his assist rate is 39.8, which ranks 10th nationally.
Newbill is the team's second leading scorer (16.9 ppg) and his effective field goal percentage of 55.5 is up over 13 percent from where he finished last season. A lot of the credit for that has to go to Frazier for his ability to be an effective facilitator, but Newbill is also hitting close to 42 percent of his 3-pointers. Freshman guard Geno Thorpe, senior Allen Roberts and junior John Johnson also figure into the backcourt rotation off the bench. Johnson just became eligible for the second semester after transferring from Pittsburgh. He's averaging 11 points in four games.
Up front, Penn State has some familiar faces in junior Ross Travis, sophomore Brandon Taylor and sophomore Donovan Jack. Travis is third on the team in scoring at 11.1 points per game and despite being undersized at 6-foot-6, is the team's top rebounder. Taylor is also a bit undersized at 6-foot-7 but finishes relatively well around the rim (52.2 percent on 2s) and is solid on the defensive glass (17.9 DR%). Jack, who was sidelined for the final two months of his freshman season after suffering a stress fracture, is 6-foot-9 but can shoot from the perimeter. He's hit 13 of his 39 attempts from behind the 3-point line.
TEMPO-FREE PREVIEW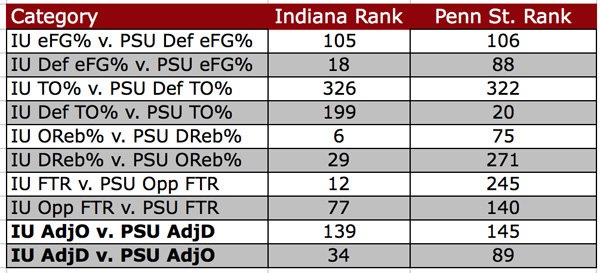 On the surface, Indiana matches up pretty well in a couple of key areas with Penn State. First, the Nittany Lions don't cause many turnovers and while that hasn't always mattered for Indiana, it's obviously more conducive to begin cutting down on some of the mistakes against a team that doesn't cause many. Conversely, Penn State takes great care of the ball (14.9 TO%) which could loom large in a close game where possessions are at a premium.
Penn State is also a weak offensive rebounding team, so Indiana must limit second chance opportunities for the Nittany Lions while hitting the offensive boards hard. The free throw line also looms large as the Hoosiers are at their best when getting to the line and Penn State hasn't done a great job of keeping opponents off the stripe.
WHAT IT COMES DOWN TO
Indiana's path to a .500 record in the Big Ten has to be build on the foundation of at least a 5-1 record against Penn State, Nebraska and Northwestern, so this game looms large in that regard. The Hoosiers were actually dealt a favorable schedule by avoiding trips to Iowa and Ohio State, so capitalizing on getting six games against what appears to be the league's bottom three is a must. Even though the Hoosiers were very good on the road in conference play last season, we're only two years removed from a 3-6 league record away from Assembly Hall and that was a team that finished 27-9 overall and went to the Sweet 16.
While it would appear that getting the ball inside to Noah Vonleh could be a big part of the game plan, it's also worth noting that Penn State protects the rim very well (45th nationally in block percentage) and Indiana is having 12.1 percent of its shots blocked, which ranks 291st nationally. Still, this is a game where Vonleh should be able to exploit some undersized defenders routinely and at the least, get to the line like he did in Champaign.
Frazier and Newbill are the two key matchups to watch defensively, as both players are capable of scoring 25 and making it a long night for IU's backcourt. The KenPom projection has Penn State winning narrowly, 76-75, with a 53 win percentage chance for the Nittany Lions. Tom Crean said after the Michigan State loss that his team needs to learn how not to lose before it can win, but Saturday's game will show us just how much IU has learned from narrow losses to Connecticut, Notre Dame and Illinois against a team it desperately needs to beat.
Filed to: Penn State Nittany Lions