Notes, quotes from Crean on Big Ten teleconference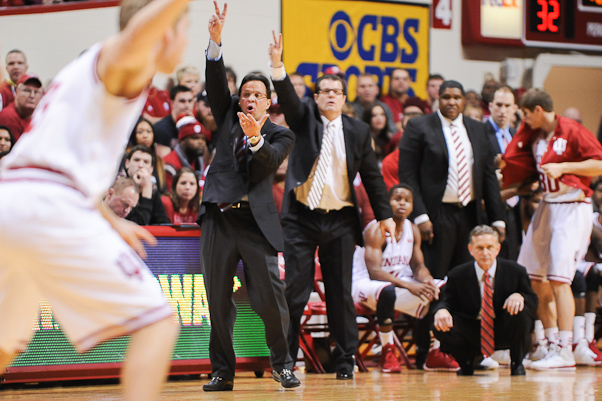 The Big Ten held its weekly coaches teleconference on Monday morning to review the first week of conference play. Here are some notes and quotes from Tom Crean's appearance:
· Crean opened things up by saying Indiana had a great practice on Sunday night and was scheduled to practice this afternoon.
· Crean noted that his team is "still gaining confidence" and added that "before you can win, you have learn how not to lose."
· According to Crean, there a lot of fundamental things that Indiana still needs to improve upon. Among those that he mentioned were reading cuts and screening.
· Crean said that his team can't do anything about its lack of experience right now, but said "I like our toughness, I like our attitude." Crean said all they can do is try to speed up learning what it takes to win.
· When asked how far along his team is in terms of creating an identity and touched on a variety of areas:
"You want it to be there yesterday, and it doesn't always work that way. I think where we're at, we've got to get a toughness and a level of basketball IQ that match up. That's what the best teams have. The best teams play with great resolve and resiliency and consistency – which is your toughness – and they understand the possession by possession. They understand how important each possession is.
"We've got to continue to learn that. We want to be a team that can run. We also want to be a team that can execute in the half court. The other day (against Michigan State), we didn't execute very well in the half court, and our screening wasn't very good. There are so many things to emphasize with a young team for them to understand how to win. You've got to keep making sure your emphasis remains ongoing and at the same time, you don't let anything shortcut. We're in the process of that. I don't think there's any question about that. But I love their attitude. I think we're gaining some toughness, and I think we'll get a lot better."
· Crean was asked about Indiana's 0-2 start in Big Ten play and how he addresses it with his team:
"I don't think you harp on it at all. I think it's two games. Yesterday we went straight to practice, so we'll watch the film today of what we thought was crucial in the game this past Saturday.
"You keep getting a team to understand no matter what if you're winning or losing, where there is improvement and where there needs to be improvement. You tend to focus a lot more on the things they need to get better at sometimes than the things you're doing well. I think we also need to focus on what we're doing well.
"But for us right now, it's about getting back to the practice court, making sure we're building that identity of running, of moving without the ball, getting the ball reversed, getting back on defense, challenging shots better, making sure we're rebounding at a high rate, finishing better, all those things. If you're spending time on what you need to improve upon, you don't spend a lot of time talking about this, that or the other thing. You've got to really stay in the moment as much as possible for a team to gain confidence and that's what we're trying to do."
· In conference news, Ohio State's Aaron Craft was named Big Ten player of the week and Wisconsin's Nigel Hayes was named the league's freshman of the week. It's the first player of the week award this season for Craft and second freshman of the week honor for Hayes.
Filed to: Tom Crean