Big Ten Power Rankings: January 6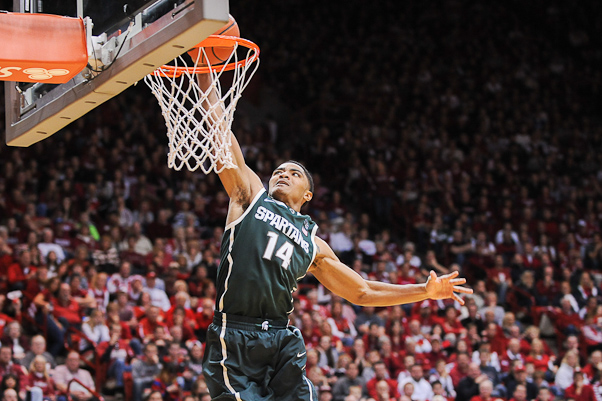 The Inside the Hall Big Ten Power Rankings are back for another week as conference play is finally underway. And there has been a ton of movement in the middle of the rankings. Check out where each team stands after the first week of league play.

12. Northwestern (7-8, 0-2) (LAST WEEK: 12) … As rough as the non-conference season was for the Wildcats, their start to the Big Ten season hasn't been much better. It first started with a 27-point loss at home to No. 4 Wisconsin and then at Michigan on Sunday, the Wildcats lost again, this time by a 23-point margin. And things won't get much easier for Chris Collins in his first season in Evanston. In the next seven days, the Wildcats play at Iowa and against Illinois — two teams that have had very impressive starts to the season, as well.
11. Penn State (9-6, 0-2) (LAST WEEK: 11) … For a half against Michigan State on Tuesday, it appeared the Nittany Lions could pull off the ultimate upset to open the Big Ten season. But they quickly fell to reality, getting outscored by 23 points in the second half en route to a 79-63 loss. And then on Saturday, they lost by 20 at Illinois, a game in which they shot only 29.8 percent from the field. If the Nittany Lions can't get their offense going like they struggled to against the Illini and in the second half against the Spartans, it could be yet another long season in State College.
10. Nebraska (8-6, 0-2) (LAST WEEK: 10) … Give Tim Miles and crew credit for only losing at Iowa by 10 points, but it was not as close as you might think it was. At one point more than halfway through the second half, the Hawkeyes led by 20 points. But reality has set in for the Cornhuskers, especially after a whopping 31-point loss at No. 3 Ohio State on Saturday. Getting out of the basement of the Big Ten won't be easy.
9. Indiana (10-5, 0-2) (LAST WEEK: 7) … It hasn't been a smooth start for the Hoosiers at all, as it's clear that the inexperience in Bloomington is actually playing a bigger role than expected. Though they took Illinois to overtime in Champaign, 23 turnovers and more than a 10-minute field goal drought when it most mattered just won't suffice. And then at Assembly Hall against Michigan State on Saturday, they lost by 17 points — the worst loss to the Spartans in Bloomington since 1990. Not to mention, the news that sparked the long week in Bloomington: It was announced on Monday that 6-foot-10 big man Luke Fischer would transfer from the program to Marquette.
8. Purdue (10-5, 0-2) (LAST WEEK: 9) … Give the Boilermakers credit: They have shown a lot of fight in their first two games of the Big Ten season. Against an elite Ohio State team to open the conference season on Tuesday, the Boilers stuck with them the entire game before eventually losing by nine points. And then at Minnesota on Sunday, they nearly took down the Gophers in their own building, losing by only three points. But they haven't figured out how to get over the hump, just yet. And that is why they are 0-2 in Big Ten play heading into next Sunday's game at home against Nebraska.
7. Minnesota (12-3, 1-1) (LAST WEEK: 6) … The Golden Gophers only had two losses in the entire non-conference season and both came in Hawaii, but their start to the Big Ten season hasn't been easy, even with their opening two games inside Williams Arena. A loss to Michigan still learning how to play without Mitch McGary set the tone, and then on Sunday against Purdue, the Gophers nearly blew it once again. The book is still out on whether the Gophers are a legitimate threat to make the NCAA tournament, but two road games against Penn State and Michigan State this week should allow us to learn more about where they stand at this point in the season.
6. Michigan (10-4, 2-0) (LAST WEEK: 8) … Perhaps life without Mitch McGary won't be too bleak, after all. The Wolverines have started the Big Ten season with two wins — one at Minnesota and one against Northwestern — and that could give the Wolverines the confidence they need moving forward. Dominance isn't expected, but the Wolverines could very well compete as another very winnable game is on the slate this week: at Nebraska on Thursday.
5. Iowa (12-3, 1-1) (LAST WEEK: 4) … The Hawkeyes were so close. Holding an 11-point halftime lead at No. 4 Wisconsin on Sunday night, the Hawkeyes appeared to potentially upset the No. 4 Badgers in the Kohl Center — something rarely heard of. But a second-half collapse and a Fran McCaffery sideline metldown allowed the Badgers to win, as the Hawkeyes leave Madison perhaps a bit deflated heading into Thursday's game against Northwestern. That's not a way you want to end a week that started with a conference-opening win against Nebraska.
4. Illinois (13-2, 2-0) (LAST WEEK: 5) … Give John Groce credit: He has put together an experienced, talented team that still does not even have much of a history in Champaign. With a mix of transfers, freshmen and returning players from last years' NCAA tournament squad, the Illini are off to a 2-0 start with wins over Indiana and Penn State at home. And Rayvonte Rice has been extremely impressive, as well, averaging 22 points and 7.5 rebounds in the Illini's first two games of the conference season.
3. Michigan State (13-1, 2-0) (LAST WEEK: 3) … There is such a small margin between No. 1 and No. 3 in these rankings and such a wide one between No. 3 and No. 4, but if there's a No. 3, it would have to be the Spartans. They struggled in the first half against Penn State and were slow to start against Indiana this week, but by the second half in each game, the Spartans had total control. And starting twice on the road in the Big Ten isn't easy, by any means. Tom Izzo has put together a team that will contend for a Big Ten title this season, and there should be much anticipation heading into Tuesday's battle with Ohio State in East Lansing.
2. Wisconsin (15-0, 2-0) (LAST WEEK: 2) … After they breezed through Northwestern to start the Big Ten season, Iowa gave the Badgers a significant test at home on Sunday night. But they responded, and after outscoring the Hawkeyes by 15 points in the second half, the Badgers are still undefeated in their best start in 100 seasons. It's impressive enough to earn them the No. 2 spot in our Big Ten rankings, as they boast both a top 15 offense and defense in the nation.
1. Ohio State (15-0, 2-0) (LAST WEEK: 1) … Ohio State once again tops our power rankings after a 2-0 start to the Big Ten season with wins at Purdue and at home against Nebraska. Winning in West Lafayette isn't easy, and the Buckeyes showed the grit necessary to do so in a nine-point victory on the road. And then at home against the Cornhuskers, the Buckeyes simply took care of business. The Buckeyes bring their No. 1 defense into East Lansing on Tuesday and then play Iowa on Sunday, as this week will truly be a challenge for them to remain undefeated.
Filed to: Big Ten Power Rankings