Izzo evaluates IU following 73-56 MSU win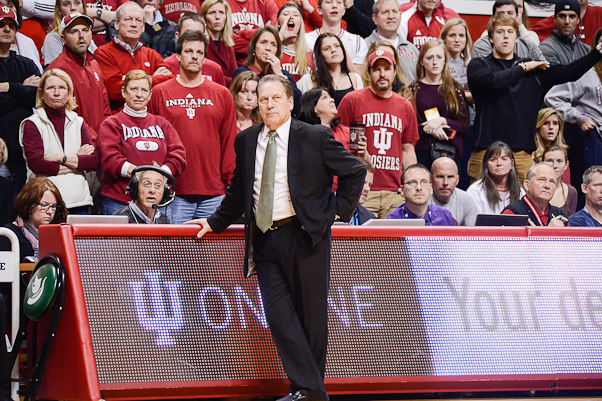 When Michigan State played in Assembly Hall last season, the Spartans couldn't overcome Indiana's playmaking and experience en route to a 75-70 loss.
One year later, certainly under changed circumstances, now No. 5 Michigan State (13-1, 2-0) came into Assembly Hall on Saturday afternoon and left with a 16-point victory, a 73-56 drubbing of the Hoosiers (10-5, 0-2) on their own home court.
After the game, Spartans head coach Tom Izzo shared his thoughts on where Indiana is at, at the moment, and why the Hoosiers have potentially lacked success against the elite teams of the country thus far.
"This is where (senior Will) Sheehey and (sophomore) Yogi (Ferrell) have got to be men," Izzo said. "They've got to stand up. Tom (Crean) has been through it. He's rebuilt programs. He's done it. He know's what it's like. He'll be fine.
"But with those young freshmen, that's where your upperclassmen really have to stand up and explain how it is and understand how it is."
In the early goings of the 2013-2014 season, Ferrell has upped his individual performance, but the Hoosiers overall have struggled with turnovers and playing in the big moments of games. Against Indiana on Saturday, Izzo had his players switch on defense often, guarded Ferrell with three or four different guys and packed his defense in. He would live with freshman forward Noah Vonleh shooting 3-pointers.
Do what the game plan is and make adjustments, accordingly, Izzo said.
After a late first half run put the Spartans up, 33-24, heading into halftime, Michigan State dominated the second half even more, holding Ferrell and Vonleh to a combined three shots. Ferrell took all three. At one point, the Spartans actually had a 19-point lead.
"I think Yogi's having a hell of a year," Izzo said. "We did a decent job on Yogi, 'cause he's been dynamite. And Vonleh is going to learn a little bit that conference play is a little bit different than non-conference play, too."
As many struggles as the Hoosiers had, though, Izzo thinks many of their issues, especially with such a young team that featured three freshmen (Vonleh, Troy Williams and Stanford Robinson) playing at least 25 minutes on Saturday, can get resolved. He thinks Indiana still has the potential to improve this season. In fact, Izzo expects it.
"You know, you've got two key people in there in Williams and Vonleh that they'll need a little adjustment, but I think by the end of the year, this is going to be a very good basketball team," he said. "I really do. Especially if Yogi keeps playing like he is."
Hoosiers struggle in second half
For a defense that allowed opponents to only shoot a 42.6 effective field goal percentage coming into Saturday's game, Indiana particularly struggled in the second half against Michigan State on Saturday.
Up nine points heading into the second half, the Spartans pulled away after shooting a 67.3 eFG% in the final 20 minutes, led by senior Keith Appling's 6-for-9 mark from the field and nine points off Hoosier turnovers.
"They had too many open looks off their break," Sheehey said. "We did a good job stopping the initial break, but their secondary break, we didn't challenge enough shots."
And for as much as Indiana's defense struggled in the second half, the Hoosiers' offense struggled, too. The offense shot only 43.5 percent from the field (38.9 percent on 2-point attempts) and hit only three 3-pointers.
And for a team that prides itself on getting points in the paint, Indiana had only 10 in Saturday's final 20 minutes. And Vonleh, the Hoosiers' 6-foot-10 facilitator, was held to zero points and two rebounds in the half.
"They do a great job with help-side defense, I feel like," Ferrell said. "They especially packed the lane a lot."
"(Vonleh)'s got a find a way to get more touches, easier touches," Sheehey added. "He's got to work harder to get open, and we've got to work harder to get him open."
Filed to: Noah Vonleh, Tom Izzo