Crean learning more about his team heading into Michigan State matchup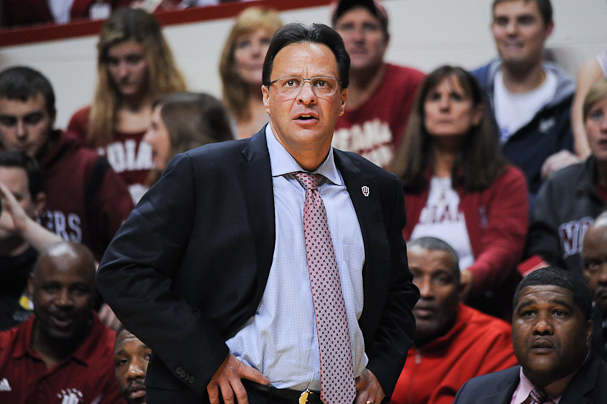 On the eve of Indiana's biggest home game to date this season, coach Tom Crean reflected on his team's progress heading into today's game against No. 5 Michigan State.
Crean already has his team in double-digit wins, however, with one of the least-experienced teams in the NCAA and an 0-4 record against top-100 opponents, there is still plenty of room for improvement. And as the Hoosiers prepare for a matchup against one of the Big Ten favorites, Crean realizes the process toward returning to the top of the conference will not be a quick one.
"We just have to continue to get an understanding and that doesn't happen in a period of one or two games, it happens over a period of time," he said. "What you want is to make sure that you are responding every time, and I think we have done that."
Only a year ago, Crean was dealing with a team that had already been ranked No. 1 in the nation and was expected to contend in the Big Ten.
Fast forward 12 months and the Hoosiers lost seven impact players over the offseason — three to graduation, two to the NBA and another two transferred. IU came into the season with one senior, two sophomores and two freshmen in their starting lineup. But one thing Crean wanted his team to do from the start of this season was play fast. That hasn't been easy.
Coming into today's game, Indiana ranks No. 325 in the nation in turnover percentage (22.1) while playing the 13th fastest tempo. From sloppy play to careless mistakes, this Hoosier team has yet to learn the balance of taking care of the ball and playing fast.
And then he looks at where Michigan State is at right now: Crean thinks there's plenty of similarities between last year's Hoosiers team and this year's Spartans team. They're experienced (epitomized by seniors guard Keith Appling and forward Adreian Payne, the Spartans returned four starters this season), they have NBA-level talent (sophomore guard Gary Harris is another perfect example) and they have already been in the national spotlight (they were ranked No. 1 until losing to North Carolina in early December).
"Every year, guys get better," senior forward Will Sheehey said. "They're probably just a better team."
Indiana hasn't yet had that opportunity of year-to-year, significant team improvement with its current group. Indiana's sophomores have proven they are better this season, from Yogi Ferrell's 3-point shooting to Hanner Mosquera-Perea's footwork, but the overall team has had its fair struggles this season, including a 17-point loss at Syracuse and 63 turnovers in its past three games.
"I try to tell these guys, `If you are waiting for experience, you are going to be waiting for a long time,' " Crean said. "You have to get an understanding as quick as you possibly can. You have to understand the importance of each possession and what mistakes can do.
"Some of our decisions are very indecisive. Some are just trying to make plays that aren't there. Some are going too fast."
As the season has gone on, though, Crean has learned more and more about this team. He learned his players have fight — they battled a more-experienced team in Champaign this past Tuesday and drove them to the brink — and that his team has the potential to be very good, especially with its top-25 defense and its ability to get to the free throw line.
But he also has learned his team has a long way to go. After all, the Hoosiers have the second-least experienced team in the Big Ten. He and his players will both only learn from games like today's.
"The other day, I kept trying to get to some matchups inside of the game (at Illinois)," Crean said. "That is very hard for guys that have never looked at it that way to look at it as. `Okay, we have to slow it down and go here.' We work on those things in practice but it is completely different inside the flow of the game.
"Where last year's team we would try to go to certain matchups and we just did it like it was breathing. Those things hit you that make you realize that we still have a long way to go."
Filed to: Michigan State Spartans, Tom Crean