Big Ten Power Rankings: Non-conference edition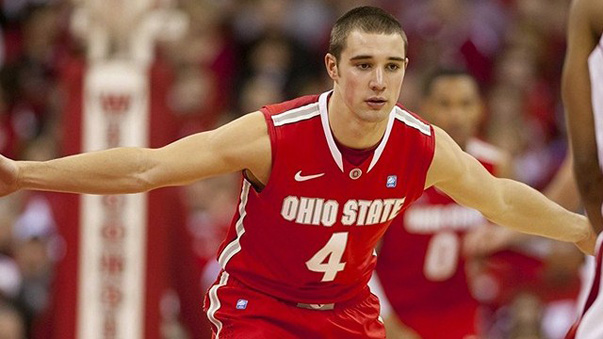 Inside the Hall's power rankings are back and will appear throughout Big Ten play each Monday beginning Jan. 6. But as a precursor, let's take a look at the league with the start of conference play just one day away.
Inside the Hall Big Ten power rankings: Non-conference edition
12. Northwestern (7-6) … The start to the Chris Collins era in Evanston has not been a smooth one, as the Wildcats enter Big Ten play with a conference-worst six losses. Among those losses are DePaul and Illinois State. Senior Drew Crawford has been one of the lone bright spots on a team that is in the bottom third in the nation in offensive efficiency, as the 6-foot-5 guard leads the team with 16.4 points per game and a 49.4 effective field goal percentage. The Wildcats won't be able to ease their way into conference play either, as their first three Big Ten games are vs. No. 4 Wisconsin, at Michigan and at No. 22 Iowa.
11. Penn State (9-4) … Things are looking brighter in State College, now that senior guard Tim Frazier is back from his season-ending injury that killed the Nittany Lions' hopes of a run in the Big Ten in 2012-13. Offensive production is up, and their defense is the best it has been under Pat Chambers. But in the early goings of the 2013-14 season, they have had their struggles as well with losses to Bucknell and Princeton.
10. Nebraska (9-4) … It's season No. 2 under Tim Miles in Lincoln, and the Cornhuskers are still finding their way after a 5-13 record in Big Ten action in 2012-13. The Cornhuskers, though, returned a decent amount of talent and have the momentum of playing in the new Pinnacle Bank Arena and are 7-0 in the building, including a 60-49 win over Miami in the Big Ten/ACC Challenge on Dec. 4. Whether the Cornhuskers have what it takes to match with the likes of the best-of-the-best of the Big Ten remains to be seen, but it certainly will be a challenge in what is a particularly deep league this season.
9. Purdue (10-3) … This is where things begin to get tricky. The Boilermakers are off to a 10-3 start, most recently capped by a 73-70 win at West Virginia, but the Boilermakers have had their fair share of troubles in the non-conference season whether it be from a 15-point loss to Washington State or to a one-point win against Northern Kentucky or a five-point escape against Siena. For the Boilermakers to make a jump in the rankings, they must keep A.J. Hammons out of foul trouble and on the court when they need the big man most, especially against the bigger and more physical teams of the Big Ten.
8. Michigan (8-4) … Well, this has certainly been an interesting month and a half for the Wolverines. From a loss to Charlotte to the loss of sophomore Mitch McGary indefinitely — potentially for the entire season — things in Ann Arbor have not gotten off to the start Jon Beilein had desired. Even with the loss of Trey Burke to the NBA, freshman Derrick Walton isn't at the level Burke was at, and perhaps it's only natural for there to be a bit of a drop-off in 2013-2014. Still, there's a reason the Wolverines were ranked No. 7 in the preseason top 25: Nik Stauskas and Glenn Robinson III have been huge for them, and wins against Florida State and Stanford shouldn't be taken lightly.
7. Indiana (10-3) … When you're talking about a team that lost four of its five starters from last season, it's not an easy task to immediately return to the top of the conference. Such has been the struggle for Indiana early on, as the young team failed to pick up a marquee win in the non-conference slate but didn't necessarily lose one that the NCAA tournament committee will frown upon, either. The Hoosiers have struggled with turnovers and perimeter shooting, but they do have one of the top defenses in the nation at the moment and youth will mature as the season goes on. Come Big Ten play, that could be a huge advantage. But for Indiana, an inexperienced team will get its fair share of adversity in the coming months.
6. Minnesota (11-2) … Even though it's year one under new coach Richard Pitino, it seems as if the Gophers haven't missed a step in the early goings of this season. Despite the loss of Trevor Mbakwe, the Gophers have done a great job in getting their offense and defense going and even have wins over Florida State (at home) and Richmond (on the road). That said, they haven't really been truly tested on the road outside of the Richmond game, and in the Maui Invitational, the Gophers finished a disappointing seventh after losses to Syracuse and Arkansas in back-to-back games. The Gophers will have another two games at home against Michigan and Purdue before hitting the road on Jan. 8 against Penn State, where perhaps their legitimacy will finally be put to the test.
5. Illinois (11-2) … John Groce has done a remarkable job of preventing a drop-off after the significant losses of Brandon Paul, D.J. Richardson and Tyler Griffey over the offseason. The Illini have started 2013-2014 strong with the emergence of Drake transfer Rayvonte Rice, who leads the team with 18.2 points per game and has an eFG% of 56.1. And then there is 6-foot-6 senior Joseph Bertrand, who has taken a step up this year and is shooting at a team-best 59.2 eFG% clip and a 55.6 3-point shooting percentage. It has truly been the next man up in Champaign, which led the Illini to a recent win over then-undefeated Missouri on Dec. 21. They get their first chance at a Big Ten win on Tuesday at home against Indiana.
4. Iowa (11-2) … About every important statistical category there is, the Hawkeyes are near the top in the early goings of the 2013-2014 season. With a top 10 offense and a defense that is allowing only a 41.9 eFG% to opponents, the Hawkeyes are off to a fantastic start despite close losses to Villanova and Iowa State in the past month. Wins over Xavier and Notre Dame have helped legitimize such an experienced team in Iowa City that is coming off an NIT finals appearance, and the Hawkeyes look poised for an NCAA tournament appearance this season under Fran McCaffery.
3. Michigan State (11-1) … One loss to North Carolina has spoiled the Spartans' early run at No. 1 nationally, but it's clear they are a team to be reckoned with in 2013-2014. With plenty of returning stars on a team that nearly won the Big Ten title last season, the Spartans will once again contend in conference play with the mix of young talent like Gary Harris and the older leadership of Keith Appling and Adreian Payne. The non-conference season wasn't totally smooth with scares against Oakland and Columbia, but wins against Kentucky and Texas are reassuring that the Spartans are a serious contender in not only the league, but nationally as well.
2. Wisconsin (13-0) … This is the best start for the Badgers in 100 years, but it still isn't enough to earn them the top spot in our Big Ten rankings. That's how strong the conference is this year. The Badgers have benefitted from the maturation of Sam Dekker and even players like Traevon Jackson and Frank Kaminsky, as once again Bo Ryan's system of play has proven to be successful against the nation's elite. Wisconsin already boasts wins against Florida, Virginia and Saint Louis, and with a top 20 offense and a top 10 defense, the Badgers could ride this undefeated streak a bit longer, potentially up to their meeting with Ohio State on Feb. 1.
1. Ohio State (13-0) … DeShaun Thomas, who? Despite the loss of the Buckeyes' best player to the NBA, they have come out in 2013-2014 as the nation's best defensive team early on. With Aaron Craft, Shannon Scott, LaQuinton Ross, Lenzelle Smith, Amir Williams and Sam Thompson all back, the Buckeyes boast one of the most talented and deep teams in the Big Ten that will only get better as the season goes on, not only offensively (OSU is shooting at a 53.6 eFG% clip), but defensively as well. Thad Matta has once again produced a beast in Columbus that already has six wins against top 100 teams in the KenPom.com rankings, and that number will only increase as Big Ten play goes on. One game to look forward to, though: On Jan. 7, the Buckeyes will travel to East Lansing to play at Michigan State. That, in simple terms, will be a must-watch.
Filed to: Big Ten Power Rankings