Recruiting Notebook: Blackmon Jr., Johnson on torrid scoring pace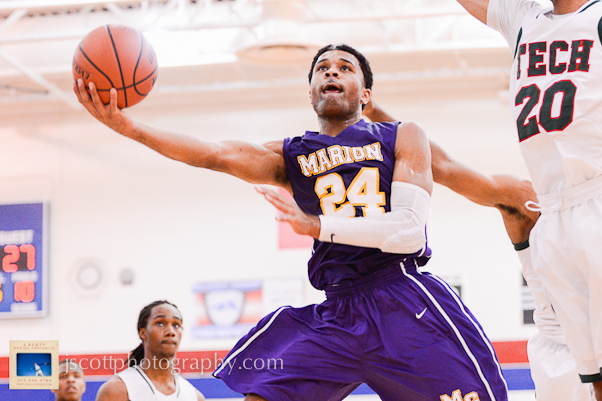 A little bit more than a third of the way through the 2013-2014 high school season, Indiana's future backcourt duo of James Blackmon Jr. and Robert Johnson is setting a torrid scoring pace.
Blackmon Jr., who led Marion to an upset of No. 3 Hamilton Southeastern over the weekend in the Carroll Shootout in Fort Wayne, has scored 285 points in eight games. In the 83-81 win over HSE, Blackmon Jr. scored 37 points.
Earlier in the season, the future IU guard set the Marion single-game scoring record with 54 points in a win over Irvington Prep.
The Giants finished just 10-13 last season, but are off to a 5-3 start under James Blackmon Sr.
Marion went 3-1 over the weekend in the Carroll Shootout, beating East Noble, Homestead and HSE before falling to Fort Wayne Carroll in the game's championship game on Saturday night.
Blackmon Jr., a leading contender for the 2014 Indiana Mr. Basketball Award, has six games of 30 or more points and is among the state's leading scorers at 35.6 points per game.
At Benedictine Prep in Richmond, Va., Robert Johnson is also putting together a fantastic senior season. The 6-foot-2 combo guard is leading the Cadets (12-1) in scoring at 26.1 points per game.
Johnson was named the Most Outstanding Player of the Benedictine Capital City Classic over the weekend as he averaged 33.7 points in three games.
In 27.1 minutes per game for Benedictine, Johnson is averaging a team-high 5.8 rebounds. He's second on the team with 2.8 assists per game and is shooting 48.8 percent from the field, 33.3 percent from behind the 3-point line and 75.8 percent from the foul line.
"We ask Robert to be a Swiss Army knife for us and he's embraced the challenge while leading our team to a 12-1 record," Benedictine coach Ryan Marable told Inside the Hall. "He has embraced guarding the best player on the defensive end while also carrying a lot of the lead on offense not only scoring but creating plays for others."
Hoetzel puts together solid showing at HighSchoolOT.com Shootout
Indiana's third class of 2014 signee, Wilbraham and Monson Academy (Mass.) forward Max Hoetzel, also put together a solid weekend in the HighSchoolOT.com Shootout in Raleigh, N.C.
Wilbraham and Monson finished the weekend just 1-2, but Hoetzel averaged 12.6 points and 6.3 rebounds.
The future IU wing shot 41.1 percent from the field, 66.6 percent from the foul line and committed just one turnover.
In a 75-70 loss on Saturday to Homeschool Youth Christian Association (Tex.), which features North Carolina signee Justin Jackson, Hoetzel finished with 20 points.
"Max is doing very well and playing a vital role to our team's success," Wilbraham and Monson coach Chris Sparks told Inside the Hall. "We are playing a national schedule and Max has made the most of his opportunities. Max is our second leading scorer and third on the team in rebounds. With six other Division I players, he is fitting in nicely."
Other notes
· Class of 2016 Foothills Christian (Ca.) forward T.J. Leaf received a scholarship offer from Arizona over the weekend, according to media reports.
Leaf, one of Indiana's top recruiting targets, posted his first triple-double on Dec. 26 with 19 points, 12 rebounds and 10 assists in a 59-46 loss to Los Angeles Westward.
· Class of 2016 Gill St. Bernard's (N.J.) guard Tyus Battle scored 26 points in a 61-54 loss to Teaneck on Sunday. Battle had 15 points and 11 rebounds in a 60-56 loss to Hudson Catholic on Friday in front of Indiana assistant coach Kenny Johnson.
Battle, who is scheduled to visit Bloomington on Saturday, is averaging 23.2 points, 7.7 rebounds and 2.7 assists through six games
Filed to: James Blackmon Jr., Max Hoetzel, Robert Johnson