Five takeaways from Indiana's win over Kennesaw State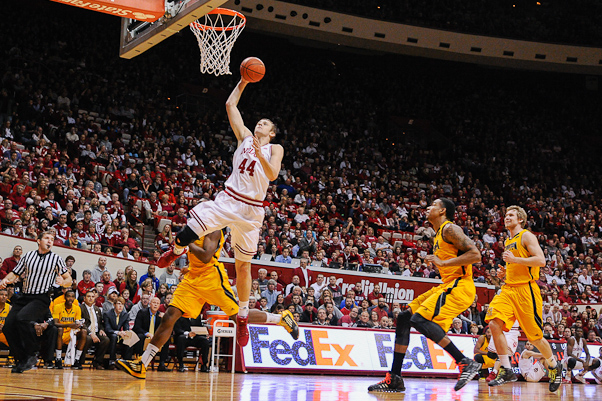 Indiana closed out the non-conference portion of its schedule with a comfortable 90-66 win over Kennesaw State on Sunday afternoon at Assembly Hall.
Here's a look at five takeaways from IU's tenth win of the season:
· Yogi's consistency: Through 13 games, sophomore point guard Yogi Ferrell has scored in double figures in every contest and has six games with five or more assists. One of our biggest questions going into the season was 'How will Ferrell's game evolve as a sophomore?'
The answer is that he's increased his scoring responsibilities significantly without diminishing his ability to distribute the ball. On Sunday, Ferrell poured in 25 points, one shy of his career-high, and also had five assists.
"I'm trying to find different outlets and just find different ways to score," Ferrell said postgame when asked about finding his consistency with scoring. "I'm kind of just playing the game really. Just trying to make the game as simple as possible."
· Fischer continues to build confidence: It wasn't a breakout game, but freshman Luke Fischer appears to be on his way to an important role in IU's rotation with Big Ten play beginning next week. Through 13 games, Fischer is averaging just 2.8 points and 2.1 rebounds in 10 minutes per game, but his minutes are on the upswing in recent weeks.
On Sunday, Fischer played a season-high 19 minutes and scored 10 points to go along with three blocks, two rebounds and an assist. The freshman from Germantown (Wis.) continues to gain confidence after a preseason shoulder injury and appears ready to take on more minutes as IU enters the key portion of its schedule.
· Ferrell, Sheehey take ownership of turnover problems: Indiana had 40 turnovers in its two wins this weekend and the Hoosiers now rank No. 309 nationally in turnover percentage according to KenPom.com.
Ferrell and senior Will Sheehey, IU's leaders, were both introspective on Sunday when asked about what the team needed to improve upon as it readies for Big Ten play.
"That definitely starts with me and Will," Ferrell said. "We're definitely going to get on guys a lot harder. We can't afford to give teams the ball in the Big Ten."
"It starts with us two. They see us do certain things, they seem to do it," Sheehey added. "I know for myself personally the past four or five games I've been careless with the ball, turned it over way too much. It starts with me, then goes down the line. We have to take care of the ball first and the rest will follow.
We'll find out soon if the Hoosiers can curb some of the mistakes as Illinois, IU's opponent on New Year's Eve, plays a deliberate pace and does a good job of limiting its own turnovers.
· Rotation doesn't change much from Friday: Indiana again played a large rotation on Sunday with Austin Etherington, Collin Hartman and even Jonny Marlin seeing first half minutes. Crean wasn't ready to tip his hand specifically on how the rotation may change beginning on Tuesday, but it certainly seems like changes will be coming.
"I don't know yet. I really don't," Crean said when asked about the rotation moving forward. "I'll start looking at that as we start looking at Illinois, start looking at that over the next few days. I think a lot of that is going to come down to the consistency level that guys play with every day.
Crean mentioned offensive rebounding, blocking out, deflections, hustle, energy, scrappiness, bringing pressure and fatigue, getting to the foul line and ball movement as factors he would be evaluating.
"I think how many people figure that out, that will probably be the guys that can help us the most," he said.
· Kennesaw State coach offers his assessment on how to play Indiana: Lewis Preston, who spent time as an assistant at Notre Dame, Florida and Penn State before landing the Kennesaw State job, was asked by Inside the Hall's Jordan Littman for his thoughts on how to attack and find success against Indiana.
It was no surprise that Preston's answer started with defending Ferrell, who is averaging close to 17 points per game.
"I would probably hawk Ferrell and make sure we limit his touches," Preston said. "Make someone else have to beat us and run the show for them, which would probably be Sheehey. And then pack it in and see if they can make enough 3s to beat you."
Filed to: Kennesaw State Owls, Luke Fischer, Will Sheehey, Yogi Ferrell