Hoosiers overcome sloppy stretches for ninth win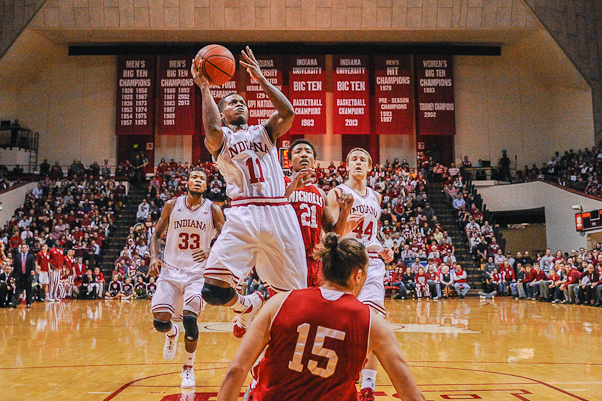 For stretches of Indiana's 79-66 win over Nicholls State on Friday night, Indiana played the way it had wanted to all along.
At the 18:59 mark of the second half, sophomore Yogi Ferrell hit one of his three 3-pointers. Then, on a night in which Indiana played the full-court press for the first time this season, it forced a Nicholls State turnover. Ferrell then dished it to senior Will Sheehey for an alley-oop and Nicholls State again turned it over on its following possession.
Another stretch, from the 9:02 to 4:54 marks of the second half saw Indiana score 17 straight points without missing a shot, as the score ballooned from 56-42 to 73-54.
It was spurts like these that were the theme of the Hoosiers' night, balancing out the ugliness of the game, as well, in their ninth win of the season.
"I felt like we did a good job of getting the ball out quick when they scored and just pushing the ball and finding different outlets," Ferrell said. "We kind of just flowed, really. We didn't want to run too many sets, we just kind of wanted to move the ball, play inside-out.
"We just want to get after people. We don't want to let other people set the pace. We want to set the pace for the game."
The Hoosiers did just that with utilizing their press throughout the game, forcing Nicholls State into fatigue and a shorter shot clock while the Hoosiers ran. Indiana forced 17 turnovers, recorded eight steals and took 35 free throw attempts as they cruised to their win, their second-to-last of the nonconference season.
"I thought what was really important tonight was that we would do our very best to build on our style of play that we want to keep establishing," Indiana coach Tom Crean said. "We needed to get into the paint. But the bottom line is we wanted to bring tempo and pace to the game."
Hoosiers, though, record season-high 20 turnovers
As much as Indiana's defense created its offense on Friday night, though, turnovers continued to haunt the Hoosiers. In fact, a season-high 20 of them led to 18 points off turnovers for Nicholls State.
Three came off offensive fouls. Others came off traveling violations and poor passes. As much of a byproduct of it is, perhaps, of the Hoosiers' fast offensive pace, it still provided the Colonels with enough opportunities to potentially stay in the game.
"20 is obviously too high for our team, but we're playing a different pace," senior Will Sheehey said. "We've been practicing at a different pace, so we'll get it fixed."
Crean also thought turnovers weren't necessarily a big issue for Indiana, despite its season-high. He thought IU's 11 first-half turnovers were a byproduct of trying to "find our way" after finals week, and that even though he is concerned about turnovers "in the sense of when they're sloppy or we're trying to do too much," again, he thought they will eventually be cut down.
"It's something you have to get them to push through it, and we spent a lot of time this week making sure that we did that," Crean said.
"But that, like our shooting, will get better."
Ferrell leads Indiana with 16 points
After taking some criticism following the Hoosiers' loss to Notre Dame last Saturday, Yogi Ferrell responded on Friday against Nicholls State — to the point where Crean called his performance "outstanding."
The sophomore guard had 12 second-half points and seven second-half assists and finished with 16 points, eight assists and three rebounds. He had four first-half turnovers, but zero in the second 20 minutes. Ferrell also took his fewest shots in a game (7) since the Dec. 3 loss to Syracuse, but in the process had his highest effective field goal percentage — a 92.8 percent clip — since Indiana's 105-59 win against Samford on Nov. 15.
"I thought Yogi Ferrell had an outstanding game, not only because he had eight assists but because the pace that he played at on both ends," Crean said. "The way that he talked and then certainly the shooting I thought was a byproduct of that."
Kennesaw State up next
With a Noon tip on Sunday, Indiana will face its weakest opponent on the 2013-2014 schedule: a 3-9 Kennesaw State team that has only one win against a Division I opponent (Chattanooga), the nation's fourth-worst offensive team (88.9 efficiency rating) and the nation's worst team at turning the ball over (a 26.1 percent clip).
The Owls are ranked as the No. 338 team in the KenPom.com ratings out of 351 teams, and as of Friday night, were expected to lose to Indiana, 84-58, on Sunday with only a one percent chance of winning.
Filed to: Nicholls State Colonels, Yogi Ferrell