Five takeaways from Indiana's win over Nicholls State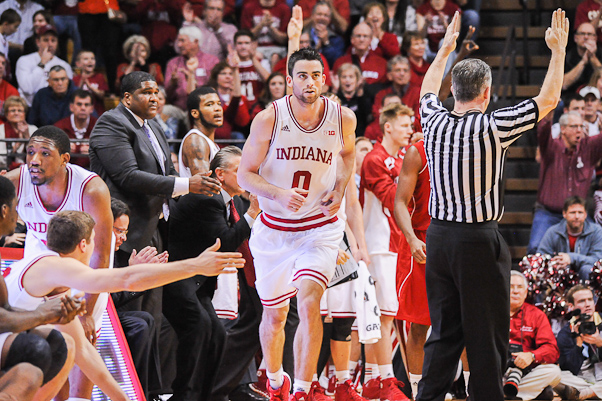 It wasn't easy, but Indiana picked up its ninth win of the season on Friday night with a 79-66 victory over Nicholls State at Assembly Hall.
Here's a look at five takeaways from the win over the Colonels:
· IU's offense puts together a solid night, statistically speaking: While it wasn't aesthetically pleasing, the Hoosiers actually posted a solid offensive showing with 1.12 points per possession and an effective field goal percentage of 60.2. That shooting percentage was bolstered by a good 3-point shooting night (5-of-12) and a fair amount of points in the paint (36).
And when the Hoosiers weren't turning it over, there were a couple of stretches of basketball that were encouraging. Early in the second half Yogi Ferrell hit a 3-pointer, Will Sheehey finished an alley-oop and IU forced two turnovers. And then later in the second half, IU scored 17 straight points without missing a shot.
· About those turnovers: The word postgame from Sheehey is that he believes the Hoosiers will begin to correct the turnover problem.
"We'll be fine with the turnovers. We'll cut them down," Sheehey said succinctly when asked about the 20 miscues committed by Indiana on Friday.
The concern, however, is that IU just posted its worst turnover percentage of the season against the weakest opponent on its schedule to date. The Hoosiers coughed it up on 28.3 percent of their possessions and after 12 games, IU's turnover percentage of 21.2 ranks 302nd nationally. We're nearly past the point of looking at the turnovers as IU trying to figure things out. Big Ten play begins in 10 days and in a more controlled pace, handing the opposition extra chances to score is simply detrimental to winning.
· 18 players see action: Tom Crean mentioned earlier in the week on his radio show that some guys were playing too much and some guys needed to play more. That might be the case when league play begins, but Friday night's effort seemed to be more about spreading the minutes out and also experimenting with some full court pressure and some zone in the halfcourt.
"We were switching defenses, and sometimes we were pretty good at that and sometimes we weren't as good," Crean explained. "But it's all a part of giving these guys as many experiences and giving them a chance to understand how important awareness is, how important all the parts of communication are, and how to do it when you're really tired and under fatigue."
· A subpar game, defensively: Indiana allowed Nicholls State to shoot an effective field goal percentage of 49.2, the highest mark of the season for an opponent that IU has beaten and the third highest percentage allowed by IU this season.
So what was to blame? Far too many points in the paint (42). Indiana allowed Nicholls State to shoot 53.3 percent on 2s and 65.4 percent at the rim. Whether this game was an aberration or a sign of things to come remains to be seen, but for a team that will be highly dependent on defense to win in the Big Ten, it was a discouraging effort.
· A bit on the bigger picture as it pertains to IU's transition offense: Through 12 games, Indiana is playing the 20th fastest pace nationally. Pushing the ball and putting pressure on the defense has been a major emphasis. The data, however, suggests that Indiana has been a more effective team offensively in non-transition situations.
The Hoosiers have an effective field goal percentage of 51.5 in non-transition possessions versus 48.1 percent in transition. The percentage in non-transition possessions actually isn't too far off of where IU finished up last season, but the percentage in transition is about 14 percent lower than a season ago.
With the inevitability of a slower pace in Big Ten play, might it be more effective for IU to pick its spots where it wants to run in an effort to curb some of the turnovers and attempt to play through the post in the halfcourt? It's a fair question to ask.
Filed to: Nicholls State Colonels