The Inside the Hall Mailbag: December 18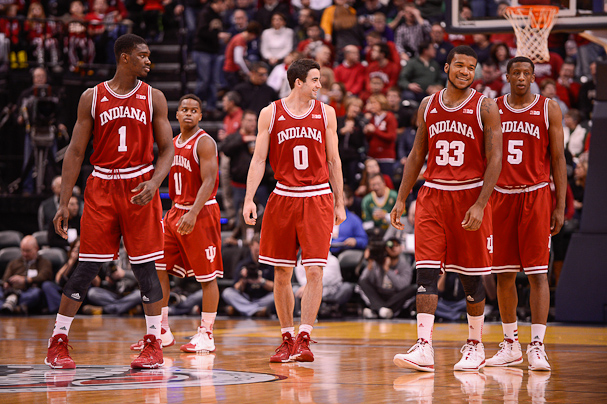 The Inside the Hall Mailbag is a collection of questions tweeted to us via Twitter (@insidethehall), submitted on our premium forum and sent to us via our Facebook page. Submit your questions and we'll answer as many as we can.
jaktucke on the premium forum writes: Considering Crean's comments on playing time, who are the eight or nine players that you see as part of the regular rotation going forward?
This is an interesting question not only because of Crean's comments on Monday night, but also because conference season begins in less than two weeks. To recap, here's what jatucke is referring to in terms of Crean's comments: Monday evening on his weekly radio show, IU's coach said  that he's not sure if the deep bench will continue and added that there are some guys playing too many minutes, some are playing too few.
I think locking into an eight or nine man rotation is a bit difficult because the guys on IU's bench haven't created much separation, but if you look across the country, there aren't too many teams going more than nine deep. If I was asked to pick the nine best players currently, in no particular order, I'd go Noah Vonleh, Yogi Ferrell, Will Sheehey, Evan Gordon, Troy Williams, Jeremy Hollowell, Devin Davis, Stanford Robinson and either Hanner Mosquera-Perea or Luke Fischer.
I don't think IU has to lock into playing a set list of guys at this point, but inside of a particular game, maybe you go based on practice and preparation and only play the eight or nine guys who you feel give you the best chance to win. — Alex Bozich
ajbeaty311 on the premium forum writes: I know Crean says he is always recruiting as he should be but do you see 2014 class being finished? Vonleh's play lately while good, seems like it still has a lot of work to be done for him to be a one and done. It is also still hard to speculate on if anyone is going to transfer as well to leave any more spots for next year.
That's hard to say with any certainty. There's not a whole lot left in terms of top talent right now for 2014, but that could change in the spring if coaching changes occur and players opt to look elsewhere. As it currently stands, IU has 14 players for next year, so I'd say 2014 looks pretty well set for now. — Alex Bozich
isiah81 on the premium forum writes:  What percentage do you give that Vonleh stays for two years? After the UConn and Notre Dame games, he is not ready. I truly hope he stays. It is a super strong draft and he needs a better outside jumper to compete in the NBA.
I'm not a percentages guy and in a case like this, anyone who speaks with any conviction on what's going to happen after the season is misspeaking. I just don't think it's even something that's worth thinking much about at this point. The mock drafts and big boards are fun to analyze and discuss, but Noah Vonleh has yet to play a Big Ten game, so we really have no idea where he's going to end up in any of these projections or if leaving after one season is even on his radar.
My overall opinion on leaving early for the NBA is this: While it's true that leaving early and getting a guaranteed deal is often the correct decision, it's also important to perform well enough over your first contract to make it to the second contract because that's where the significant money is earned. As was the case with Cody Zeller and Victor Oladipo and will continue to be the case as long as Crean is in Bloomington, IU players with NBA aspirations will be well educated on the process and will have no shortage of information at their disposal when a decision on whether to leave early needs to be made. — Alex Bozich
Matt Uhl on Facebook writes: Coach Crean was very blunt in taking responsibility for the ND loss on his radio show. Do you get the feeling there's a growing sense of pressure within the team to convert some of the preseason expectations of an NCAA birth into better B1G conference play than what we've seen in the non-conference schedule? There's been a lot of negative fan comments recently about his substitution patterns and inability to create some leadership roles…. with many younger players getting a lot of minutes they may not be ready for.
There's always pressure at a major program like Indiana. It's part of why the program is great. There is a passionate fanbase that scrutinizes every move because it craves success.
I can't speak to any growing sense of pressure within the team because our only interactions with them besides the games are in media availabilities. They've seemed fairly loose to me. As for any negative comments, I'm sure the players hear things that are said or are written on occasion, but that's just part of being a major college athlete in this era of social media. There's going to be criticism. It happens at major programs everywhere. In our six years of running the site, the reaction after a loss is always much stronger than the reaction after a win. That's just how it is. — Alex Bozich
Jason Davis on Facebook writes: I have been curious about the playing time of Devin Davis? It seems like he hasn't been playing much.
His minutes have been limited recently because of an ankle injury. I believe he originally hurt it in the Syracuse game, re-aggravated it in the North Florida game and then he sat out the Oakland game. On Saturday against Notre Dame, he logged just six minutes and picked up two fouls, but I'd expect him to get more regular time in the games this weekend. — Alex Bozich
Jon Robling on Facebook writes: What's going on with Austin Etherington and Collin Hartman? I thought they were recruited to be shooters? So far, I've yet to see it, and Etherington does not do anything else well enough to garner significant minutes.
Neither player has shot the ball particularly well, but Hartman's record is obviously still in its infancy stages. Etherington is 5-of-19 on 3-pointers in his career and Hartman is 0-of-3 so far in his debut season.
The numbers, without argument, bear out what you're saying. Neither player has shot the ball well. To see the floor with any regularity, making shots is the key for both of them. Going into the season, I thought one of them had the chance to carve out some minutes on a team that was searching for shooting, but as the games move along and Big Ten season creeps up, it appears less and less likely that it will happen. — Alex Bozich
Anthony Hill on Facebook writes: Any chance you know our offensive efficiency numbers split out between "transition" and "half court?"
I don't have the numbers in terms of points per possession, but I can provide some effective field goal percentage numbers split out between transition and non-transition situations.
In transition, Indiana's effective field goal percentage is 48.1 percent compared to 50.5 in non-transition situations. For a reference point, last season IU's offense, which finished as the third best unit in the land, had an effective field goal percentage of 62.3 in transition versus 51.6 percent in non-transition.
So far this season, here's the distribution of IU's field goal attempts from a situational perspective: 187 in transition and 467 in non-transition. — Alex Bozich
Filed to: Noah Vonleh, Tom Crean