Hoosiers struggle, unable to break through in loss to Notre Dame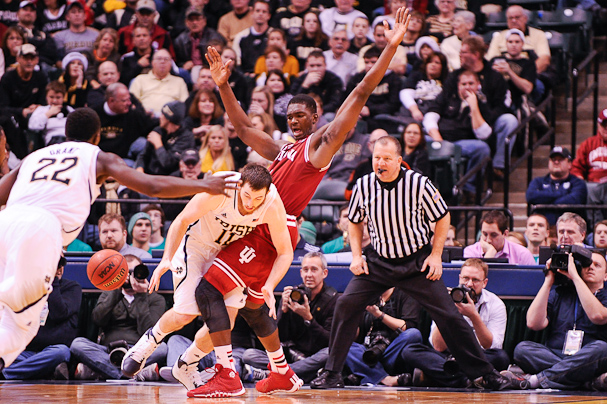 INDIANAPOLIS — With its best remaining non-conference opportunity to get a win that will help its case come Selection Sunday, Indiana dug itself too large of a hole to overcome on Saturday afternoon at Bankers Life Fieldhouse.
An experienced Notre Dame team, coming off of a disappointing loss at home to North Dakota State on Wednesday, did not allow an Indiana lead all game and beat the Hoosiers, 79-72.
The Hoosiers, looking for their second win over a major conference team, trailed by as many as 13 points before tying the game early in the second half. But each time Indiana mounted a surge, the Fighting Irish answered before pulling away in the final minute.
"We made a bunch of runs, we could just never get all the way over the hump," Indiana coach Tom Crean said. "Whether it was a missed shot, a missed play defensively."
The result was a loss that will put even more pressure on a young team to deliver a couple of signature wins in the Big Ten to solidify itself as a NCAA tournament contender.
But in the immediate aftermath of Saturday's loss, Crean and his players were more focused on the immediate future with just 17 days remaining until conference play tips off.
"We just got to make sure we compete and get better daily," Will Sheehey, who tied his career-high with 22 points, said. "It's a process. We've just got to continue chipping away. These guys, just getting them more comfortable playing on big stages and the road and what not will definitely help."
When Indiana has been successful in its first 11 games, the Hoosiers have dominated the glass and the free throw line. On Saturday, the Hoosiers failed to assert themselves enough in either area.
Notre Dame won the free throw battle soundly with a 55.5 percent free throw rate compared to 25.3 for Indiana. And on the glass, the Fighting Irish only allowed the Hoosiers to rebound 33.3 percent of their misses, which is 10 percent below their season average.
"We're not real successful when we're not in the bonus early enough," Crean said. "We're not successful when we're not dominating the free throw line. And frankly, the rebounding."
Indiana now has five days off before it returns to Assembly Hall for a pair of games against Nicholls State and Kennesaw State next weekend. Between now and then, the Hoosiers must continue forming an identity that has yet to be solidified.
"I think our struggle right now is learning who we are versus who we want to be," Crean said. We're not a team that's going to be real successful thinking that we're going to shoot a lot of jump shots. We've got to get into the lane."
Not enough post touches
Whether it was Notre Dame's zone defense neutralizing the paint or Indiana simply settling too much from the perimeter, the Hoosiers took 20 3-point attempts.
And Noah Vonleh, who came into Saturday with six double-doubles in 10 games, finished with just eight points and six rebounds. Vonleh attempted just five shots in 21 minutes.
"We shot too many jumpers to begin the game," Crean said. "Some of that's we're not demanding the ball inside the way we need to. We're not demanding it verbally, we're not demanding it physically the way that we need to. We just have to be better."
When asked about getting Vonleh involved more, who has failed to record a double-double in any of IU's three losses, Sheehey took a more direct approach for what needs to change.
"He's got to demand the ball. And we've got to throw it to him," he said. "It's as simple as that."
Youth struggles on both sides
Indiana starts two freshman and Notre Dame starts one, but the lack of production on the Hoosier side of things was more detrimental as Troy Williams went scoreless as did Luke Fischer in 10 minutes off the bench.
As a unit, IU's five freshmen scored 14 points on 6-of-15 shooting. The group came into Saturday averaging 32.1 points per game.
"In a game like this, when you look at the stat sheet, the veteran players were the ones that really carried the load," Crean said."Their young guys didn't get much done and we've got a lot of young guys and they didn't get a lot done."
Filed to: Noah Vonleh, Will Sheehey