With Big Ten play looming, IU still searching for consistent identity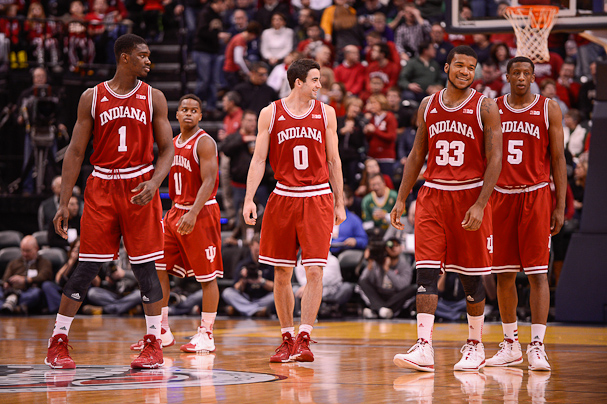 INDIANAPOLIS — After Indiana's 79-72 loss to Notre Dame on Saturday, Indiana coach Tom Crean sat alone and addressed the media on what went wrong for his team.
"Our identity has got to be in the fact that going into the game, we were fifth in the country in field goal percentage defense, we were No. 1 in the country in rebound margin, we were way up in the country in getting to the free throw line," he said. "None of those things worked out to our advantage today."
In what was his team's final — and perhaps, best — chance to get a marquee non-conference win, they crumbled when they needed to strengthen. It allowed an effective field goal percentage of 51.9 percent (its season average: 40.8 percent). It let Notre Dame shoot 14 more free throws than it did. On six different possessions in the second half, the Hoosiers had the chance to take their first lead on Notre Dame for the day. That never happened.
The result leaves the Hoosiers in a difficult position heading into Big Ten season: They have no marquee win on their résumé, and those will be hard to come by in conference play. They had their chances, especially on Saturday, against Connecticut and even against Syracuse until they collapsed in the second half, but when Crean has needed his team's best effort most, it hasn't happened.
Take Yogi Ferrell's ill-advised jumper against UConn in the waning seconds of that game. Or even on Saturday, when the Hoosiers could never get over the hump and allowed big Notre Dame shots when the Irish needed it most.
Right now, Indiana's strongest win, according to Kenpom.com, is against Stony Brook — a team that is 6-4 with losses to Toledo and St. Francis (N.Y.). And though the Hoosiers still have two nonconference games remaining, they are against teams who Pomeroy rates in the bottom 20 in the nation. If Crean wants to learn more about his team before Big Ten season starts, he won't learn much against Nicholls State and Kennesaw State.
Then, on New Year's Eve, his team will travel on the road (where it is 1-3 this season away from Assembly Hall) and open up Big Ten play against an Illinois team that beat the Hoosiers the last time they were in that building.
In all honesty, though, finding a marquee win to flaunt to the NCAA tournament selection committee isn't even the biggest concern for Indiana, right now. For all the progress Crean thought his team has made in forming an identity, suddenly, it took a step back against Notre Dame.
He thought for his younger players — despite having already played games in Madison Square Garden and the Carrier Dome — the stage "was a little bit too bright." His team settled for too many jump shots and didn't get to the line enough. And despite a small rebounding edge, the Hoosiers were dominated in the paint.
In two long stretches in the second half —from 18:19 to 12:07 and from 7:25 to :05.3, the Hoosiers scored a combined six points. For as many "charges" Indiana made at Notre Dame, its consistency (or lack, thereof) doomed its chance at winning.
"The mental part of it, we're just going to have to grow through that," Crean said. "There's not a lot of drills that you can have to give a guy the experience and understanding that they have to have of how important every possession is in these type of games.
"What I'm learning with a very young team is that every time you think you're taking a step toward that identity, it's very easy to take a step or two back."
This could have been a game for Indiana to launch itself into Big Ten season on a high note and a likely 11-2 record. Instead, though, the Hoosiers left Bankers Life Fieldhouse on Saturday night floundering, their entire identity in question.
And if the lights haven't been bright already, they're about to get brighter.
Filed to: Tom Crean