What to Expect: Notre Dame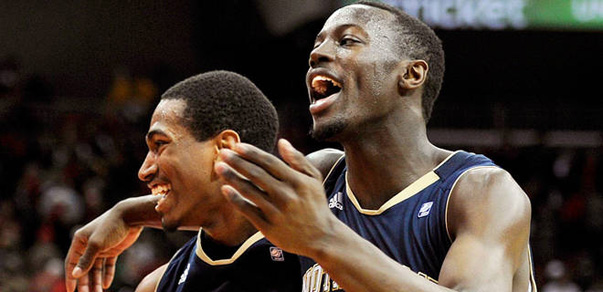 Indiana returns to Indianapolis for its third appearance in the Crossroads Classic on Saturday afternoon as the Hoosiers take on Notre Dame. The Hoosiers beat the Fighting Irish, 69-58, in the first Crossroads Classic back in 2011.
The game will be broadcast at 3:15 p.m. ET on ESPN and on the IU radio network:
The 2013 version of the Crossroads Classic has considerably less sizzle than the previous two years.
The first year, 2011, featured an unbeaten Indiana team that had just knocked off No. 1 Kentucky and had surged into the national rankings for the first time under Tom Crean. Last season, the Hoosiers came in ranked No. 1 for a meeting with Butler. This year, the Hoosiers arrive at Bankers Life Fieldhouse with an 8-2 record, but no win that really stands out to this point.
The reality of the event is that it's highly dependent on Indiana to be considered a success. Each of the other three schools bring considerably fewer fans and national attention. A strong contingent of national media was present for last year's event with the Hoosiers ranked No. 1 and that's unlikely to be the case this year. Tomorrow's second game, Butler vs. Purdue, wasn't picked up by ESPN or CBS and will be on the Big Ten Network.
Indiana is locked in to the event through 2016, but the merits of participation beyond that are certainly debatable when you consider that the event gets much more out of Indiana than Indiana gets out of the event. For now, the Crossroads Classic rolls on and the Hoosiers meet Notre Dame on Saturday with a chance to get a top 100 Pomeroy win for the first time this season.
NOTRE DAME PERSONNEL
The Fighting Irish enter Bankers Life Fieldhouse just 7-3 with losses at home to Indiana State and North Dakota State and a road loss to Iowa in the Big Ten-ACC Challenge. It's been a disappointing start for a team with a strong returning nucleus that was ranked in the top 22 of both preseason polls.
The preparation for Notre Dame has a strong focus on the backcourt as Mike Brey is now starting four guards — seniors Jerian Grant and Eric Atkins, junior Pat Connaughton and freshman Demetrius Jackson.
Grant, Atkins and Connaughton are each averaging more than 33.4 minutes per game and scoring in double figures. Grant is the team's leading scorer at 18.1 points per game and sports an effective field goal percentage of 60.1. He's shooting slightly above 40 percent on 3s and 59.7 percent on 2s. He also has the team's best assist rate (31.9) and steal percentage (3.5).
Atkins, a point guard, is a less efficient scorer, but has an assist-to-turnover ratio of more than 4-to-1 and can knock down the 3-pointer when left alone (37.8 percent). Connaughton takes more than half of his field goal attempts from behind the 3-point line and knocks down a healthy percentage (44.6). He's also the team's second leading rebounder at 7.1 per game.
And Jackson, a McDonald's All-American and major recruiting win for Mike Brey, is beginning to come on as he gains comfort and confidence from teammates. It's a limited sample size, but the 6-foot-1 point guard has the team's best effective field goal percentage at 65.6.
Notre Dame's frontcourt is thin as senior Garrick Sherman is the primary contributor with senior Tom Knight and sophomore Austin Burget backing him up. Sherman is solid on the glass on both ends and makes 53.4 percent of his 2s. Sherman has been able to avoid foul trouble for the most part, which will be a key factor on Saturday as the Hoosiers have made a living offensively by getting to the line. Knight and Burgett combine for roughly 30 minutes per game and collectively bring about eight points and six rebounds to the table off the bench.
TEMPO-FREE PREVIEW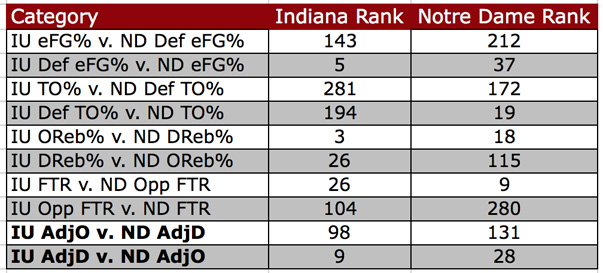 In his comments to the media on Thursday addressing the recent loss to North Dakota State and also looking ahead to Indiana, Brey talked at length about his offense needing to get back on track. A look at the numbers suggests it's the defense that isn't holding up as the Fighting Irish are well outside the top 100 in Pomeroy's adjusted defensive efficiency.
Notre Dame has defended the 3-point line poorly as opponents are shooting 38.6 percent from distance. That may not be a major issue given Indiana's deficiencies in that area.
Where Notre Dame does excel defensively is on the glass as opponents are grabbing just 25.6 percent of their misses against the Irish. Notre Dame also avoids foul trouble as opponents have posted a free throw rate of 27.7 percent this season, which ranks ninth nationally. With Indiana's proficiency in offensive rebounding as well as getting to the line, both factors loom large on Saturday.
For Indiana, turnovers are once again going to be pivotal as Notre Dame rarely turns it over themselves and "live ball" turnovers could quickly turn into scores on the other end. Defending the 3-point line is also critical as the Irish shoot over 40 percent from distance.
WHAT IT COMES DOWN TO
With Nicholls State and Kennesaw State the only two games remaining before Big Ten play, this figures to be Indiana's last test in the next two-plus weeks and it also represents an opportunity to pick up a win that would be its best on the resume to-date.
The Pomeroy projection favors Indiana, 76-72, with a 63 percent chance of a win for the Hoosiers. Iowa, one of Notre Dame's three losses, was able to grab offensive rebounds at a solid rate and also get to the line effectively, which is exactly what Indiana will need to do in order to emerge victorious.
Atkins and Jackson are both undersized guards, which means Indiana shouldn't be hurt much defensively if it chooses to play Yogi Ferrell and Evan Gordon together frequently. The Grant-Will Sheehey battle should be interesting to watch as the IU senior is coming off an effort where he basically erased the effectiveness of Oakland's Travis Bader. And inside, Noah Vonleh holds a decided advantage over Sherman from a talent perspective, but the Hoosiers cannot afford any cheap fouls that would send their star freshman to the bench.
Filed to: Notre Dame Fighting Irish