Oladipo, Zeller navigating different paths in rookie seasons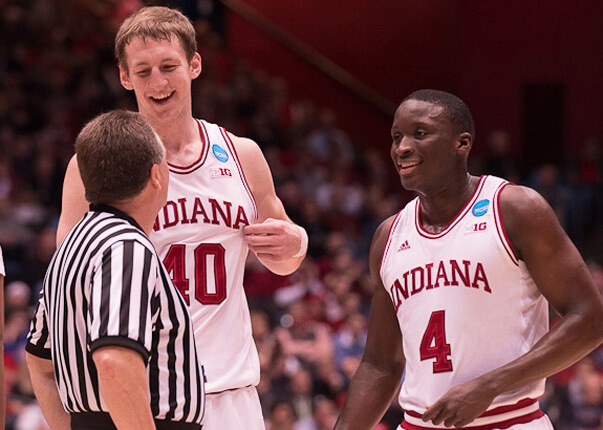 A quarter of the way through their first NBA seasons, Cody Zeller and Victor Oladipo have been thrust into very different roles.
In Orlando, the Magic, in the midst of a major rebuilding effort, are taking their lumps on their way to a 7-15 start. Oladipo was inserted into the team's starting lineup after 10 games and he's averaging 13.4 points, 4.6 rebounds, 3.5 assists and 1.7 steals in 31 minutes per game.
In Charlotte, which signed free agent Al Jefferson in the offseason and currently sits in fifth place in a very weak Eastern conference outside of Indiana and Miami, the Bobcats are taking a more conservative approach with Zeller. The 7-footer is Charlotte's first big man off the bench and is averaging 5.3 points and 4.2 rebounds in 17.8 minutes per game behind veteran Josh McRoberts.
Given the very different paths the former Hoosier teammates took to make it into last June's NBA draft lottery, it's only fitting that each is taking a different path to becoming established in the league.
On Wednesday night, the two squared off for the first time as professionals with Oladipo's Magic claiming a 92-83 victory in Charlotte.
Both played well, with Oladipo scoring eight of his 10 points in the second half and Zeller matching his season-high with 10 points and also adding six rebounds, two assists, a steal and a block.
An off day for both teams on Tuesday allowed the two to catch up, compare notes on their rookie seasons and also reminisce on their careers at IU.
"It was fun catching up with him, comparing stories of our rookie years and remembering playing back in Indiana. It was definitely fun playing with him the last few years," Zeller said of Oladipo, according to NBA.com, on Wednesday. "He was a great teammate, brought a lot of energy to the table. So I definitely miss playing with him."
"He's hard working. He definitely wants to be great," Oladipo said of Zeller. "He wants to be good at what he does so he just wants that opportunity. He just wants to go out there and play hard and he wants to win. He loves winning."
One of the early candidates for the NBA's rookie of the year award, Oladipo has already recorded a triple-double and is routinely matching up with some of the best backcourt players in the league.
Guarding the opposition's best player is a challenge Oladipo always wanted while he was in Bloomington and it's continued in his rookie season.
"It's always nice to see him getting credit on a national level inside these games for what he's doing energy wise, for what he's doing defensively," Indiana coach Tom Crean said of Oladipo at Monday's media availability. "You turn on the sets and there he is guarding the other team's best player. Kudos to them (the Magic) for knowing that he wants that challenge. I think he's doing excellent."
Zeller's role is much different than Oladipo's and he told reporters on Wednesday that he's trying to focus most on the small details in order to make an impact.
"With the 24-second shot clock and how talented the players are, if you make one little mistake, they're going to score on you," he said. "Or on the offensive end, it's going to be a turnover. There's no much room for mistakes so it's a big learning process."
Crean, who has kept a close eye on the rookie campaigns of both players, believes Zeller is doing well in meeting the challenge of competing against the world's best players.
"Cody's just got to continue to be very comfortable, know that he's skilled, be decisive," Crean said. "He's being thrust into tough situations. He's going against not just grown men, but high level, strength, athleticism, NBA-level grown men. And that's a different deal. But I think he's handling that just fine, too."
On Friday, Zeller will return to Indiana to play the Pacers for the first time in Bankers Life Fieldhouse. Oladipo opened his NBA career in Indianapolis in late October and received a steady show of support from Indiana fans who wore Indiana jerseys.
"We go to Indiana on Friday and I was talking to Vic about when he was in Indiana," Zeller said. "It's unbelievable (the support). Indiana fans are definitely everywhere."
"I told him I got a standing 'o' when I got there, so I told him to see if he tops that," Oladipo said with a smile. "It'll be interesting to see."
Filed to: Cody Zeller, Tom Crean, Victor Oladipo