Indiana ignites offense, stifles Oakland in 81-54 win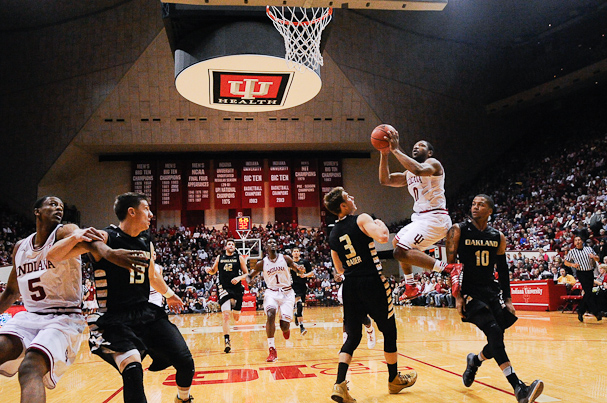 After the game on Tuesday night, Oakland coach Greg Kampe walked back to his team's locker room with a hand to his head.
Moments earlier, the buzzer at Assembly Hall sounded that finalized an 81-54 Indiana (8-2) win over the Golden Grizzlies (2-8). It was a game in which the Hoosiers shot 50 percent from the field, 42.9 percent from beyond the arc and held the Grizzlies to a season low in points off only 32.2 percent shooting.
It's also a game that Kampe already is looking forward to moving past.
"It's Indiana in Assembly Hall," he said after the game. "If they make shots they're going to beat a lot of teams. So I pat Crean on the back, said 'Great job,' and we'll move onto the next one."
But coming into the game, Kampe thought Indiana's shooting ability — or lack thereof — would enable his team to stay in the game. After all, IU was shooting only 28.8 percent from beyond the arc and only 45.6 percent from the field overall. He thought it was the Hoosiers' biggest weakness.
However, in the opening 10 minutes of Tuesday's game, Indiana shot 64.7 percent from the field. By then, the Hoosiers were up, 27-16.
Kampe also thought the game was going to come down to rebounding. By halftime, Indiana would have double the amount of rebounds Oakland would. The Hoosiers were again strong on the offensive boards, rebounding 38.7 percent of their misses in the contest.
"I mean, we still get yelled at in practice for not being good enough at rebounding," freshman Luke Fischer said, "so that just makes us strive to be better at it."
In that first half, the Hoosiers also made four of six 3-point attempts, had six offensive rebounds and 20 points in the paint. They were well on their way to their eighth win of the season.
"The way they shot the ball surprised me, but I've done this long enough to know throw everything out," Kampe said. "Every game's different. It's like playing blackjack, man. You can either hit on 16 or not. Book says to hit on 16, so you take the card. Sometimes it's a face card, sometimes it's a five. And the book says they're going to miss shots, so when you play them, you better play them to percentages and we did and they made it."
Perhaps the biggest surprise Oakland faced all night, though, was from the scoring output of senior Evan Gordon.
"I don't even know who the guy is that had the 20,000 points or whatever he scored," Kampe said. "I couldn't tell you who he was."
Much of Oakland's scouting report centered around sophomore Yogi Ferrell shooting the ball for Indiana, but for the second straight game, Gordon got hot. And he didn't cool off.
After starting the game 8-for-8 from the floor, Gordon finished Tuesday night's game 10-of-12 from the field. He was 4-for-5 from behind the arc, 2-of-2 from the free throw line and ended the night with 26 points — his career high at Indiana.
"I didn't know who he was, honestly," Kampe said. "So I did a bad job, I guess. But I know this. He was 1-of-11 or 1-of-9 from 3 coming into the game. And I'm going to take the hit on 16."
(Gordon was, in fact, 2-of-11 from 3-point range heading into tonight's game.)
Gordon also had five rebounds, three assists and three steals on the night. In his past two games, he is shooting a combined 17-of-21 from the floor, is 5-of-7 on 3-pointers and has a total of 41 points. He also has nine rebounds and four steals to his name. So where has his outburst in production come from?
"Well, I think it's the defense, and I know that sounds trite, but it's true," Indiana coach Tom Crean said.
"When Evan came (to Indiana), one of our big points to him was that we thought there was a lot more that he could get better at and that he could improve in a lot of areas. He's doing that, and I think he's starting to see that."
As much as Indiana's offense excelled on Tuesday night, Oakland's struggled. Crean said Indiana's biggest priority heading into the game was to make a statement on how the team would guard, especially against Travis Bader, who led the country in made 3-pointers per game and shot at higher than a 40 percent clip from 3.
He finished the game shooting 2-of-15 from the floor and 0-for-10 on 3-pointers. It was his first time in 63 outings that he went an entire game without making a 3. Mitch Baenziger made four, but everyone else on Oakland shot 0-for-16 on 3-point attempts on the night.
"Our guys really wanted to do a great job defensively, and I thought they did," Crean said. "I thought our defense stayed really good throughout the game."
Kampe said he didn't care whether or not his team could beat Indiana. As long as his players take the experience from the loss and get better from it, he'll be happy.
But after the game, he came away impressed with the Hoosiers. More impressed than he thought he would be.
"Coming in on film, I would have said they wouldn't be in the upper echelon," Kampe said. "But the way they played tonight, I would say that's as good as a team's played against us. They move the ball extremely well. (Crean's) a very good coach, you guys all know that, and he took advantage of what they could with us."
"If they play like that and shoot the ball like that, they'll be a hard out."
Other notes
· With Tuesday night's win, Indiana has won 36 straight non-conference games at Assembly Hall. Since the 2011-2012 season, the Hoosiers are 42-3 while playing on Branch McCracken Court. Their 42 wins are the second-most in the nation in that span.
· After re-aggravating a sprained ankle on Saturday against North Florida, freshman Devin Davis did not play on Tuesday. The 6-foot-7 forward was in game gear, but Crean said on Monday that Indiana's staff will take Davis' rehabilitation on a day-by-day basis and that he did not expect Davis to play against Oakland.
Filed to: Evan Gordon, Oakland Golden Grizzlies