What to Expect: Oakland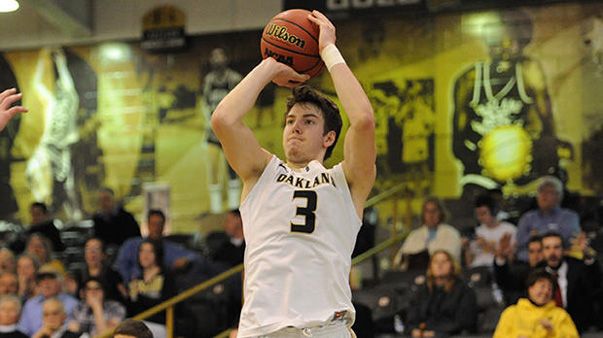 Just four non-conference games remain for Indiana and the second toughest opponent remaining, Oakland, travels to Assembly Hall on Tuesday. The Golden Grizzlies are just 2-7, but have already played at North Carolina, UCLA, Gonzaga and California.
The game will be broadcast at 7 p.m. ET on ESPN2 and on the IU radio network (Sirius 85, XM 85):
Indiana enters Tuesday's game with Oakland at Assembly Hall having played the 275th toughest non-conference schedule to date according to the Pomeroy ratings. The Hoosiers have played two teams in the top 12 of the latest polls released Monday, but beyond that, the next toughest opponent has been Stony Brook, which is just 6-4.
Non-conference scheduling has been a topic of debate for years among IU fans and this year is no different. There are some who believe the Hoosiers need a tougher slate to prepare for the rigors of the Big Ten. And there are some who believe that with a young team, a less ambitious schedule is the route to go to build confidence and collect wins.
Wherever your beliefs on scheduling fall, the third-best non-conference home game on IU's schedule, according to the Pomeroy ratings, is Oakland. And the Grizzlies, a member of the Horizon League, are 2-7 with just one win over a Division I team. (It should be noted that their record may be deceiving because Oakland has already traveled to North Carolina, UCLA, Gonzaga and Cal.)
Given the non-conference schedule, we already know that IU's NCAA tournament chances will hinge almost entirely on its performance in the Big Ten. But the Oakland game and Saturday's neutral court game with Notre Dame in Indianapolis are the last two non-conference games that will hold any weight with the selection committee come March when you consider that Kennesaw State and Nicholls State appear well on their way to sub-300 RPI seasons. And while the Oakland game holds far less weight than the looming battle with the Fighting Irish, it's still essential that IU avoids a slip-up and convincingly delivers its eighth win of the season.
PERSONNEL
Indiana will once again have the challenge of stopping a prolific scorer as Oakland senior Travis Bader brings a 21.1 points per game average to Assembly Hall. Bader has taken 68.5 percent of his field goal attempts from behind the 3-point arc where he's hitting 40.8 percent of his attempts. He's a guy that the Hoosiers may want to overplay because of his poor shooting percentage (37.8) inside the 3-point line. Bader is an excellent free throw shooter (94.7 percent), but doesn't get to the line very often (26.6 percent free throw rate).
Joining Bader in the backcourt is Duke Mondy, who was reinstated from a two-game suspension back on Nov. 20 following a sexual assault arrest where charges were ultimately dropped. The 6-foot-4 guard is the team's third leading scorer at 11.7 points per game and was the Horizon League newcomer of the year last season. Mondy is No. 1 nationally in steal rate and 58th in assist rate. A third guard, 5-foot-9 freshman Kahlil Felder, is averaging 8.1 points and close to five assists per game.
The best frontcourt player on the Grizzly roster is 6-foot-10 junior Corey Petros, who averages 11.9 points and 7.8 rebounds in 33.4 minutes per game. The most efficient scorer of the regulars in Oakland's rotation, Petros is shooting 56.6 percent on 2s. Two others to watch are 6-foot-8 sophomore Tommie McCune, who averages 6.6 points and Dante Williams, who was arrested with Mondy, and has an effective field goal percentage of 55 in limited minutes.
TEMPO-FREE PREVIEW
If Oakland is to keep things close in Assembly Hall, the Grizzlies are going to have to do a much better job on the defensive glass. Through Sunday's games, the Hoosiers are the nation's third best team in offensive rebounding percentage and Oakland ranks just 315th in defensive rebounding percentage. So even if Indiana isn't shooting particularly well, the numbers don't show Oakland having much of a chance to slow down second chance opportunities.
Oakland also struggles to convert inside the 3-point line (44.3 percent shooting on 2s), which could be further complicated by Indiana's length and ability to challenge shots at the rim. The Grizzlies are also allowing opponents to get to the line at a frequent rate (52.4 opponent free throw rate), which plays into one of the major strengths of the IU offensive footprint.
It's beginning to sound like a broken record, but turnovers are once again key for the Hoosiers. Oakland is forcing its opponents to turn it over on 20.9 percent of possessions and the Hoosiers, despite a season-low turnover percentage of 14 against North Florida, are still coughing it up on 20.6 of their possessions.
WHAT IT COMES DOWN TO
With trips to some major venues already in the books, this Oakland team isn't going to be awestruck by the atmosphere in Assembly Hall. The Grizzlies have hit a bit of a rough stretch after Greg Kampe won 20 or more games for four straight seasons from 2009-2012.
Bader obviously presents a unique challenge because of his ability to light it up from the perimeter, but Indiana has been exceptional defending the 3-point line so far this season. The Hoosiers already shut down a major scorer in Evansville's D.J. Balentine and the importance of limiting Bader is similar. Oakland has been much better offensively than it has defensively to this point, so this shouldn't be a game like Syracuse or Connecticut where the Hoosiers struggle to find points.
We've pretty much learned what to expect from Yogi Ferrell and Noah Vonleh through the season's first nine games, but with just four contests to go before Big Ten season tips, Indiana needs to figure out who else it can count on for consistent offensive production.
The KenPom prediction likes Indiana to win comfortably, 84-69, with a win probability of 90 percent.
All tempo-free stats via KenPom.com.
Filed to: Oakland Golden Grizzlies