Notes, quotes from Crean on Big Ten teleconference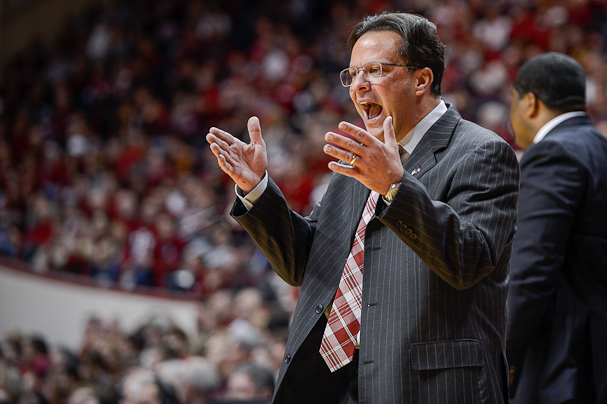 The Big Ten held its first weekly coaches teleconference on Monday morning to review the non-conference season to-date. Here are some notes and quotes from Tom Crean's appearance:
· For the third time this season, Noah Vonleh was named the Big Ten freshman of the week. In games last week against Syracuse and North Florida, Vonleh averaged 15 points and 8.5 rebounds. Ohio State's LaQuinton Ross was named the Big Ten player of the week.
· Crean began by congratulating Ohio State and Michigan State football for "such a great championship game." Crean also congratulated Curt Miller and the IU women's team for their 9-0 start.
· Crean was asked to evaluate the impact that Vonleh has had on the Hoosiers this season:
"He really wants to be not only a great player, but a great winner and great teammate. He's got a unique work ethic in the sense that it's been commonplace for him to be in here, inside this building, not only when he needed to, obviously, but the other times and off times, mornings, nights. He's just constantly, whether he's trying to work on his shot, his post-up game, his free throws, spending more and more time absorbing film on his own, those are the type of things that just lead you to believe that he's going to have a fantastic career."
· Crean said that Luke Fischer is beginning to get healthier as he continues to recover from a torn labrum that forced him to miss a significant part of the preseason.
"I think the one great thing for us is that Luke is getting healthier. I think that started to show the other night, so I think that's really important. He played without the shoulder harness for the first time. First or second time."
· Crean was asked about Vonleh setting the tone for the other big men on IU's roster and said that his star freshman "can do a lot more in that area."
"He's an unselfish player. He doesn't look to just catch it and just think about his offense. He really wants to make our offense really good. And I think because of that, he can demand it even more with his body and with his actions, his verbal part. And then he's just got to be able to play longer stretches maybe at the same level of intensity and the same level of pace. I think as he gets that and he starts to understand how hard he can play for how long he can play, I think that will help him and our entire team."
· Crean was asked about the leadership of Will Sheehey and the effect its had on his team:
"Certainly when you're trying to expand your game and expand your role like he's doing, it's another challenge in the sense that really making sure that your teammates know where they need to be, what they need to do on the court. And really I think the biggest thing is, when things get tight, can they look to him as not only a voice of reason, but a picture of confidence? I think that's exactly what you want an upperclassmen that's been down the line to be."
· Crean said IU needs Sheehey to have a breakout game with his offense and rebounding and that "will help him even more. I think that will expand his leadership even more."
· Crean was asked about the improvement in scoring numbers and percentages for sophomore Yogi Ferrell:
"He's a very improved offensive player in the sense of his confidence shooting the ball. I think the next best step is to continue to mix it. Get to the rim and shoot the pull-up. Be even decision making wise on the pick-and-roll, although he's pretty good with that.
"What we really want to do, what we go into every game with right now is a plan that's expanding to move him without the ball so when he gives it up, it becomes even that much harder to find in different situations. We've been doing that all year and I think it's crucial that we continue to do that."
Filed to: Noah Vonleh, Tom Crean, Will Sheehey, Yogi Ferrell