Second-half collapse dooms Indiana in 69-52 loss to Syracuse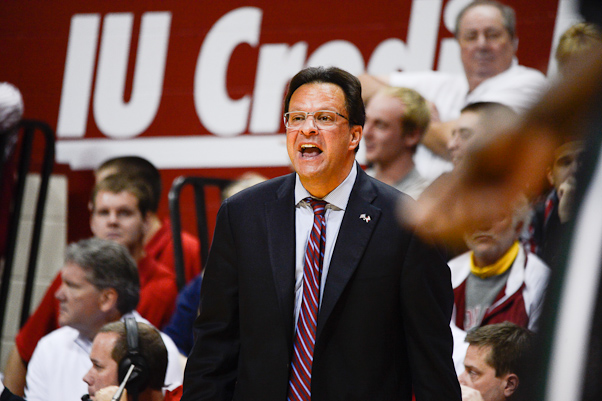 After the game, Indiana coach Tom Crean opened his press conference with the blunt words that summed up the night.
"I've never been involved in a game where a team was as different in one half as they were in the other today," he said.
He was angry, disappointed, embarrassed. In the Hoosiers' true lone away game of the non-conference season, his team was within four points at halftime against the No. 5 Syracuse Orange.
By the final buzzer, Indiana had lost, 69-52.
From the start of that second half, Indiana had gone from potentially upsetting the team that knocked them out in last year's NCAA tournament to going back to the drawing board. What changed?
"I just felt like we got away from what was working for us in the first half and that's why they got the lead and stretched it out," freshman Noah Vonleh said. "In the first half, we were establishing it in the post, catching it in the high post, looking for guys in the corners, the wings, attacking, everybody was getting fouled. We were in the bonus early.
"But when the second half started, we just started settling for 3-pointers, and that's not where our game plan is."
Crean could sense by the time his team left the locker room for the second half that something was wrong. His team was quiet. Too quiet.
After Indiana came back from a 10-0 deficit to start the game and even led, 27-26, near the end of the first half, Syracuse pulled away late and had a 33-29 lead at the break. It could have been worse, but C.J. Fair missed a 3-pointer before the buzzer.
And when the Hoosiers started the second half, they did what Crean had pleaded for them not to do: settle for shots. Three of their first five attempts were from behind the arc. But it got worse.
Indiana started turning the ball over, too. From the 17:51 mark of the second half to 5:08, the Hoosiers lost the ball on nine possessions. In that same span, Indiana did not score on a single basket. In fact, it only had four shot attempts.
Syracuse had gone on a 20-7 run, and the game was out of reach. Indiana had fallen into the trap it never wanted to be in, in the first place.
"I don't know if it's the inexperience, I don't know if it's the anxiety, I don't know if we had too many guys that didn't believe they could win the game, I don't know if we had some guys that were shocked that we were in the game, but that was as poor of a second half performance spirit-wise, game plan-wise and sticktoitiveness that I've been a part of in a long time," Crean said.
"These guys aren't going to get this opportunity again. We'll never find out where we could have been. There's no measuring stick for us in this game other than the fact that we came out and we did not have the proper spirit to compete with Syracuse in the second half."
By the time Vonleh ended the drought with a slam dunk, Syracuse had already extended the score to 60-42. Though Indiana would score 10 more points in the final 5:08, by no means was it enough to overcome the deficit.
Overall in the second half, the Orange shot 63.2 percent and even left eight points on the board with missed free throws. After the Hoosiers had 10 first half offensive rebounds that led to eight second chance points, they only had two in each category in the second half. After turning the ball over only six times in the first half, they had 10 in the second.
"I felt like guys didn't think we could win this game," sophomore Yogi Ferrell said. "We weren't really fighting that hard and not competing. So we're just going back to the drawing board."
With shaken confidence, though, Indiana has plenty of time to rebound. The team does not play next until Dec. 7, against North Florida, and won't play another BCS-level team until Dec. 14, against Notre Dame in the Crossroads Classic.
But Indiana won't take many positive aspects from Tuesday's game. Crean said he was "disgusted with the lack of leadership," while he thought his team had "one of the poorest displays of fight and communication" he has ever seen.
After all the progress he thought his team has made through their first seven games, Crean saw them take a step back.
"I would have really liked to been able to have this team have a measuring stick of what it means to play against a top-five, national championship contender and really have a view of where we are," he said. "The view we have tonight, I don't like very much. I hope it's not very accurate."
Etherington ejected
With 9:19 remaining in the second half and Indiana already trailing, 53-36, Syracuse guard Trevor Cooney was driving to the basket off a steal and was fouled from behind by Indiana's Austin Etherington as he was rising for a layup.
Officials immediately called Etherington for an intentional foul, and following the official review referees declared it was a Flagrant 2 foul, resulting in the sophomore's immediate disqualification.
"Austin was the most shocked guy," Crean said. "Like I said to Jim Boeheim afterwards, there's no way Austin Etherington meant to hit Trevor Cooney like that. He made a play on the ball. I never saw the left hand. They said it, I'm not going to have any argument with it, but as I said to Jim, he's not that kind of player. He would have never done that on purpose."
Filed to: Syracuse Orange, Tom Crean